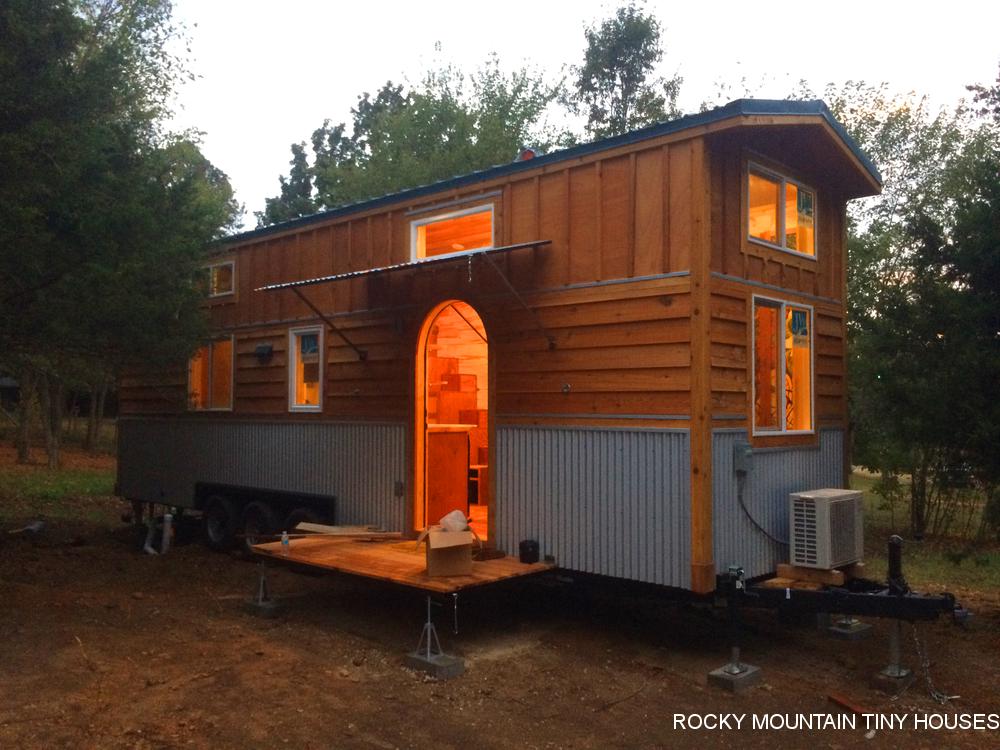 For you non Spanish speaking followers, La Luna Llena translates to "The Full Moon". That is what Pam, a retired art teacher living in south central Missouri named this beautiful 30′ long build that she now calls home! All we have for now are the unfurnished photos prior to the house's delivery, but we can't wait to see the pics once she gets fully settled in since Pam had quite the art collection that she plans on placing in the house. This was one of the more important aspects of this project, making sure we planned accordingly to accommodate these art pieces.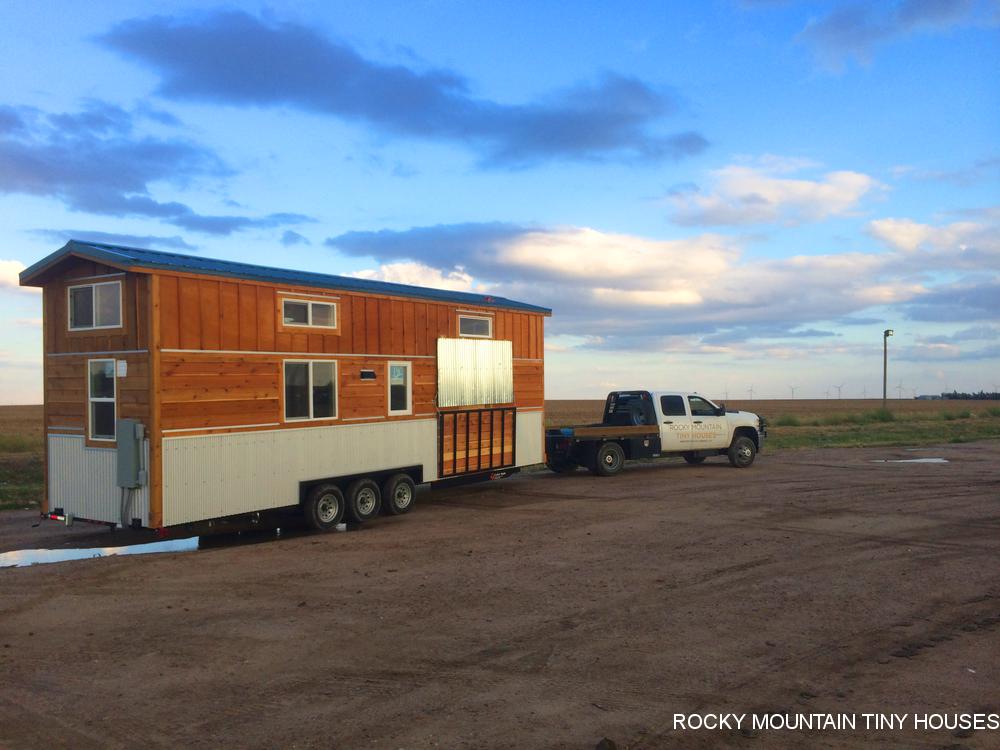 To start things off, the exterior is a simple mix of galvanized corrugated wainscot, cedar lap in the middle, and cedar board and batt up top. A shallow 3/12 pitch travels the full length of the trailer maximizing interior volume. A fold down porch and and fold up awning frame the entry area but fold out of the way for travel. The arch top door was handmade by Greg using locally sourced rough cut ponderosa pine. Pam provided a small stain glass piece that we carefully inset into the door.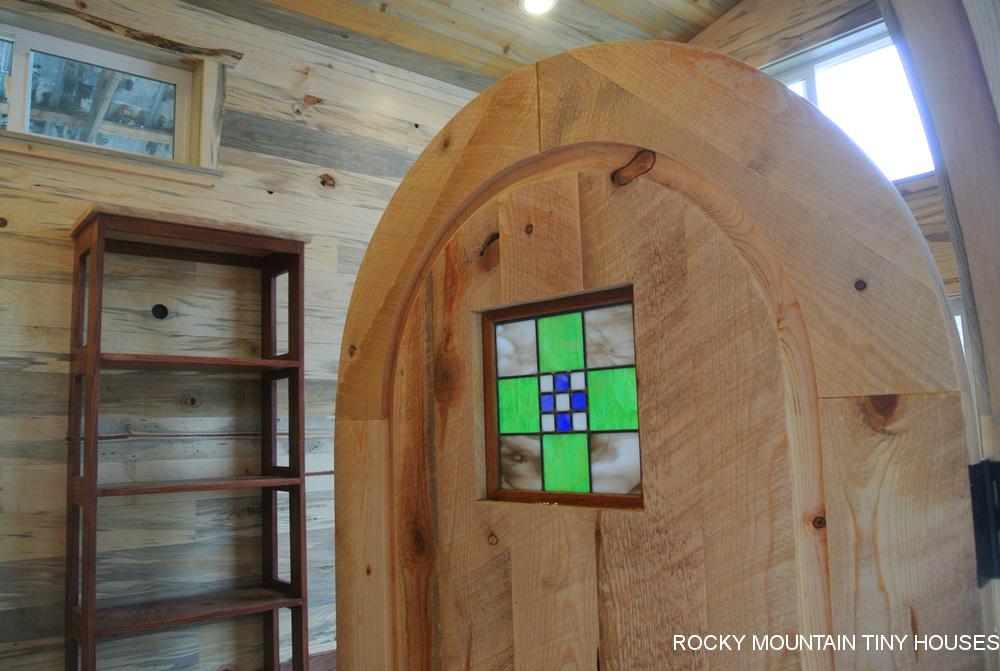 After passing through the front door, one is surrounded by abundant hues of blue stain pain pine, red handscraped flooring, red oak built ins, black appliances, and a little bit of brown found in the reclaimed loft joists. Towards the front of the trailer is the living room, outfitted with an L shape couch with storage below, a large window, room to place an heirloom Indian cabinet with TV above, and to the side of this a Grizzly woodstove with the wall mount kit.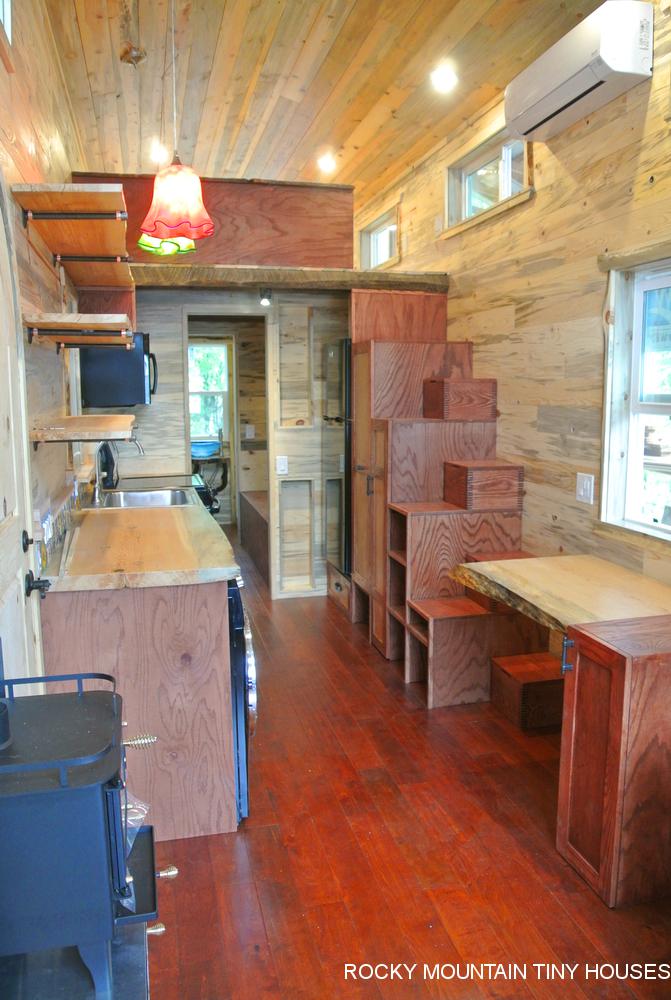 Next to the couch is a tall mission style bookcase made from red oak, a small cabinet also made from red oak to house Pam's sewing machine, and then a fold down table made from live edge beetle kill pine. After the table are alternating stairs up the to the guest/storage loft. The main risers are all made from oak plywood, but the boxes were hand made from solid oak using walnut keys to add a decorative yet functional touch. The tops are hinged for easy access inside the boxes. They can also be moved around to be used as step stools or other accessories. The stairs themselves are a combo of open cubbies, a small closet that houses a Dyson vacuum, and a pull out pantry. Adjacent the pantry is a 10 cu ft fridge.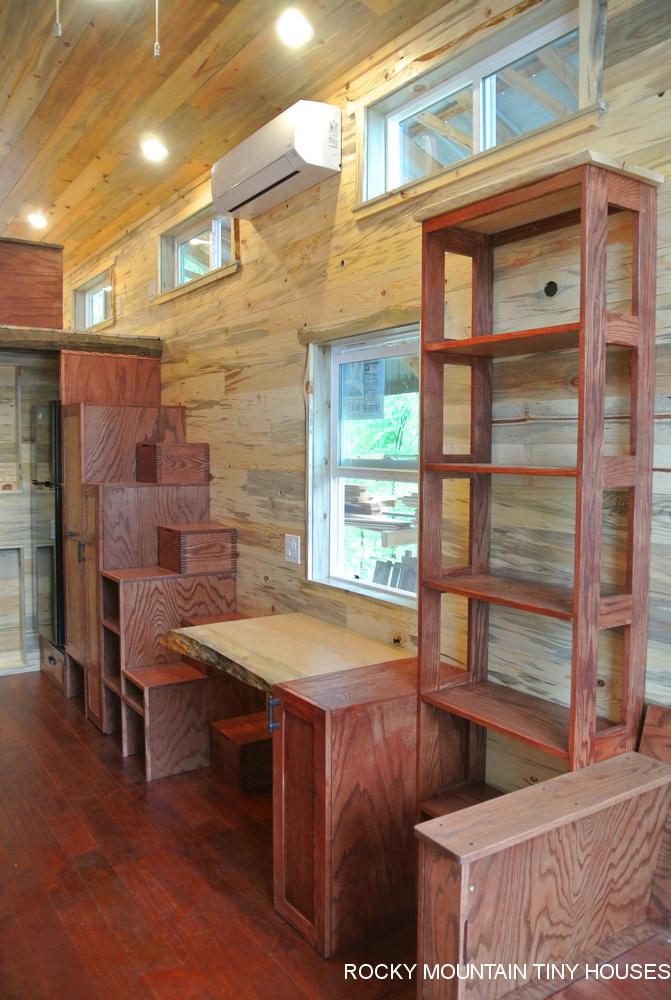 Opposite all of this is the remainder of the kitchen featuring a 24″ range, over the range microwave/hood, large single bowl sink, combo washer dryer, and a large live edge beetle kill slab counter top. Pam provided us with several hand made Mexican tiles she had collected over the years to use as the backsplash. Above the counter are live edge pine open shelves supported with pipe fittings. Above these are two hand blown glass pendant shades with fantastic hues that Pam also provided us. The kitchen also some adjustable shelves built into the wall framing for spice storage.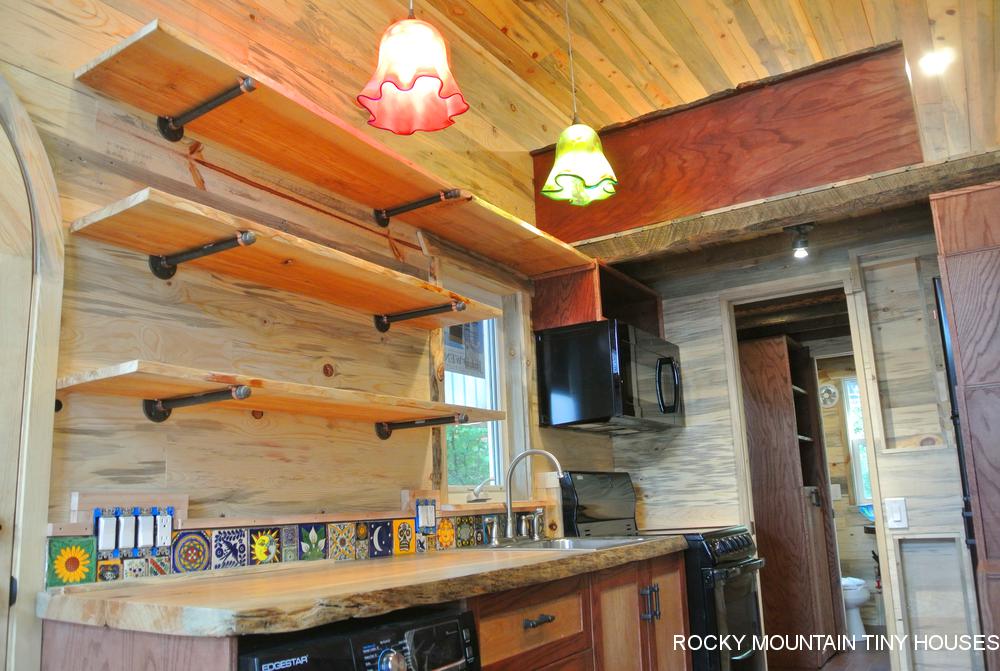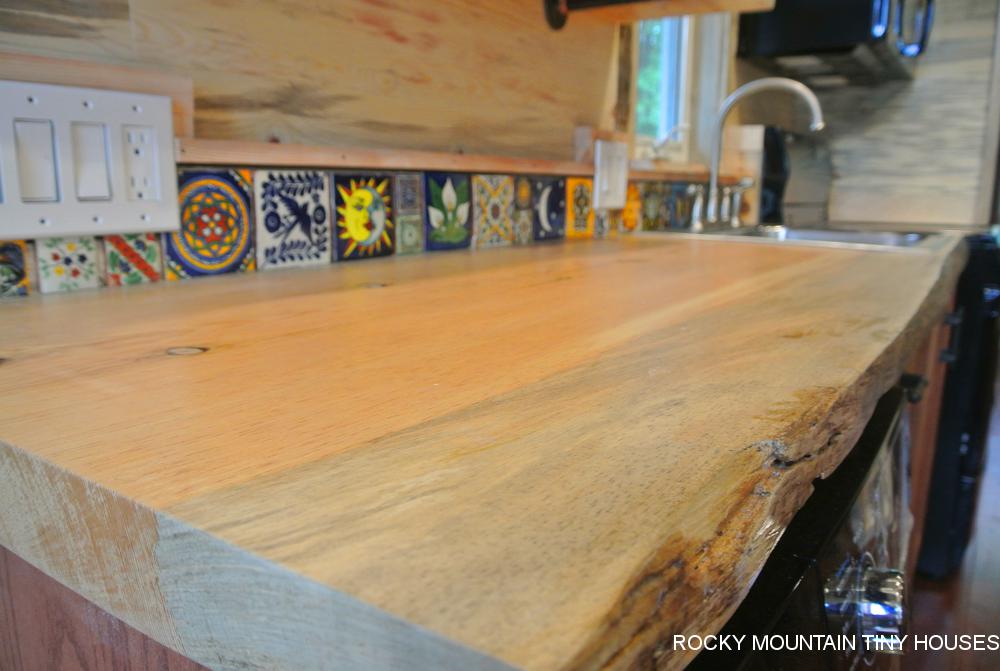 Passing though a pocket door, you enter the downstairs bedroom. On the right is the bed platform that has storage built in below. We installed a small authentic porthole window in this sleeping quarters. To the left is open space for Pam to place her heirloom cedar quilt cabinet with a large window above. A full height closet is next this space. Another pocket door takes you into the comfortably size bathroom. This space accommodates a regular flush toilet, utility space for the electric on demand water heater, a full height linen, 36×48 shower enclosure, and a gorgeous handmade glass vessel sink provided by Pam that we placed on a live edge slice of cherry. When the light comes through the bathroom window this sink absolutely glows!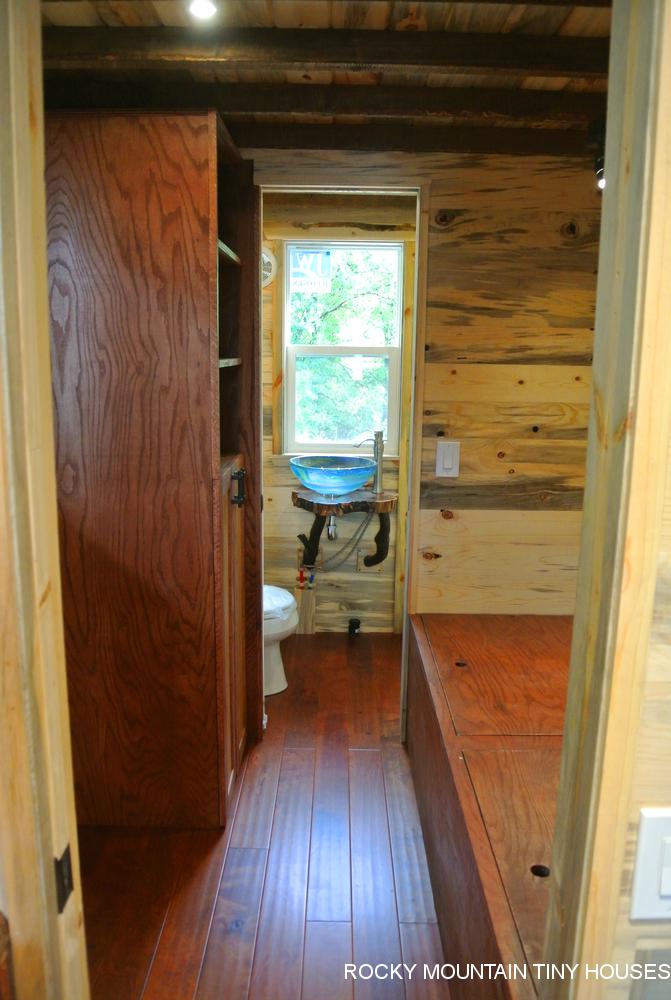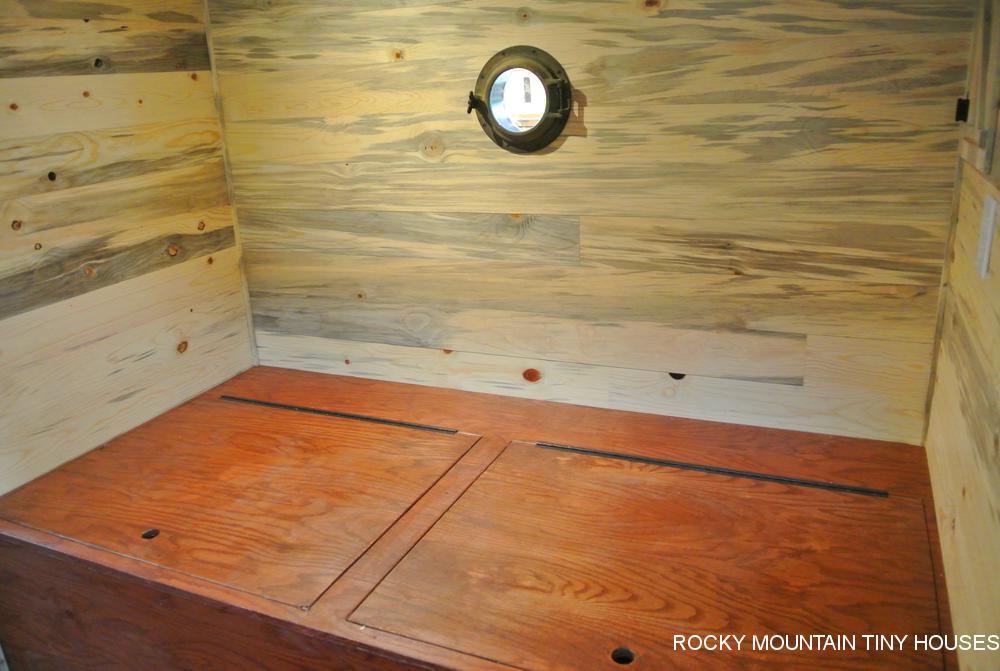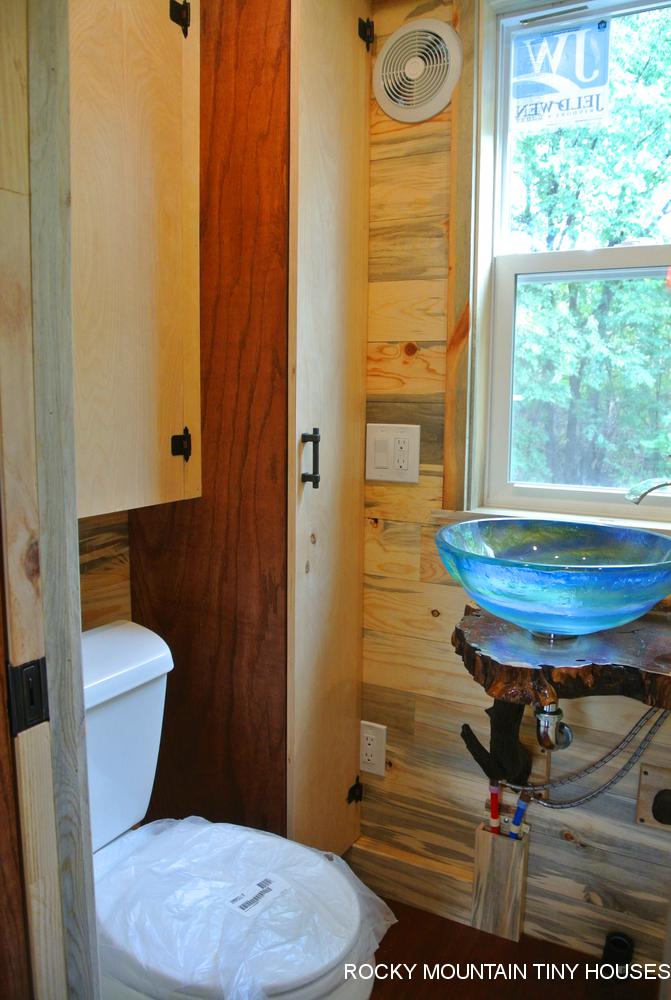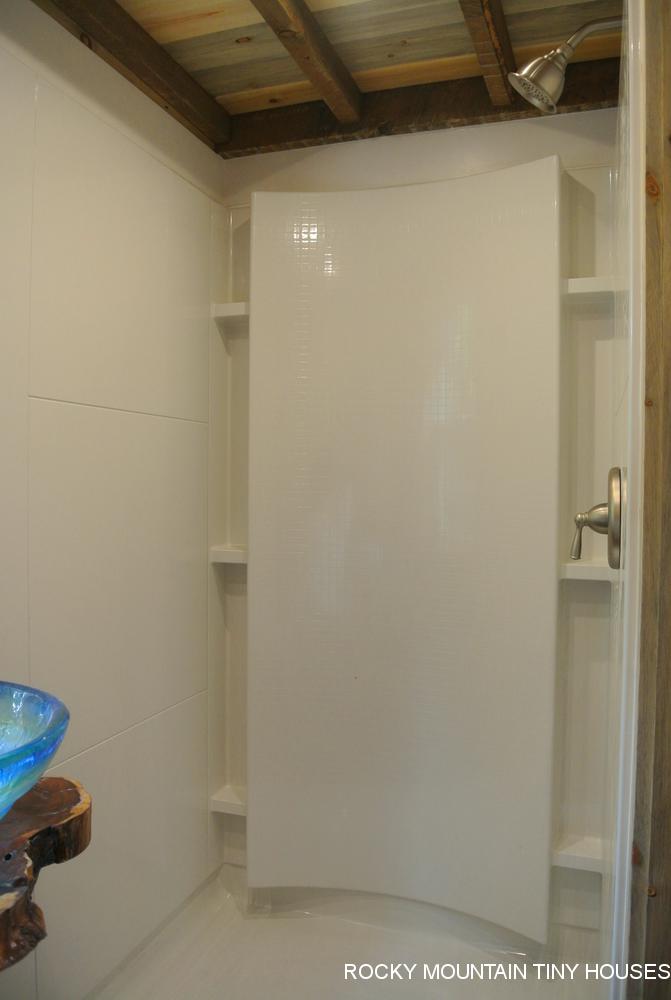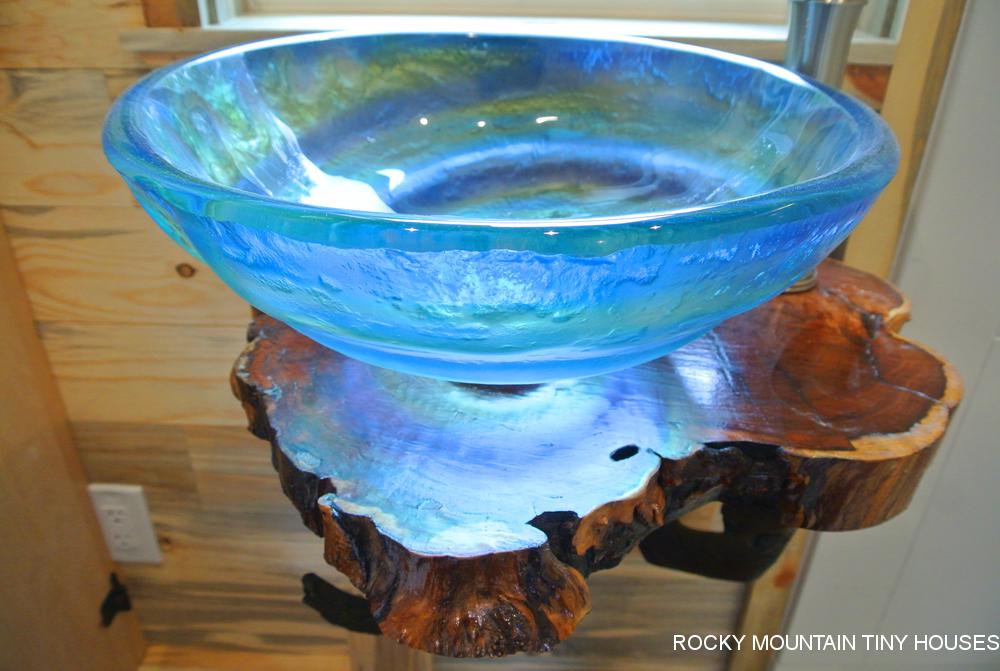 The upper loft in this house was designed for guests and overflow storage. Two notable features are the reclaimed floor joists with tons of character from circular saw marks, bark wane, insect holes, and old nail holes, and a built in cubby wall with a live edge pine top that provides a little bit of privacy and safety to the loft, but also lots of useful storage. One last special request that Pam had was for us to trim out all of the windows in live edge beetle kill. This resulted in some rather unique formations!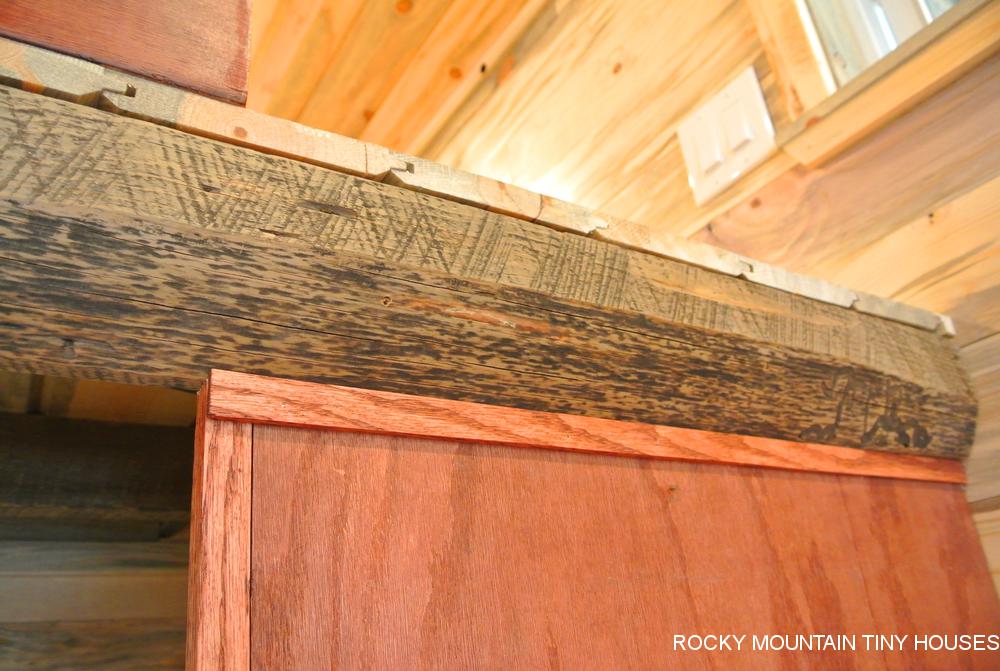 .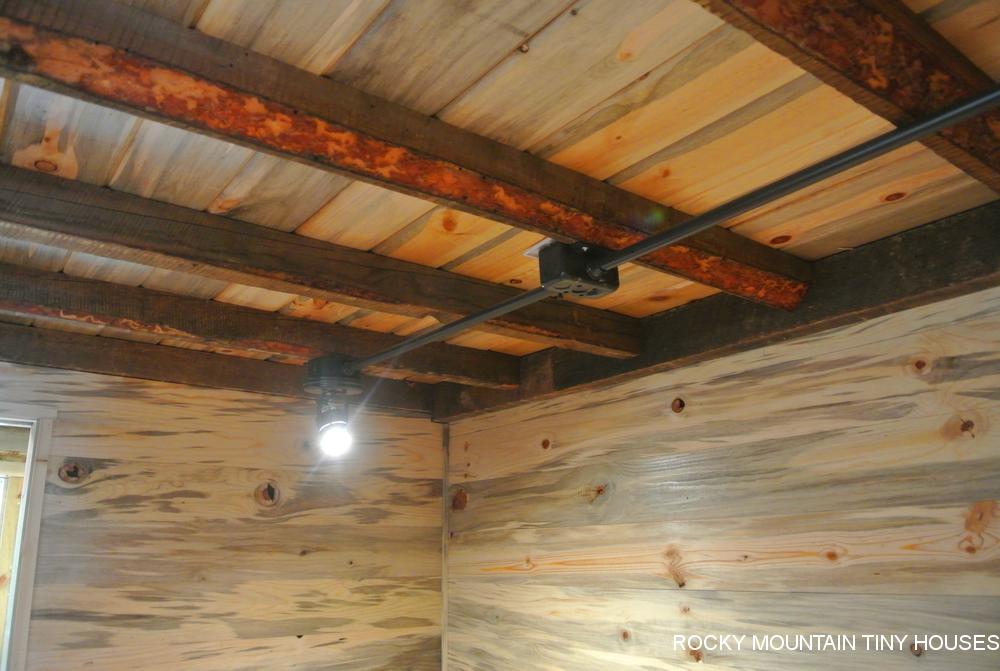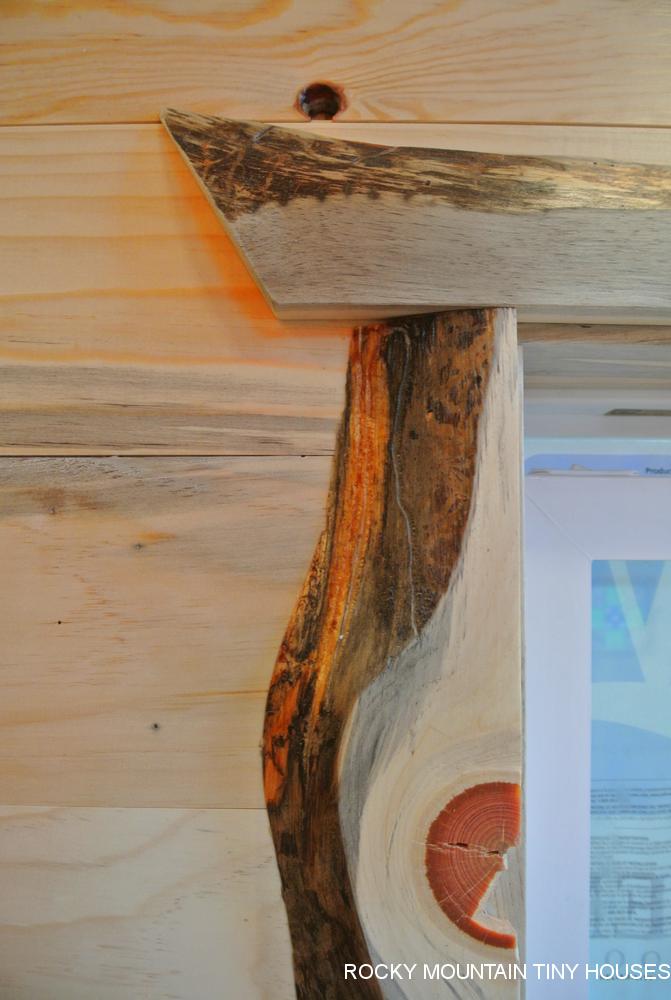 A few other notes of interest on this tiny house- the walls and roof were constructed from Structural Insulated Panels. The Grizzly woodstove provides primary heat while a mini split adds backup heat as well as air conditioning for those warm humid Missouri summers. This build came in around 13,000 lbs dry and a final price of $82,500.
Video tour:
https://youtu.be/jYtsH3onKZE
A few more pics: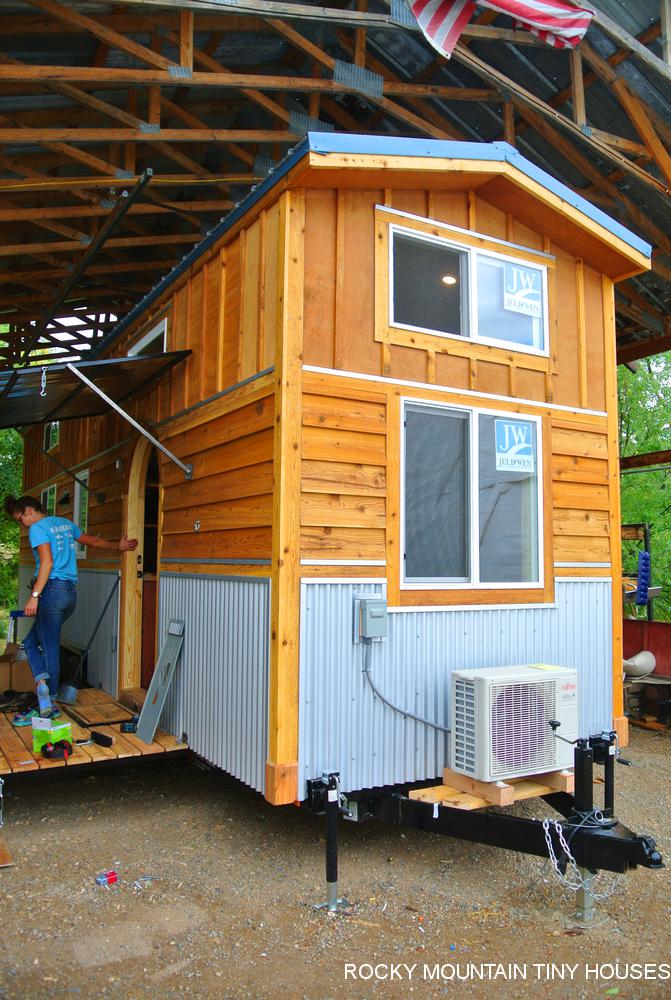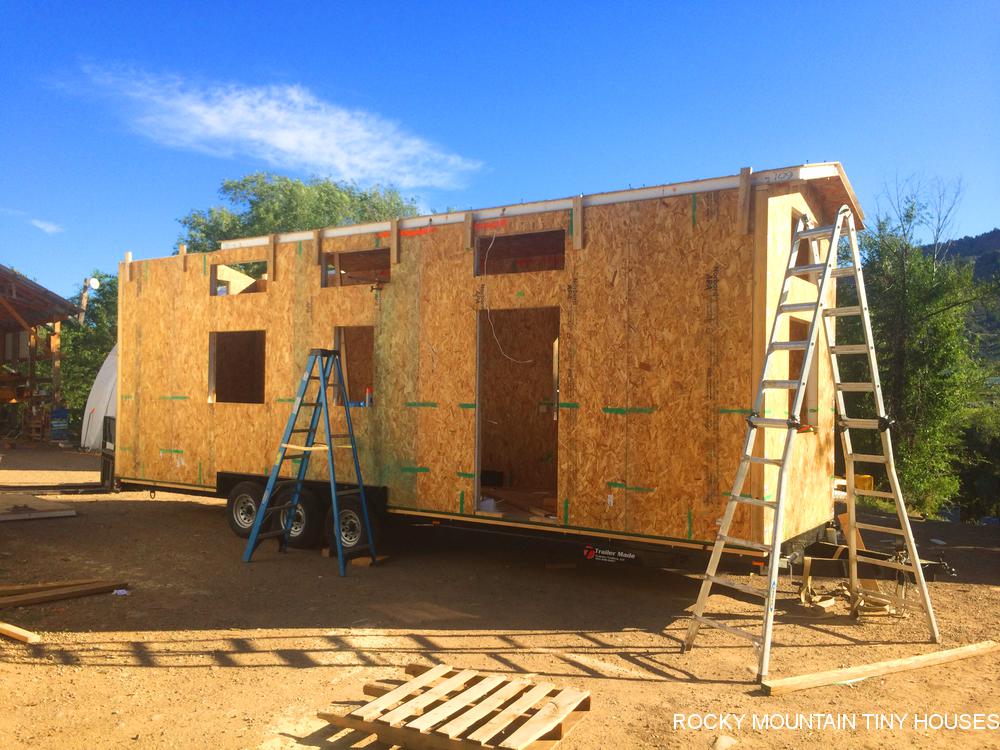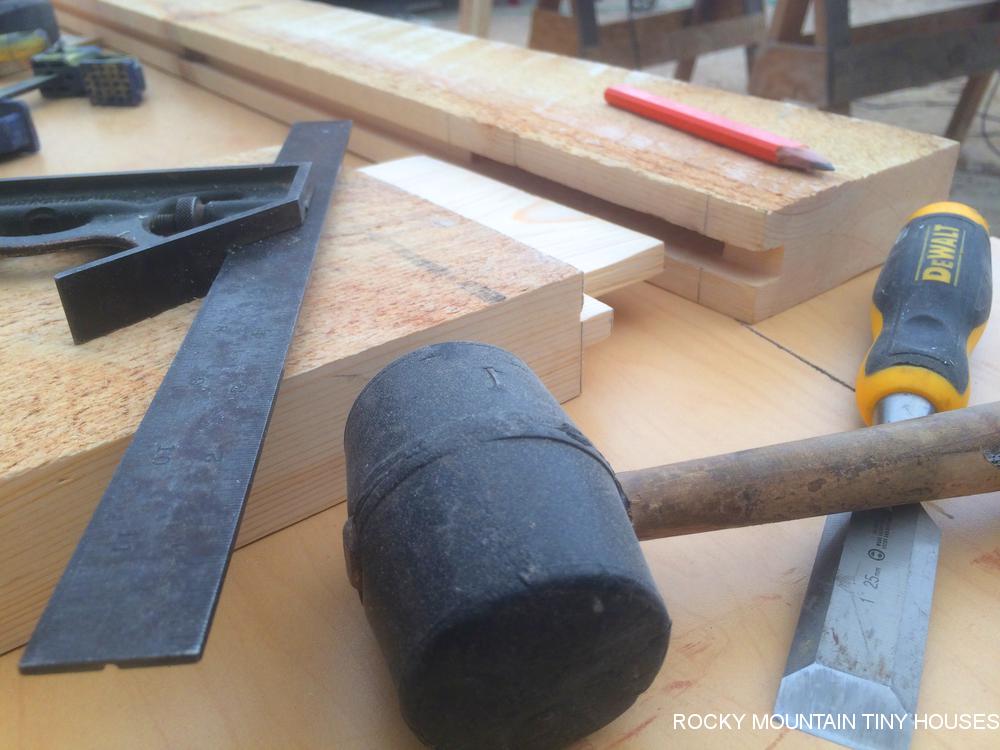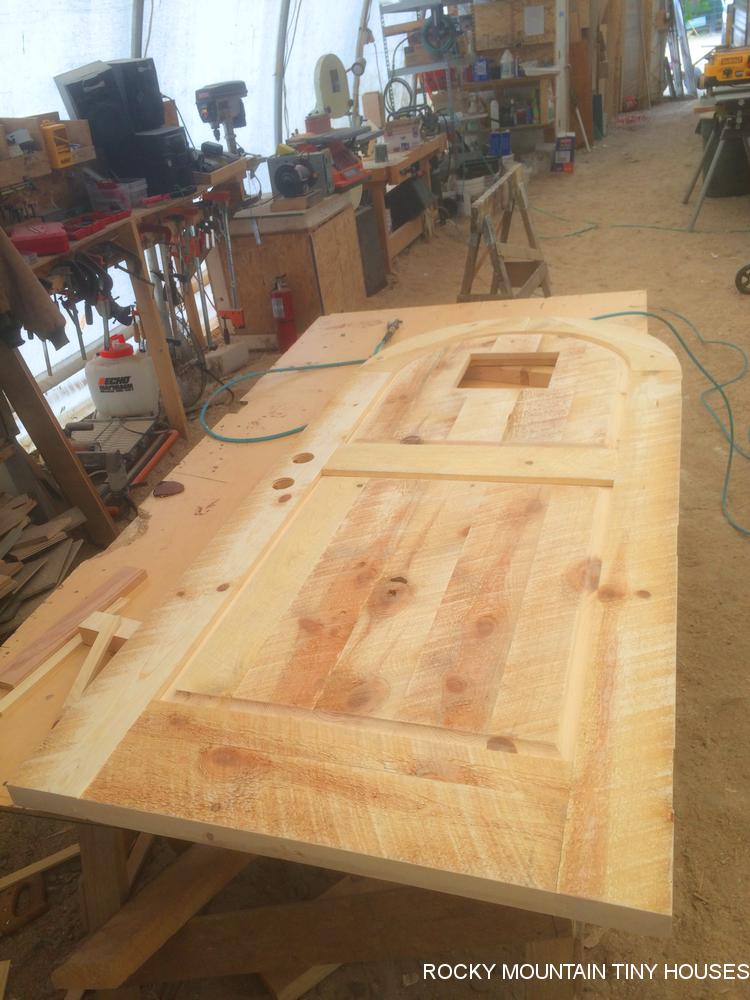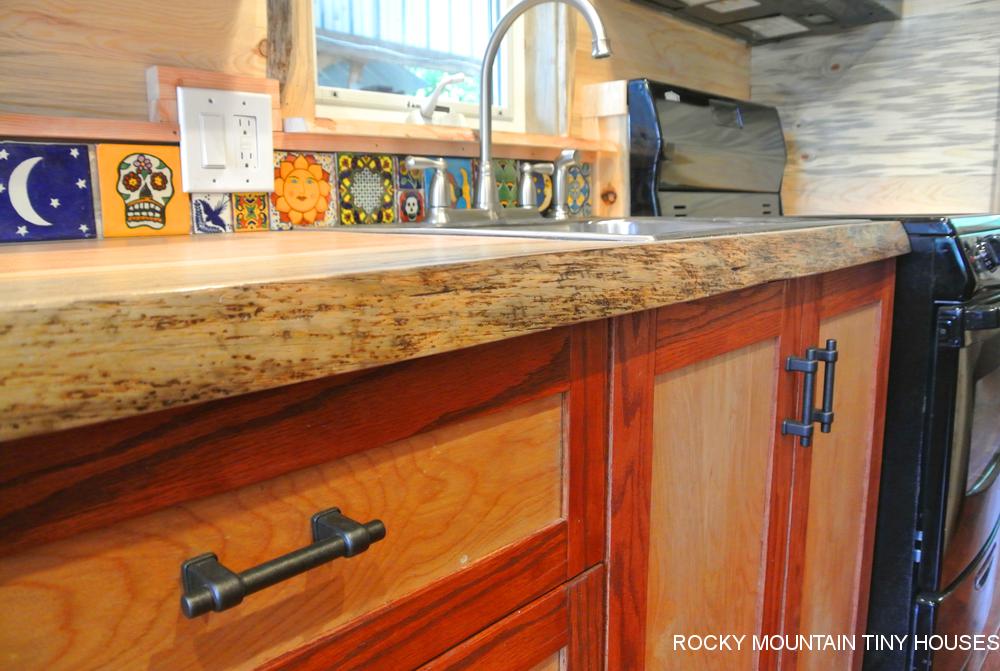 And finally, Here is one of the art pieces we had to plan around…