July 20, 2013
Rocky Mountain Tiny Houses makes its debut at the local Farmer's Market. Click here to see photos on the facebook page:
October 8, 2013
Greg and Rocky Mountain Tiny Houses are featured on the front page of the Durango Herald. Click the picture for the link.
October 28, 2013
Greg is interviewed by McCarson Jones on KDUR radio as part of the Four Corners Art forum. Push play to listen.
February 27, 2014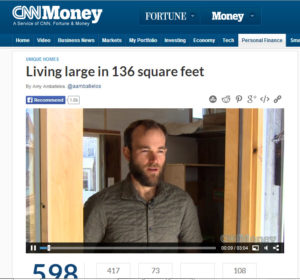 Rocky Mountain Tiny Houses is featured on CNN Money as part of their "Unique Homes"
The Boulder is Featured on Various other news outlets:
March 18, 2014
Greg and RMTH are featured on Inside Durango TV with an interview emphasis on living more with less. Skip to 15:30 to just view the RMTH section.
July 2014 Colorado Springs News Station Interviews RMTH
http://www.fox21news.com/news/story.aspx?id=1071259
RMTH featured as a Top 25 Builder on Vacation Idea
http://vacationidea.com/ideas/best-tiny-houses.html#slide13
Stanley Log Cabin Tiny House
East Austin Rental Tiny House:
Atlas Magazine publishes several articles on RMTH
Front Range Bitterroot Valley Berthoud Blue
Rusted Mountain Roost Rio Grande Pequod
16′ Curved Roof Valencia 30′ Red Mountain
August 11, 2016
RMTH mentioned in Architect Magazine
October 24, 2016
RMTH mentioned in Denver Post article about Wee Casa Hotel
March 2017
RMTH featured as as success story for Southwest Colorado Small Business Development Center
July 5, 2017
Colorado Homes and Lifestyle publishes a feature story on RMTH