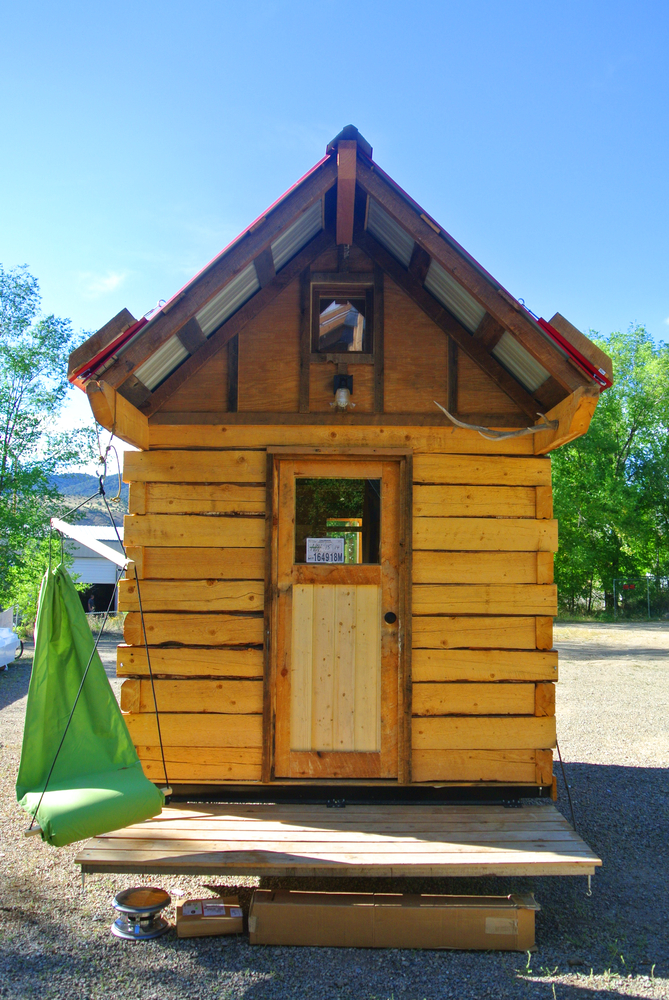 Rocky Mountain Tiny Houses is pleased to announce the completion AND sale of its latest creation, the Stanley. It was about this time last year that I was taking a sabbatical traveling throughout Idaho, Montana, and Wyoming, not only in search of adventure and a little vacation time, but also on the hunt for tiny house design inspiration.
My travels took me through a wonderful little town called Stanley, in the midst of the magnificent Sawtooth mountains and along the Salmon River in Idaho. Stanley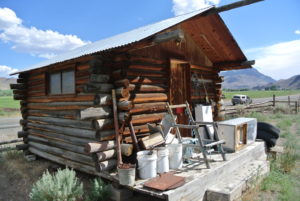 is probably my single favorite town that I passed through on this trip. It has a little bit of everything for the outdoor enthusiast. Scattered throughout the small town and along the outskirts are structures from a bygone era-beautiful, rustic, and tiny log cabins. After photographing a few, I knew right away that I had to build a log cabin tiny house on wheels and name it after this place.
Immediately after selling the Boulder tiny house, I began construction on this fun new project. There wasn't a whole lot of precedent for true log cabins built on wheels. the ones I did come across weren't that visually appealing, weighed too much, or just had lots of room for improvement, so I started from scratch and designed this house from the tires up. I had never built a log cabin before, much less one on wheels, but how hard could it be, right? Turns out, a little harder than I thought, but not too much.
Along with building a tiny house out of logs, I was also interested in building a 12′ long house to see just how small I could go and still have a very livable structure. Keeping the cost below $22k was the third goal of this project, since I was getting a lot of requests for something less expensive even though my larger models are very competitive with other builders. The log cabin method seemed like a good way to do this since the walls are now only one layer instead of six or seven (framing, sheathing, insulation, moisture barrier, ext siding, int finish), and even if the logs cost a bit more, all the time savings should more than make up for it.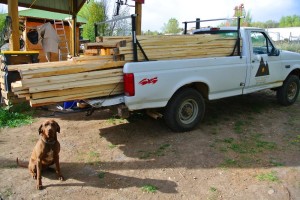 The fourth primary goal was to keep the house a reasonable weight under 5,200 lbs, since I was only going to use a single axle rated for that much weight. This would open up the doors for this house to be towed with a 1/2 ton truck, and possibly even a V-6 vehicle. With these lofty goals in place, I cranked out some drawings, ordered the trailer, ordered the logs, ordered the windows, and set out to craft this beauty.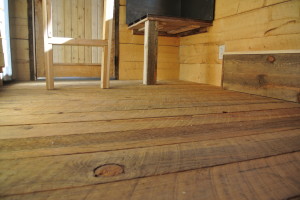 Once the trailer arrived, I wasted no time in insulating the floor and installing the beetle kill spruce t&g flooring. I went ahead and applied two coats of natural tung oil. Soon after, the logs arrived and I was very excited to get going on the walls. The first course of logs is bolted to the trailer through custom tabs I have welded on the trailer frame. Each additional course above that is fastened to the one below using massive 12″ timberlocks. I had the Colorado beetle kill spruce logs milled with a large tongue and groove to add structural strength, but also help seal the logs and not require any chinking.
Unfortunately, the mill didn't do a top notch job, and the tongues were not lining up with the grooves like they
should have been. After many hours of hammering/chisesling, and routing, I got things to mostly line up. The logs also had some warping, crowning, and twisting that also had to be worked to keep all the courses straight and within tolerance. All this work was definitely more time consuming that I had planned for, but once complete I have a very solid and beautiful structure with which to frame the roof and finish out the rest.
The window and door bucks were made from very old and thick rough cut wood I got from Durango Salvage. The roof was framed out of regular 2×4's and a large doug fir ridge beam that is left exposed on the inside. Red somehow seemed like an appropriate color for this house so I installed a very bright red metal roof and the casement windows came clad in red as well. The roof cavity is insulated with EPS foam and then covered with the same beetle kill spruce material as the floor, only thinner. The final look is quite spectacular with the rough cut saw marks, blue stains, and randomness.
Since this house was only going to be 12′ long, I wanted to maximize the width. I normally build the walls so the inside flushes out with the fenders, but this time I made the outside dimension a full 8′ and decided to box out around the fenders on the inside. Road legal is of course 8′-6″, meaning that didn't leave much room for roof overhangs. Decent overhangs were necessary to match the look I was going for (plus they add some nice function), so I designed hinged overhangs that spend most of the time tucked up under the main roof, but can fold up and latch down to the main roof for times the house needs to be moved and still remain highway legal.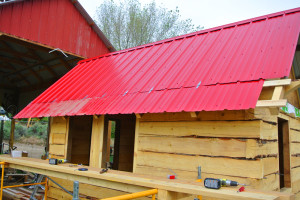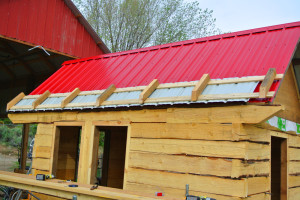 The back of the trailer/front of the house also features a fold up porch similar to the Durango model built from a welded steel frame and cedar planks. The roof structure above the porch does not fold up but is built stationary to show off the beautiful woodwork of a cantilevered log and rafters/purlins cut from thick barnwood. I had a set of elk antlers that I found in the woods last fall that I mounted to one side for a little decor, but also to hang stuff. The buyer, a young man named Ethan, hung a chair from the other beam and plans to use the porch quite often!
The interior features a plethora of rustic and reclaimed woods for wall partitions, built ins, loft joists and decking, gable windows, front door, and more. To showcase the beauty of the log cabin walls in the shower, as opposed to covering them with fiberglass or other typical shower enclosures, clear plexiglass was carefully measured,cut,  and fastened with self sealing screws. The corners were sealed with clear silicone. The final effect is very cool!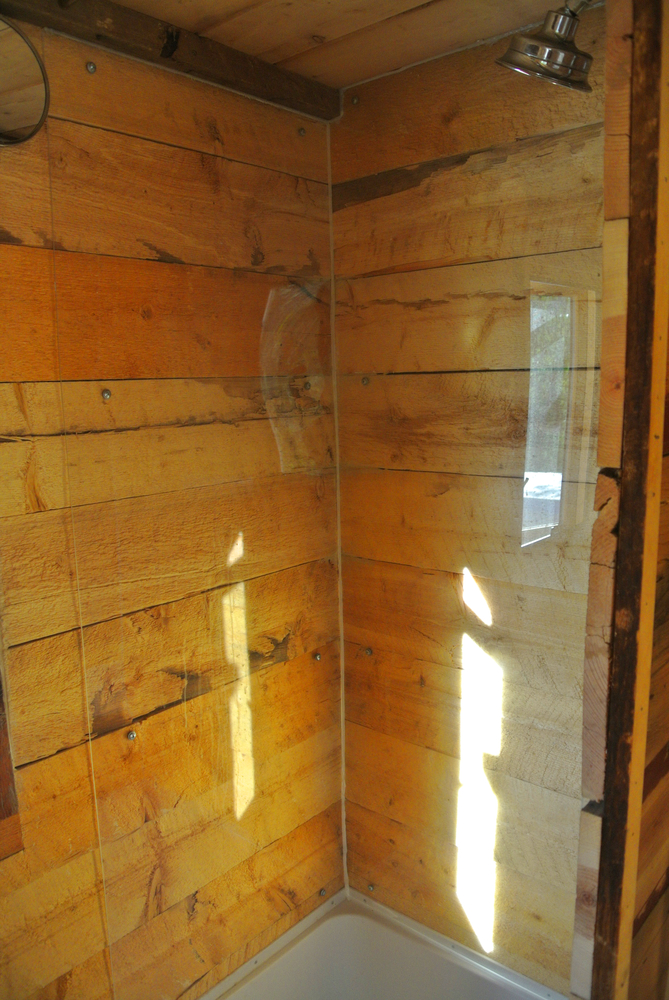 Although not pictured at the moment since it was a last minute change order, the toilet will be a composting unit by Nature's Head in lieu of a sawdust toilet. There are some built in shelves and cabinets above the toilet all crafted from reclaimed wood.
The kitchen uses a reclaimed base drawer unit that I changed out the drawer faces with some leftover rough cut flooring. The sink base and drawers were built in place also with reclaimed wood, The countertop is custom made from maple slabs I got from the salvage yard. We left one edge "live" and it is cool! You can see where insects burrowed in and left squiggly marks. There is a medium sized sink, a double burner cooktop, and a two door refrigerator. A pine upper cabinet and xenon cabinet lights round out this part of the house.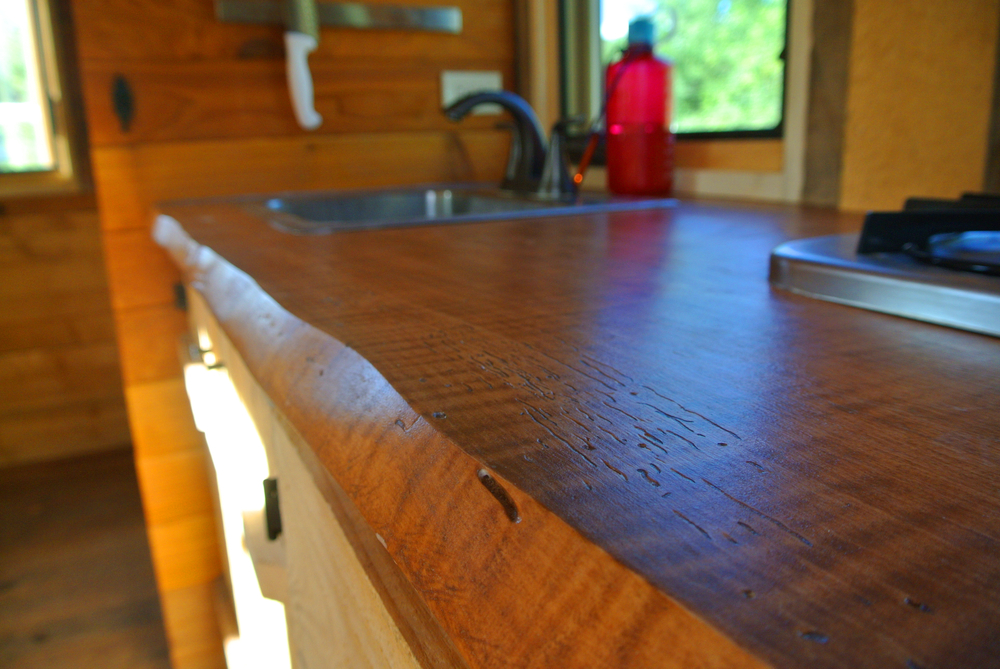 Opposite the kitchen is the living space. It was left open for the buyer to place furniture or custom built ins. The front corner was designed to house a Colorado Cylinder stove. It didn't get shipped in time for me to install it, but should be ready in a few weeks by the time Ethan arrives at his destination and gets settled in. I was able to construct the platform and wall heat shield from 18ga raw steel, using 1″ spacers to hold it off the logs.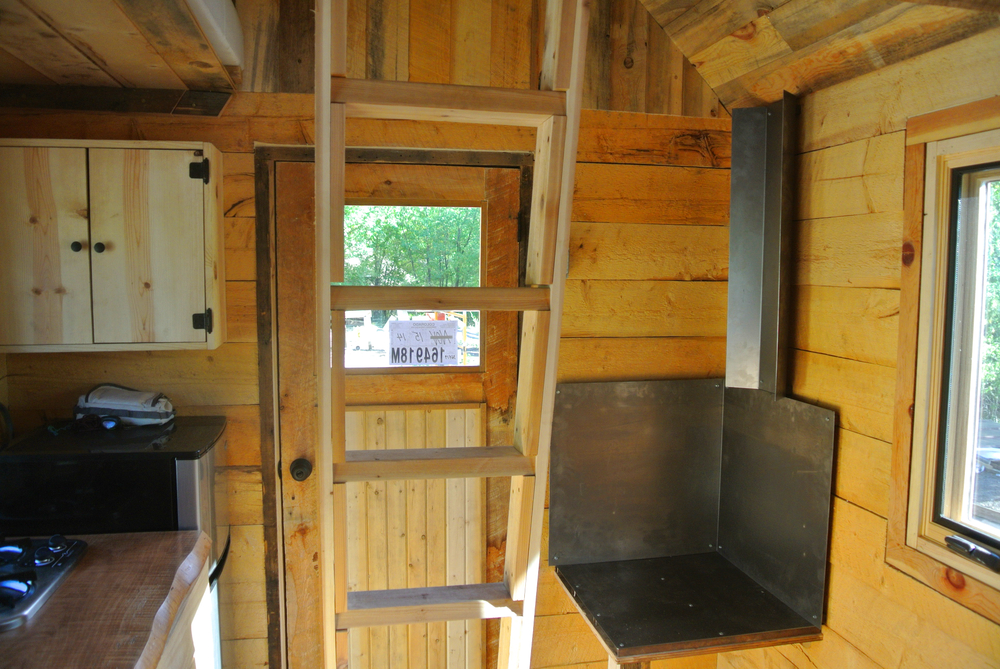 A 48 gallon water tank was installed in the loft storage above the kitchen as Ethan will be living off the grid. A 750w solar system will be installed once he reaches Oregon to complete off grid components along with the woodstove, propane appliances, and composting toilet. I can't tell you where, but we also built in some secret storage to hide important documents and a handgun. Trust me, you would never find it.
After all was said and done, I met all of my design goals. The final dry weight came in at 4,800 lbs, a bit more than I was hoping for, but with still within range. The final cost came in at exactly $22,000. Even though it is only a 12′ trailer, it feels very spacious and is very much livable . The log cabin construction method, although a bit testing at first, proved successful and very unique.
So, I think that about wraps up this neat little tiny house. I hope your enjoyed learning about it. For more updates, be sure to like the facebook page. There's also an album there with more detailed construction photos for those interested.