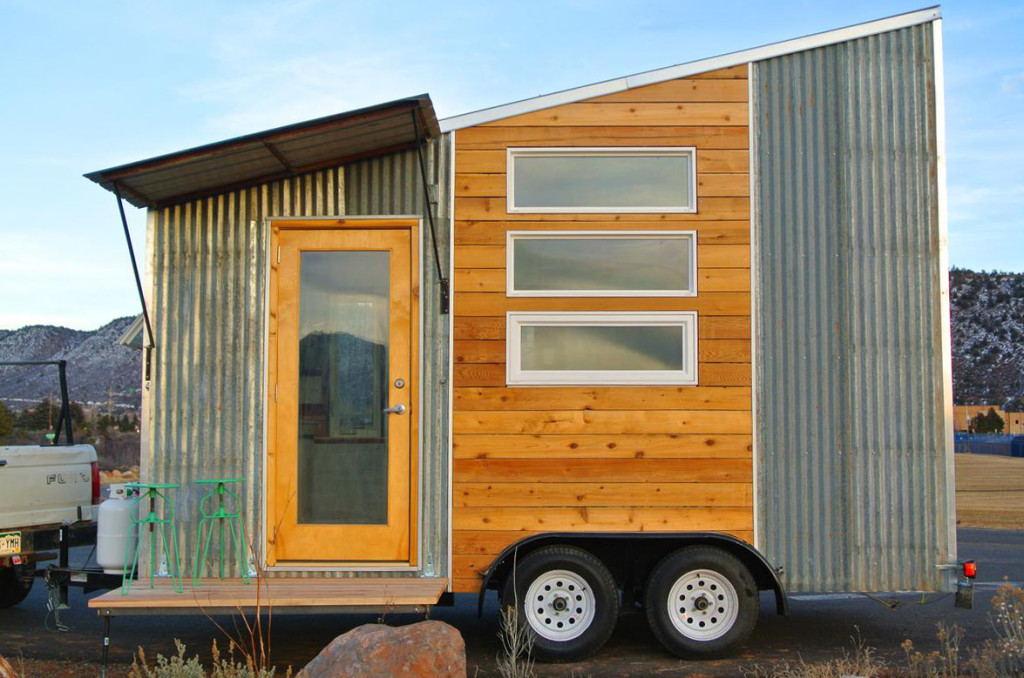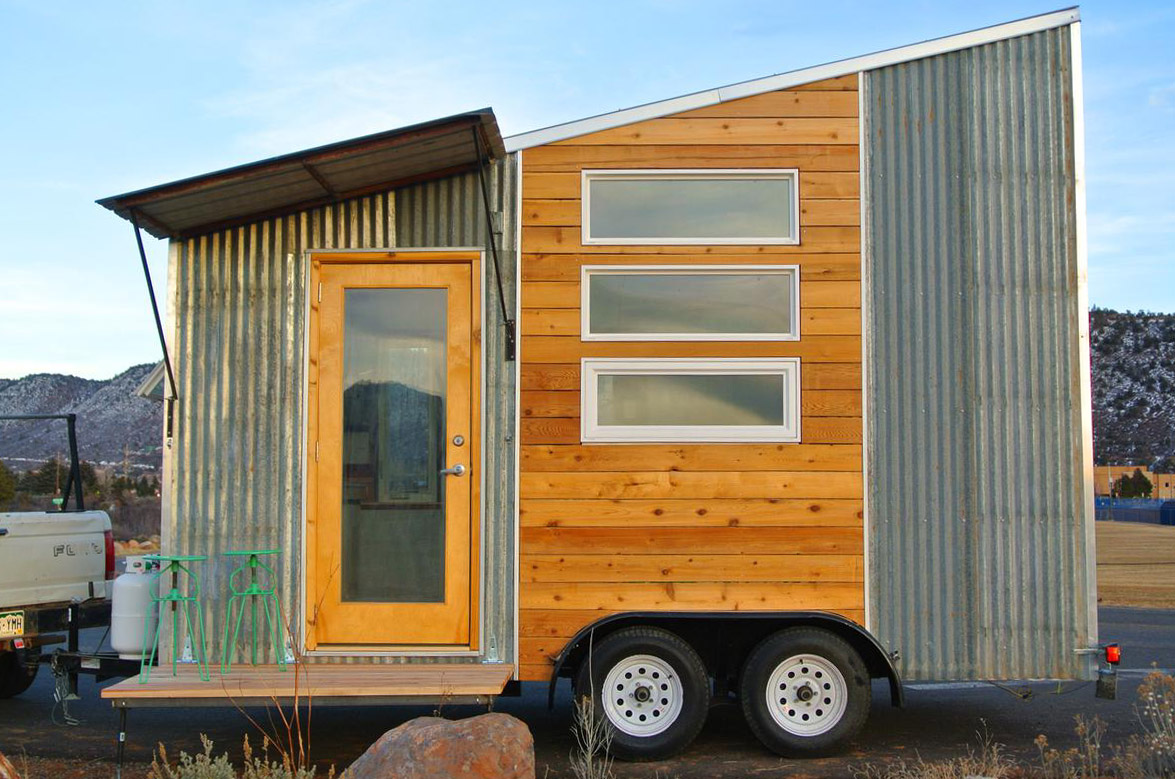 PLEASE NOTE: The Boulder sold back in April. This is simply a blog post about the features of the house. If you are interested in purchasing a new Boulder model, please contact me for pricing and lead time.
It is with great pride that I announce the completion of the first model for sale, the long awaited Boulder. I began formulating the concept for this tiny house over the summer, particularly during my trip across the Idaho, Montana, and Wyoming rockies. The desire to build a house with a more modern flair was in my head long before that trip, it just began to manifest itself more completely during that time. So many tiny houses stick with a tried and true gable design with cedar siding, similar interior layouts, tongue and groove pine walls, etc. They're very "formulaic" if you will. I don't think there is anything wrong with this, after all, my personal tiny house more or less fits this bill, but, I feel like a lot more can be done in the realm of tiny house design/construction, and the Boulder was a good opportunity to explore new possibilities.
The other HUGE design goal of this house was to see if I could build a quality, desirable tiny house for around $25,000. There a lot of tiny houses on the market in the $45k-60k range. I understand why, but at the same time I have a deep desire to make Tiny Houses more affordable. All those comments you see about RV's being so much cheaper just drive me crazy. It's not my goal to compete with RV's, after all, I am providing a MUCH higher quality product, but, the whole goal of a tiny house is to own it outright, not have a mortgage, and live simply. For a lot of folks, $50k is just not feasible. $25-30k, well, most cars cost more than that these days so something in this price range is much more likely to get someone who is on the fence about going tiny to jump in!
I have triple checked my numbers and paperwork, I have cut no corners, left no stone unturned, and it is with abundant joy that I am offering this hand made custom designed Rocky Mountain Tiny House at $27,350. It's a tad bit over what I was aiming for, but, this being the first build of this model, I had some kinks to work out. I also wanted it to be just a little nicer than had I stuck to a strict $25k budget.
Here is a detailed overview of what this house is all about.
Overall: The house features a standard 7′-6″ wide footprint on a 16′ trailer. It has two axles with electric brakes rated at 3500# each. The dry weight as shown is 4,800 lbs. The roof design is a simple shed roof at a 2.75 on 12 pitch. The slope was derived on keeping the front end low and maximizing the height for the loft, but still getting enough pitch to shed water and snow. The overall height at the high eave is 13′-4″.  I do not have any scientific data to back this up, but, this shape should be more aerodynamic and easier to tow. I have easily gotten it up to 60 mph (on a non-windy day) with my F-250 and must say, it tows nicely. This model is designed for a completely grid tied scenario. There is a 30A plug with a 25′ cord and a 20 amp adapter if all you have is a regular receptacle. 20 amps is more than enough to power the whole house, I just like to plan ahead in case anyone wants to run electric HVAC. There is a water hose inlet that feeds the cold water pipes and an on-demand propane heater. The PEX plumbing and all fittings used are lead free and should provide years of trouble free use. Floor, walls, and ceiling are all insulated with 3 1/2″ of EPS foam. The exterior siding is a combination of reclaimed corrugated tin and cedar boards. Windows are a mix of vinyl casements, awnings, and fixed by Jeld Wen. Most interior finishes are 1/4″ plywood painted white on walls and clear coated on the ceiling. There are some sections that use barnwood and aromatic cedar accents.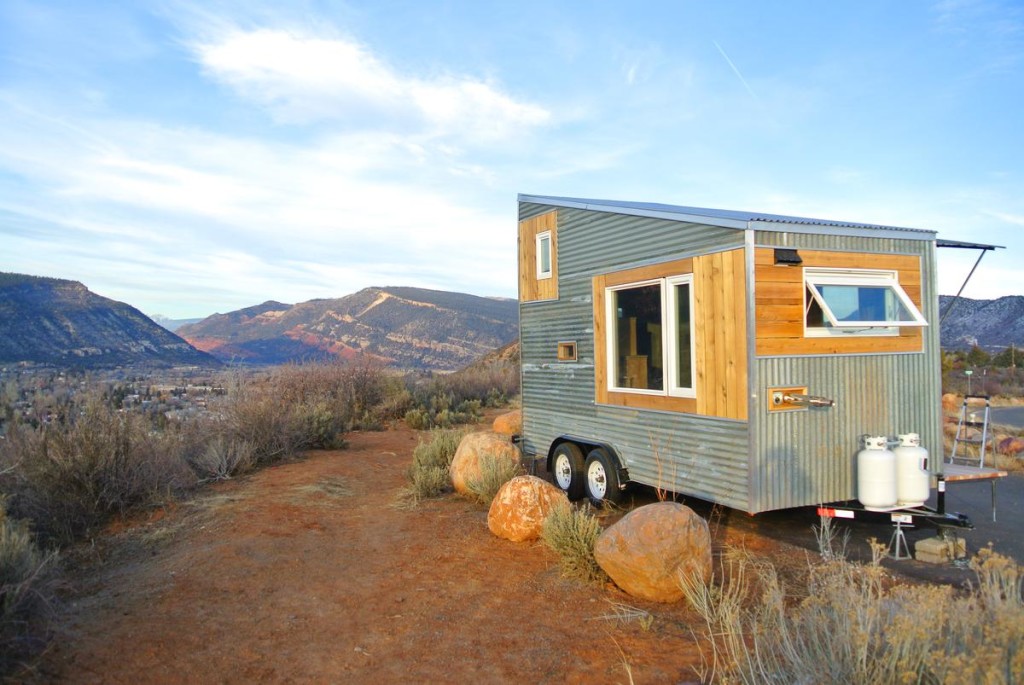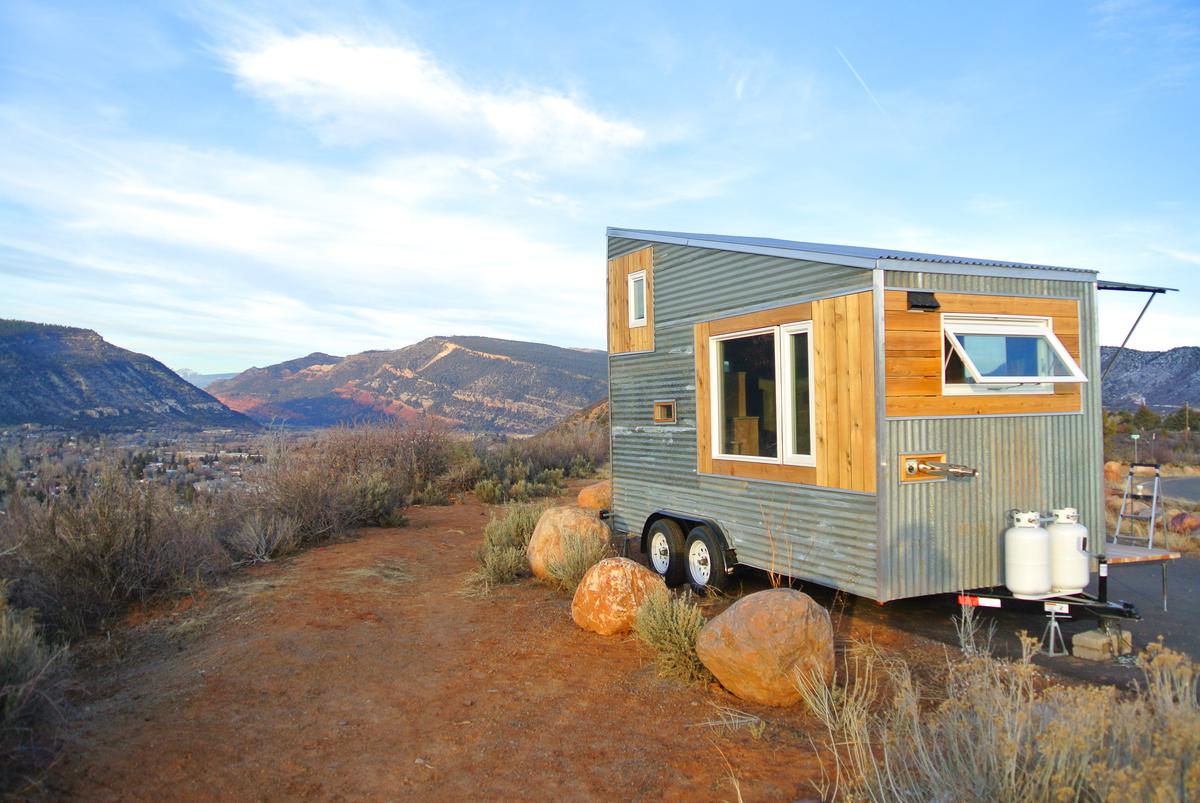 Bath This dry bath design utilizes a full size 32″ shower with a fiberglass pan and recycled Plas-Tex walls. There is a tiny sink that is mounted to the wall and features a faucet made from plumbing parts. It has a copper drain pipe into the shower pan to save on cost and also add some flair. An operable window at eye level provides plenty of natural light and a reclaimed cedar shelf offers space for knick knacks. There is ample room for a regular sized toilet or other toilet of your choice (see below) There is also space above the toilet to mount a wall cabinet of you wish. A unique feature of the bath is the wall materials. To partition it off from the main space I used some very old weathered barn wood. Even though I was shooting for a very clean and contemporary look, I couldn't help but add a touch of rustic. It really contrasts well with the white walls and light maple floor.

 Stairs. I feel like the stairs are the single coolest part of the house! I wanted to try something other than a ladder, but at the same time, I wanted the stairs to be an efficient use of space. I eventually came up with the alternating tread pattern that provides small storage cubbies on the side facing the living area and large cubbies facing the dining room table. There is also space under the stairs for a small desk/office area. I am not going to lie-they take a little getting used to, but once you do, it's no big deal. They definitely feel more stable than a ladder. For the time being, I have not installed a handrail, but if you would like one I will include it at no extra cost.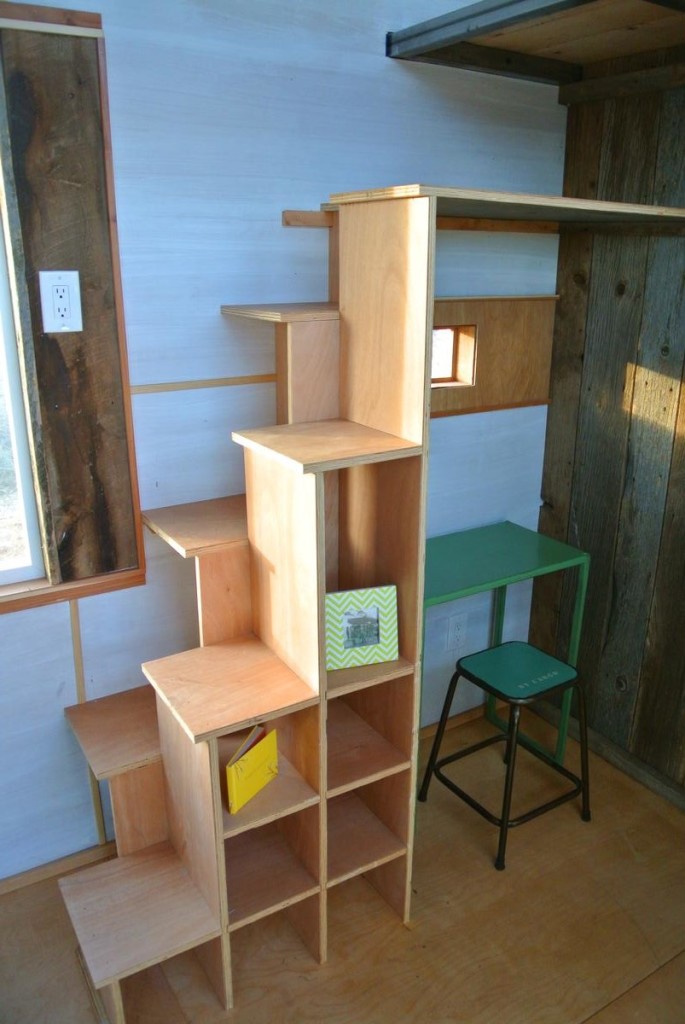 Loft. Not all people like the way a gabled loft feels. I'll be the first to admit it is a little tight at times. This loft design is way more spacious. No, you can't stand up in it, but you can definitely move around a lot more easily without smacking your head. It is sized for a full size mattress, so one person can sleep like a king or two can still sleep comfortably, There are two operable windows with screens for those nights where the weather is great for lots of fresh air. I used 2×2 steel for the loft framing, not only for an aesthetic delight, but to save 1 1/2" of head height over traditional 2×4's. The salvage yard next to me had some nice 1×8 t&g boards that I used for the decking.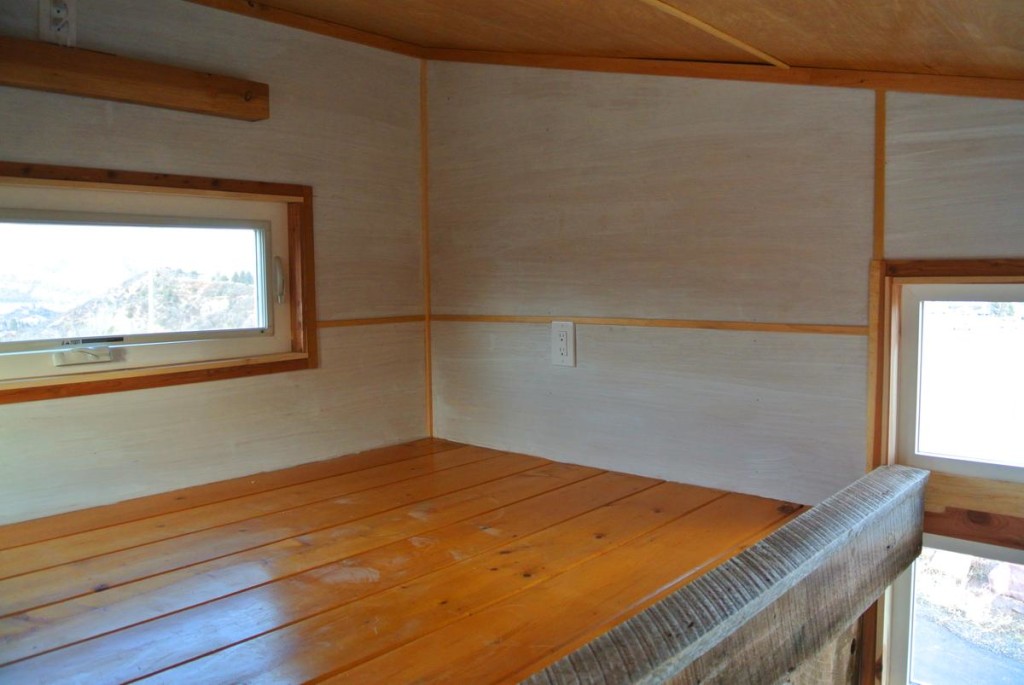 Kitchen The layout is real basic with a wall to wall countertop made out of reclaimed aromatic cedar. There is a double sink, a two burner propane stovetop, a 4.3 cubic foot fridge, and lots of shelving below that is concealed with a simple sliding curtain. Up above there are two rows of reclaimed vintage pine shelving framing a band of barn wood wall finish and a large operable window. There is also a stainless steel vent a hood to help control food odor and smoke.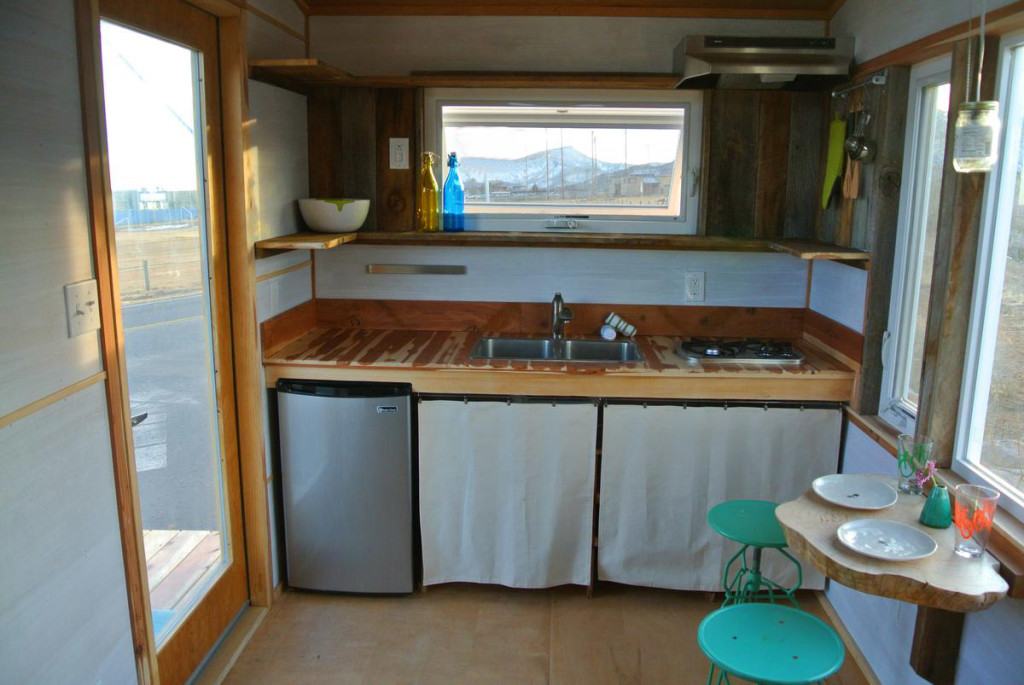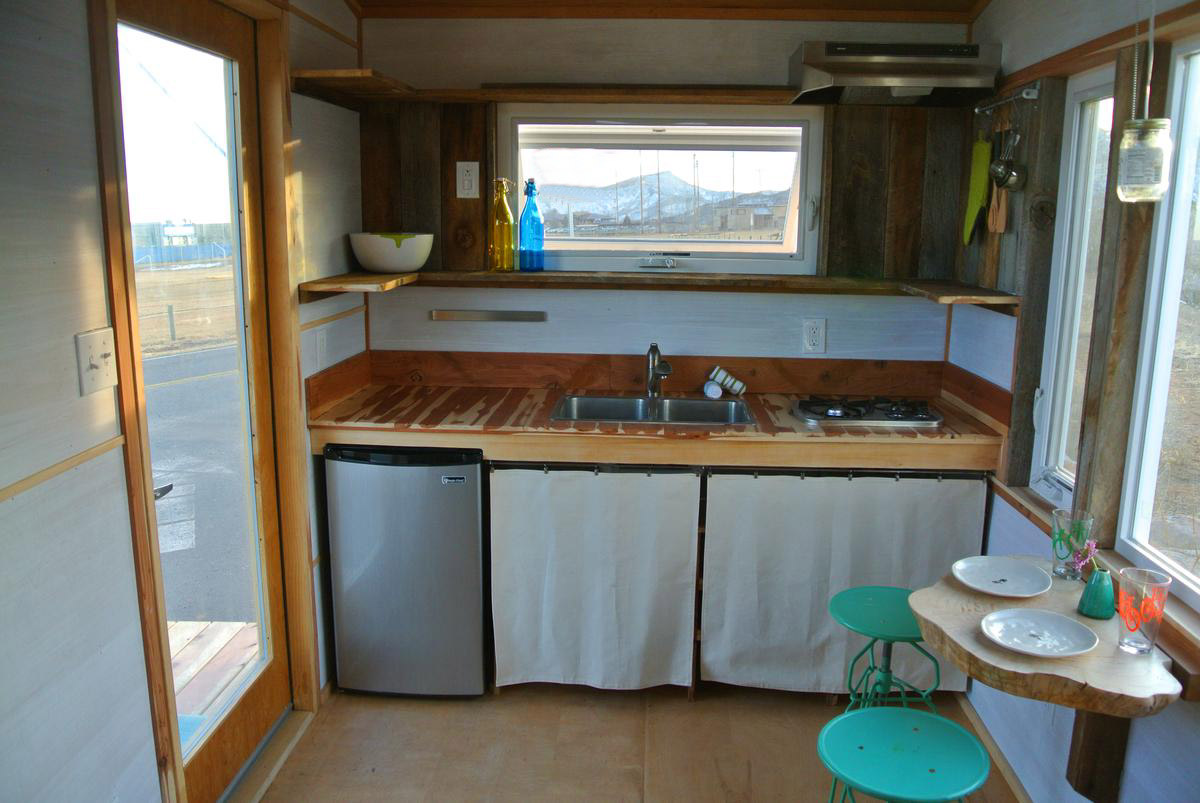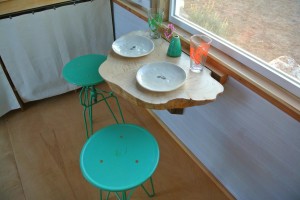 Dining The dining space is defined by a slab of blue spruce beetle kill wood that a friend cleaned up for me and I mounted to the wall. It is hinged and has a swing out arm to hold it in place or allow it to snug up against the wall when not in use. This space also features a massive picture window so you can enjoy a great view while eating breakfast and sipping on hot coffee.
Porch Similar to my house, there is a folding porch and roof, except, these two components are on the side of the trailer instead of the rear. Both the porch and roof are designed for longetivity and ease of operation for times when you need to move. The porch is framed with heavy duty 2×2 steel and topped with 2×6 redwood which is rot and insect resistant without the use of harsh chemicals. The roof is framed with reclaimed bedframe angle iron and uses steel struts that can easily be removed for fold down yet offer plenty of support for snow and wind loads.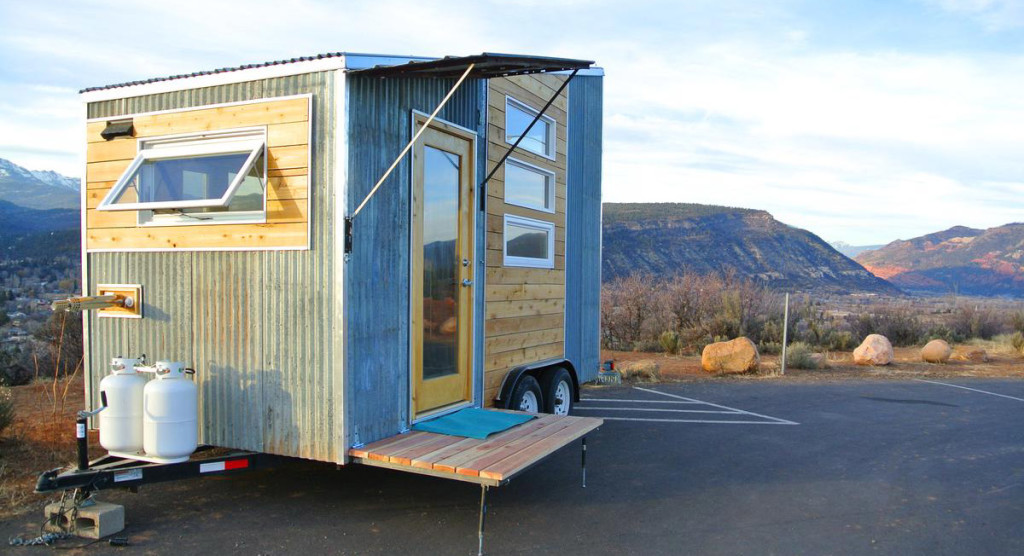 Custom light fixtures I decided to get a little creative for some of the light fixtures. The light over the dining table is a simple pendant using a Rocky Mountain Salsa jar with a LED lamp inside controlled by a pull chain. The main light is a weathered branch I found on my property with lots of character. I attached some small bulb holders, screwed in some ecosmart low wattage bulbs, and wired everything to a ceiling box. In the loft, I built a cove uplight out of reclaimed wood that illuminates the ceiling with soft light. One problem I noticed in my loft is that having direct light in such a small space is a little too intense, especially if you are just trying to wind down for the night and read a book.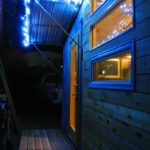 The bathroom light is not custom, but rather a modern LED fixture I had leftover from my house and it works well for the space. There are also some LED undercounter strips in the kitchen. The front porch has a receptacle on a switch, so you can use any kind of plug in light that you want. Currently, I have some LED christmas lights hanging from the metal roof.
Options– I have yet to install a built in couch, toilet, or heat source because these are rather personal decisions and I want to wait until finding a buyer before adding them in. For a couch, you will need to find something that is no deeper than 30″ and no wider than 68″ . I can also build you a custom couch with a full size foam mattress that can double as a guest bed. Toilet- you can go standard, composting, incinerating, or whatever else you have in mind. You will of course need to be connected to city or RV park sewer if you wish to go the standard route. If you decide you would like a simple homemade composting toilet or a basic flush toilet, this is included in the price. As for heat, I can install electric, propane, or a woodstove. There are several options for the above mentioned, so serious buyers should contact me to proceed.
______________________________________________________________
 Hopefully, this gives you a good idea of what this Tiny House entails. Pictures or words cannot do it full justice, however, so if you would like to schedule a viewing feel free to call me. Additionally, it will be available for public viewing following the Durango Snowdown light parade ( I have enterered it as a float!) and perhaps at a few other happenings around Durango (stay tuned).
______________________________________________________________
THANKS! I would like to take a little time to thank some really great folks who had a hand in this fun little project. First off, my good friend Laura Faubion helped with the heavy framing, the steel loft framing, and misc. bits and pieces here and there. She also provided great moral support and design feedback. Thanks Laura!
Emilie Monson kind of became an apprentice later on in the project, trading some elbow grease for some tiny house know-how and consulting/labor on her tiny house that she is starting this winter! Her help was invaluable when it came to painting, staining, clear coating, sanding, cleaning, and tiny things like trim and punch list items. Were it not for help, I'd still be working on this house instead of writing this post! Thanks Emilie!
Eric Ryba, a Durango local, also a retired thermo-dynamics engineer turned woodworker, not only provided all the beautiful aromatic cedar you see in the window trim and countertop, he milled it all to my specs! He also provided the blue spruce slab for the dining table and cleaned it up for my use. Eric's knowledge of wood and tools was also of great assistance as I tackled some of the more complicated components using wood. Thanks Eric!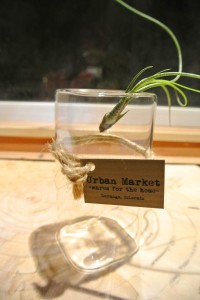 Urban Market of Durango was gracious enough to loan me the cool furnishing and accessories for staging that you see in the photos. If ever on main street, check them out!
865 Main St. Durango, Co        970-259-0472
Thanks Urban Market!
For a few more details and a full picture gallery, please visit the homepage for the Boulder here.