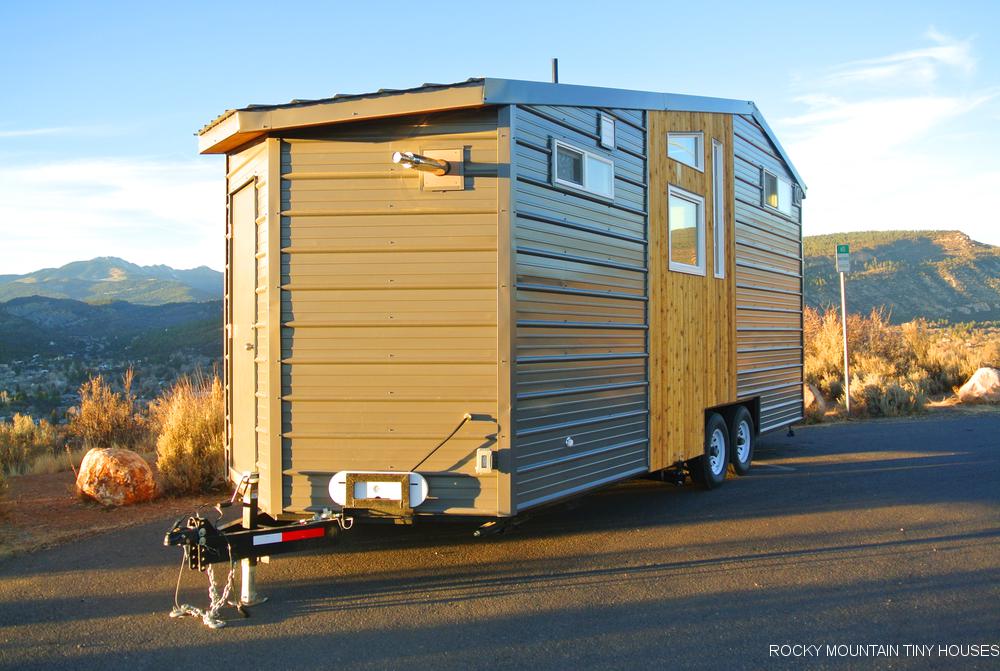 We recently completed this build for an awesome young couple living up in Great Falls, Montana. They are both in the military and wanted a home they could take with them wherever they get stationed. This, and they knew a tiny home would be a means for greater financial stability! They had a great interest in two designs by other tiny house enthusiast, the Shedsistence and the Tiny House Lab. They wanted to not only combine these two designs, but customize a few touches for their needs. So, if the shape looks similar to either of these houses, now you know why!
This design features unique variations compared to the other two. The massing is a combination of each. We started out with a 8′-4″ x 24′ trailer, added a 30 degree vee nose similar to Tiny House Lab, but then applied the Shedsistence longitudinal asymmetric gable, perhaps more easily thought of as a front to rear shed roof with a ridge break and smaller beaver tail on the rear. The reasoning was several fold: aesthetics, introducing additional storage over otherwise wasted space on the tongue, weight distribution, and hopefully aerodynamics. Having towed it 973 miles from Durango to Great Falls, I can say that it probably pulled the best of any bumper pull house we've built to date.
The trailer utilizes drop axles. As I always state, this makes towing slightly more difficult when navigating dips in the road and drainage gutters, etc., but it gave us an additional 4″ of height to play with in the design. This 4″ turned out to be critical in allowing us to build a 14″ tall platform above most of the primary floor. Under this platform is housed an 80 gallon freshwater tank, 60 gallon greywater tank, and abundant in floor storage for items that don't get used everyday. This couple happens to be outdoor junkies, so they have quite the collection of camping and sports equipment that will primarily live here. The platform is accessed via three different ways: an opening from the gear shed side, on opening from the living room side where there is a removable step, and trap doors in the center of the floor, two in the kitchen and one in the bathroom. Like the Shedsistence design, there is also a gear shed in the front of the trailer. Adding the vee nose made this space a little larger, however. We placed the water heater and off grid water equipment in this space. Since this platform and gear shed is difficult to understand by looking at the photos, here are some 3d renderings to clarify.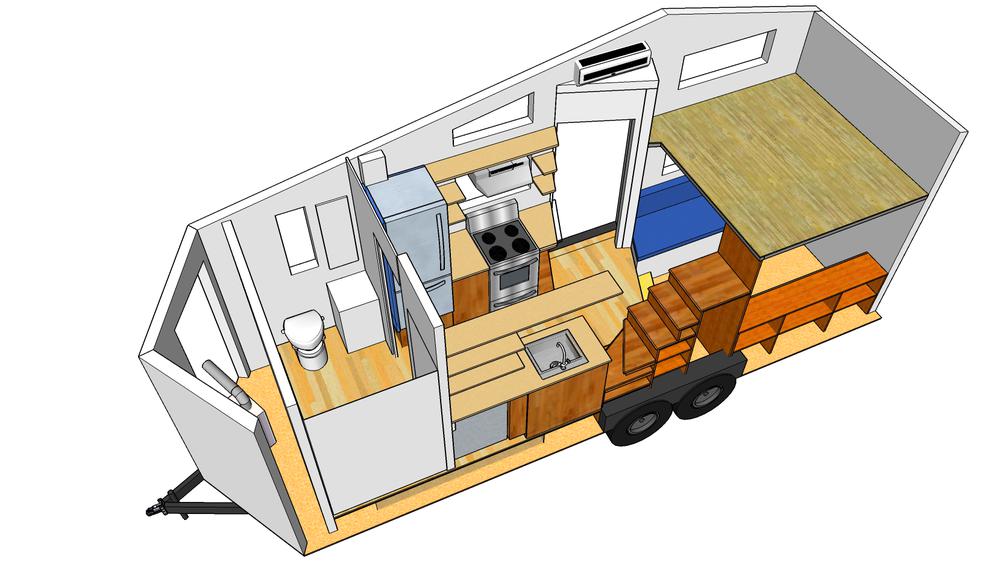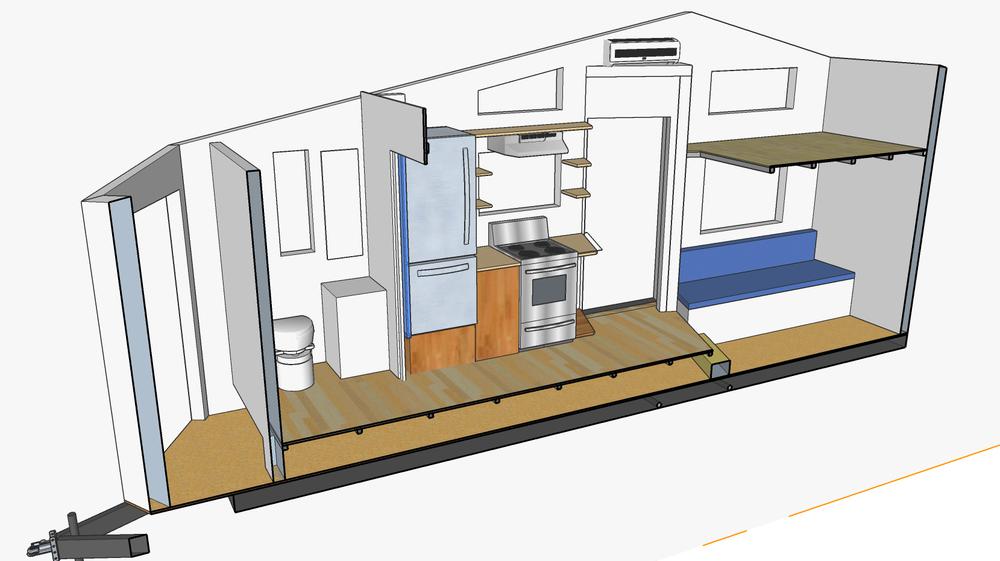 This tiny was constructed using SIP's, which not only took a lot of the guess work out of the crazy angles, but will ensure the house is easier to heat and cool no matter where this couple gets stationed. We installed a Lunos E2 heat recovery ventilator to provide constant healthy fresh air while recovering heat energy. All plumbing lines are fully accessible in heated space. All electrical lines were ran in surface mounted conduit. They preferred the industrial look but also wanted full access to wiring should anything go wrong, or they needed to make additions since altering wires in SIP chases can be extremely difficult after wall finishes have been installed.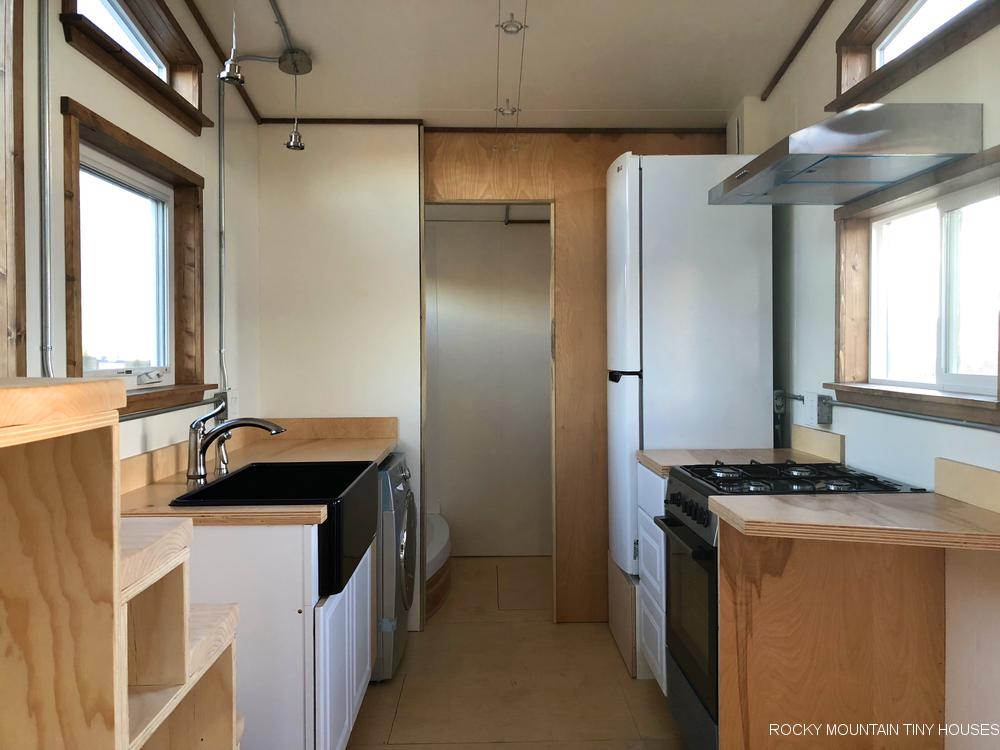 The kitchen features a gorgeous dark blue clay fired apron sink, 24″ gas range with modern range hood, W/D combo, and a bottom freezer fridge. Past the kitchen is entry into the bathroom which has a generous 42″ shower enclosure, Nature's Head compost toilet, and a vessel sink mounted to a barn wood platform. There is a partition wall that separates the bathroom from the gear closet on the very front of the trailer. This shed is accessed via a separate exterior door.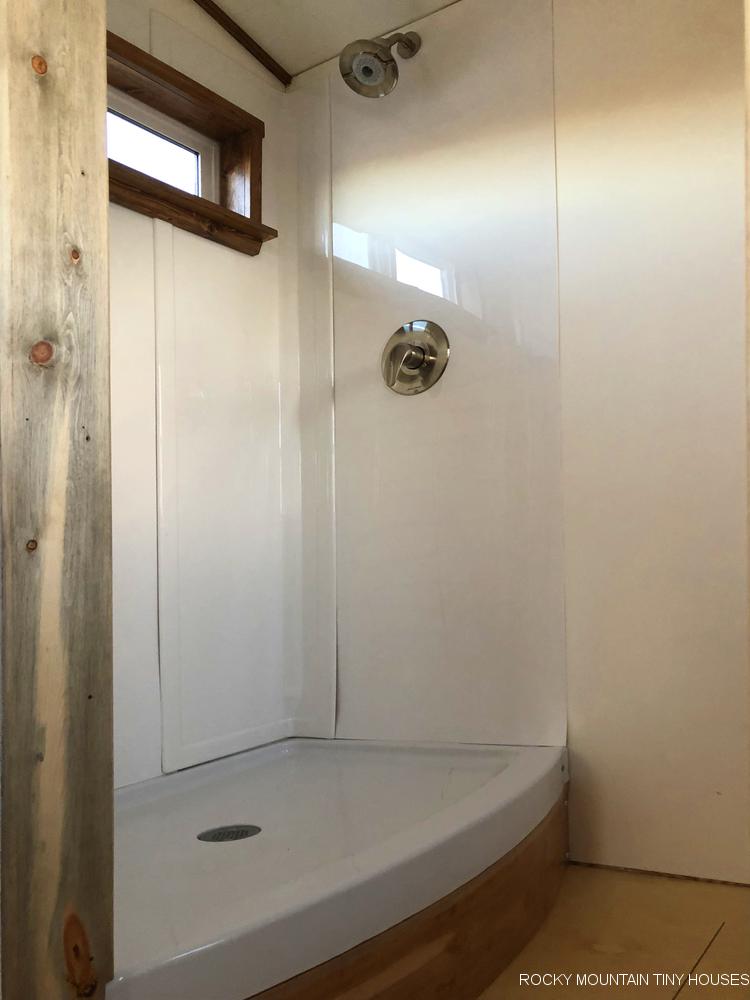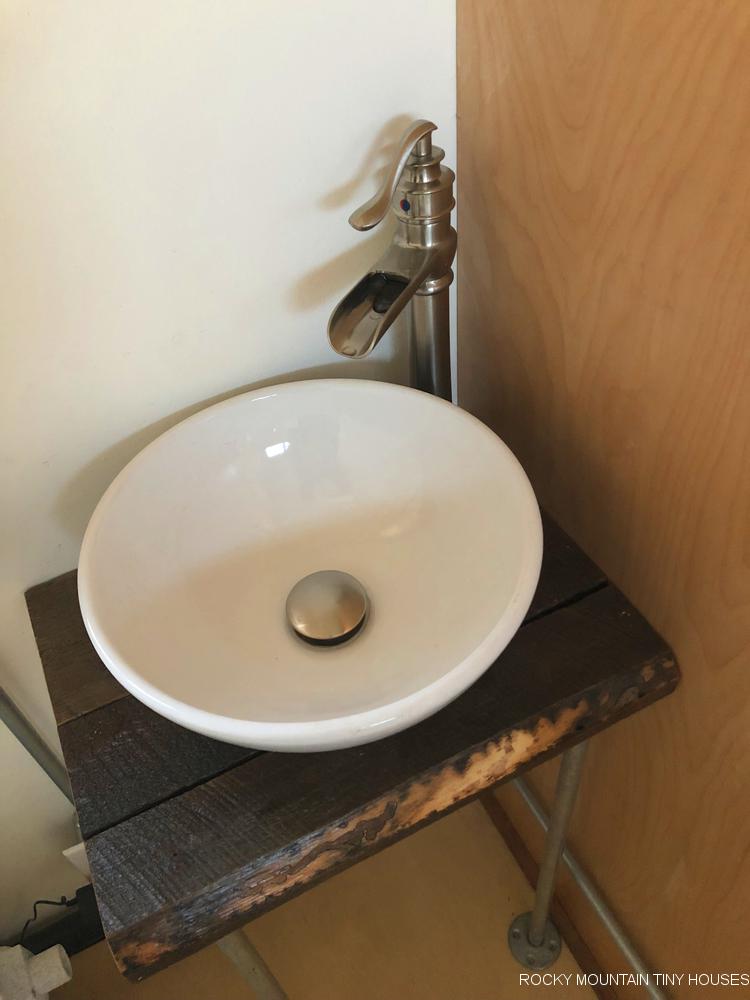 On the opposite end of the house is the living space which one has to take two steps down from the main platform to enter. At this point, I should note that this house was about a 98% build out. They had a set budget of $67,000 and asked us to complete as much work as we could within that budget, so you will notice in the photos that we left some simple tasks such as finishing the wood, trimming out a few corners, adding some door/drawers to the living room cabinet, and making cushions for the couch for the owners to complete.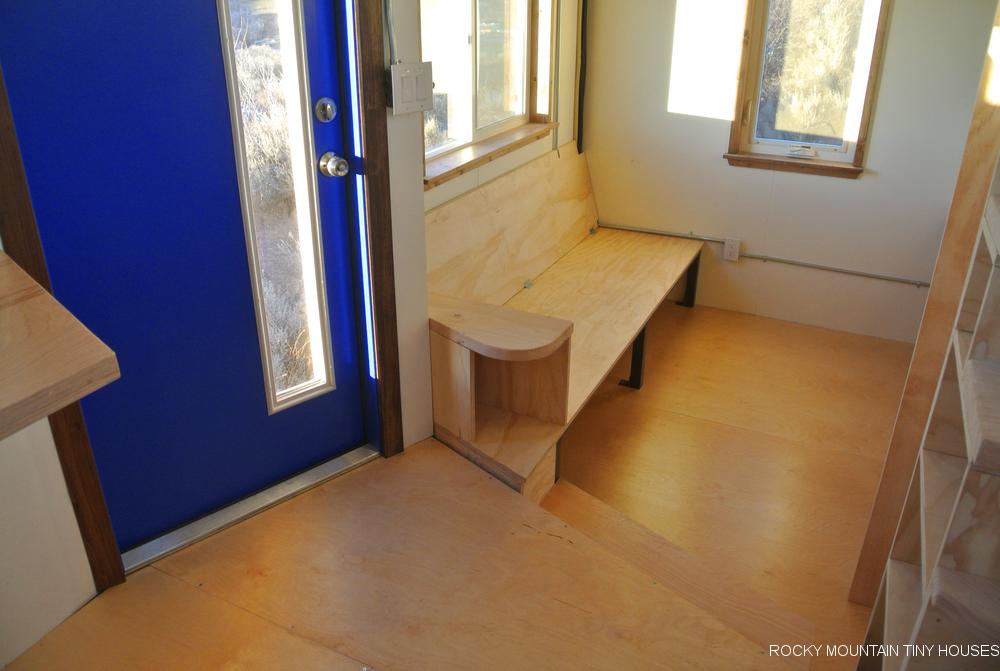 The stairs (doubling as storage cubbies and the closet) are on the same level as the platform, so there are two less risers needed to get into the loft. Up here, there is ample room for a queen mattress, plenty of headroom, and abundant light, in part to an overhead skylight!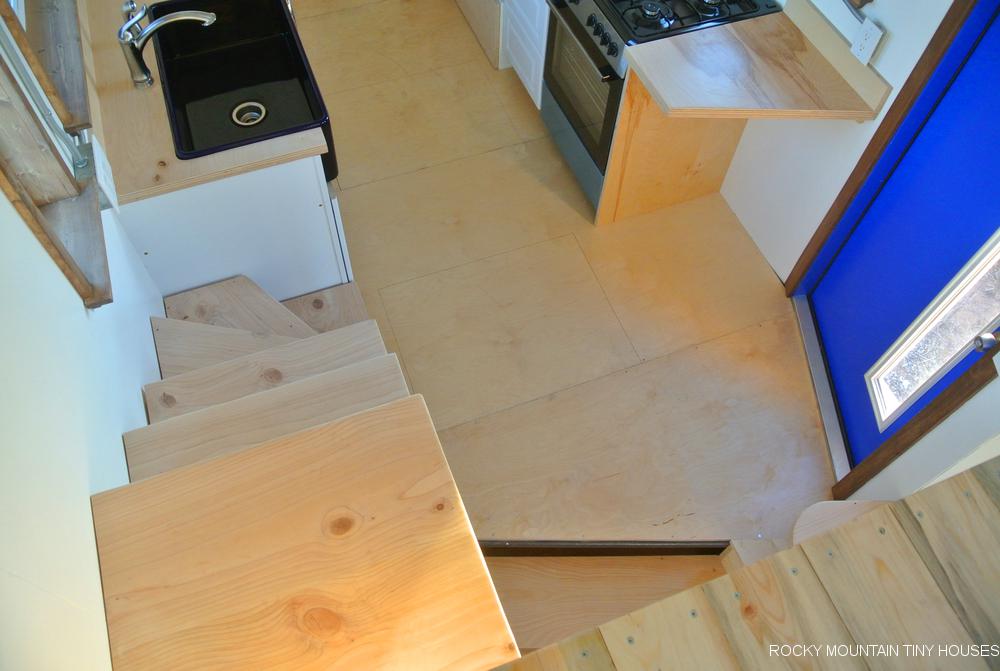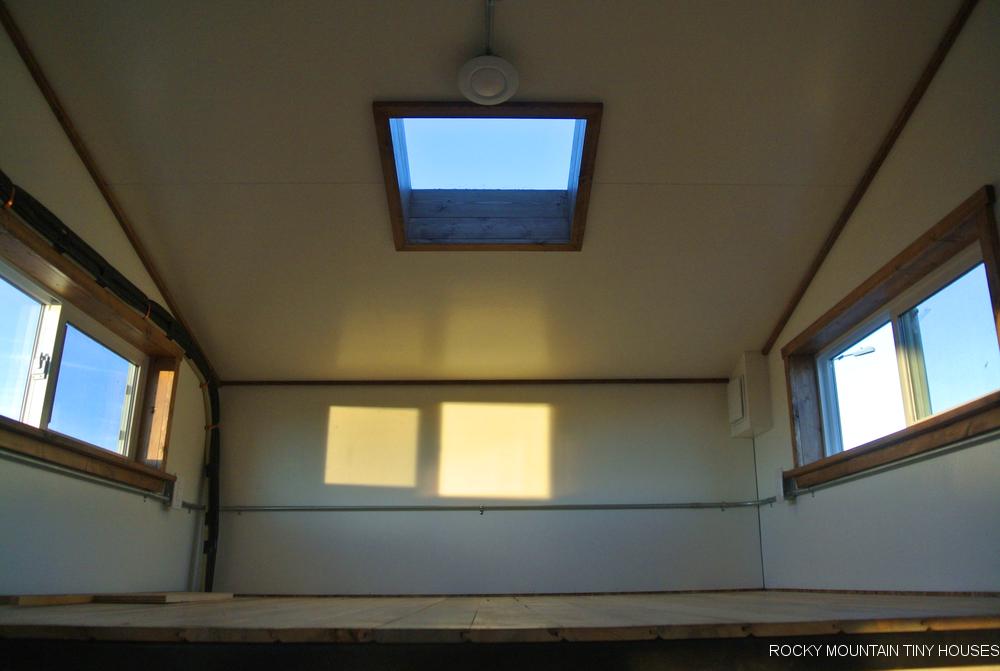 As mentioned, this project came in at $67k as shown with a few minor details not completely finished. As of late, we've had a few inquiries about whether we can a tiny house based on the Shedsistence design. The answer is yes! Since this design was quite different than that original version, we drew it up from scratch, and can totally do this for you too. If you like the Shedsistence design just the way it is and would like for us to build it, then we ask that you purchase the plans from them before coming to us. Out of respect for the original creator's intellectual property, we ask that you do this for any build that is not a RMTH design and documented plans for sale exist for that particular design. Enjoy a few more photos and a video tour: