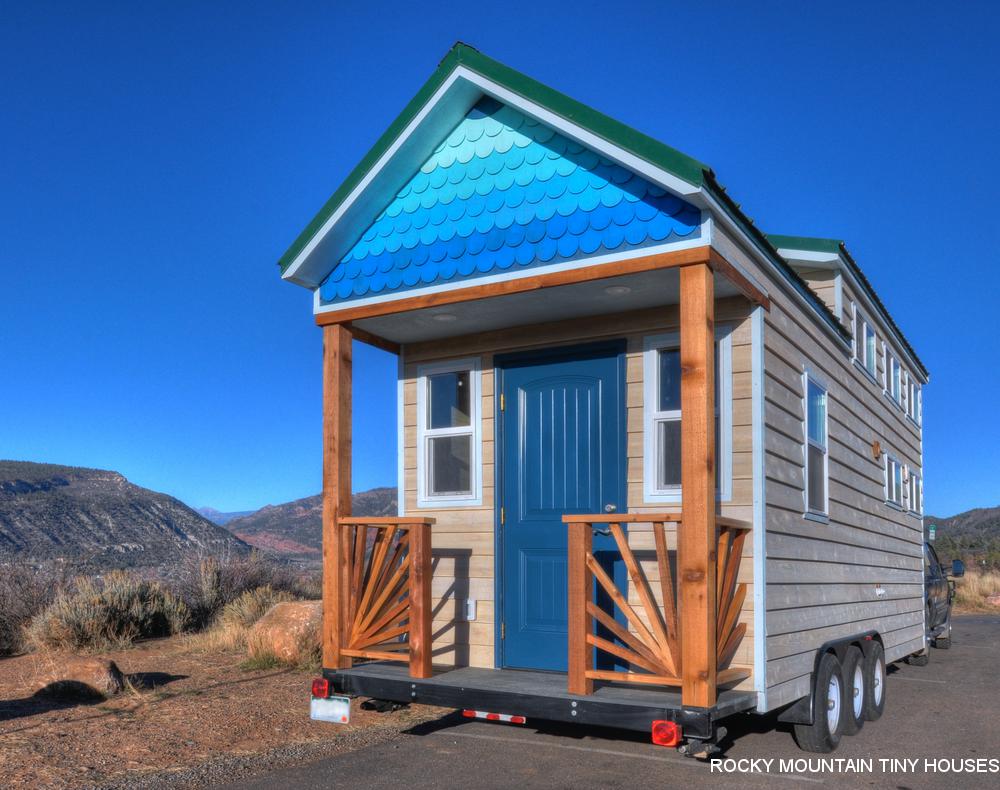 This here is a very unique build. Alden had great aspirations of building her own tiny house. She had gone to Tumbleweed workshops, bought Tumbleweed plans, purchased a Tumbleweed Trailer, windows, roofing, lumber, and other materials. She had even started construction on the house, only to find it was a little more difficult than she had anticipated. The plans were difficult to read and things just weren't jiving the way she had envisioned. She needed help! Luckily, a quick google search revealed that RMTH did consulting as well, so she paid for a few hours of consulting with us and we got her back on track. It didn't take much longer for Alden to realize she was still just a little in over her head, and also that those stock plans just wasn't what she wanted.
Luckily again, we got to meet at the Tiny House Jamboree where she hired us to start over from scratch and build her the house she had really envisioned. She carefully took apart what she had built, flat packed all the other materials she had purchased on the trailer, and hauled it all down to our shop in Durango. We set out to work by modifying the trailer to accommodate the new design and after two months, voila! Another beautiful creation from the RMTH workshop!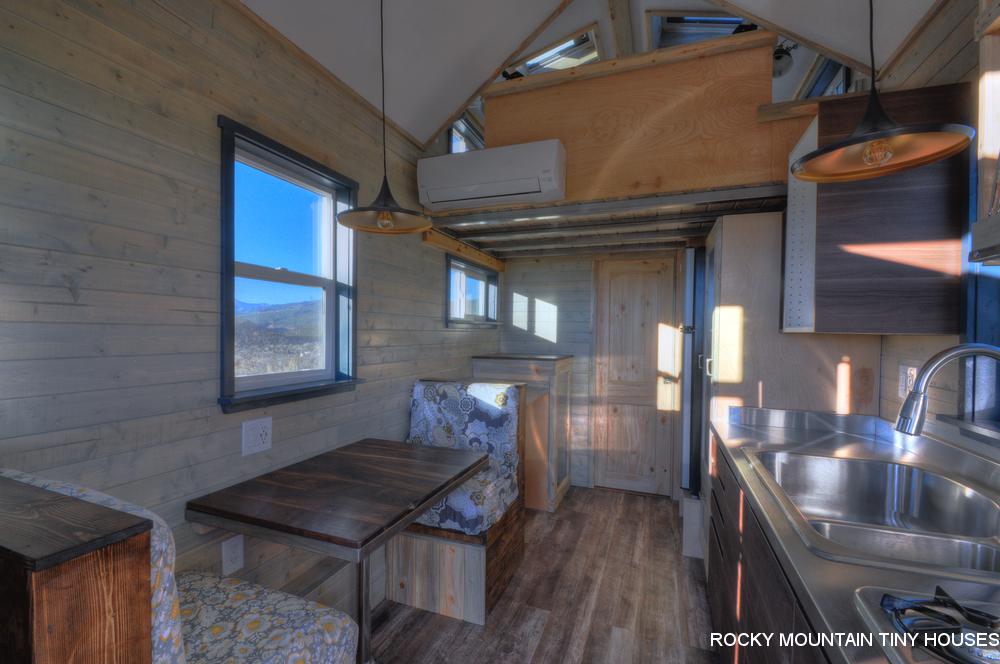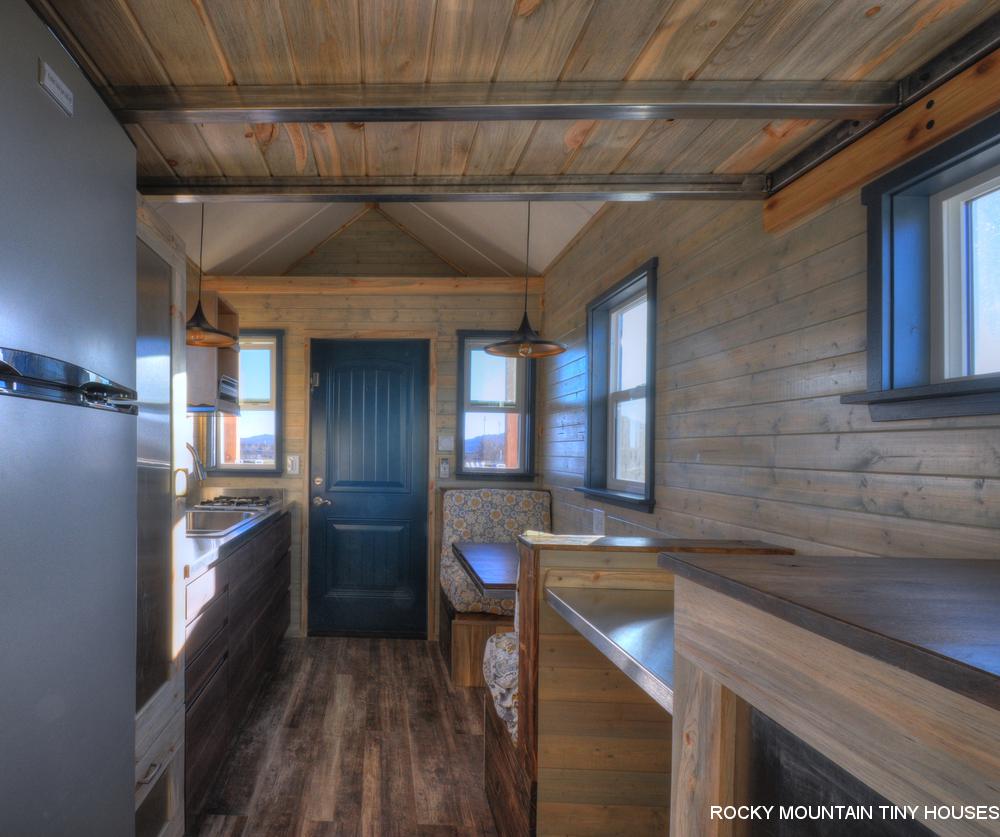 The kitchen features modern Ikea cabinets with a custom stainless countertop, including a large sink and triple burner cooktop. A custom built dish rack not only stores dishes but lets them drip dry into the sink. Opposite the kitchen is a built in dining table that converts to a daybed for lounging or overnight guests. The bottom panels pull out for additional storage below. Behind the dining set is a small counter that can be used for prep space or a small office area. Behind this is a compartment housing a 60 gallon freshwater tank for instances when they aren't hooked up to domestic water since this house is intended to be on the road a lot over the coming years. The walnut top comes off for access and can used for more prep space when access is not needed.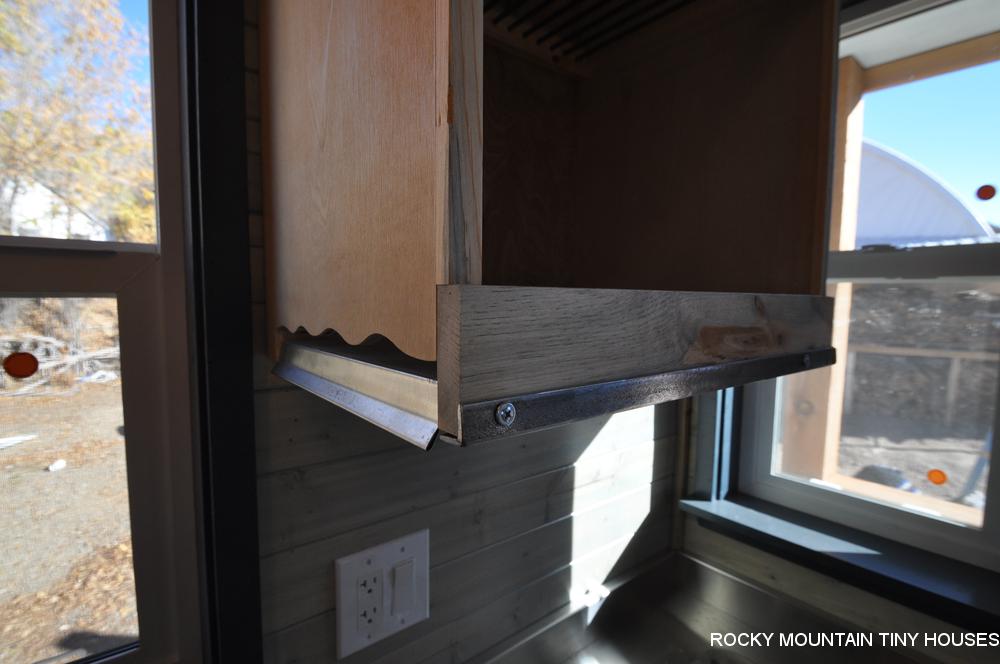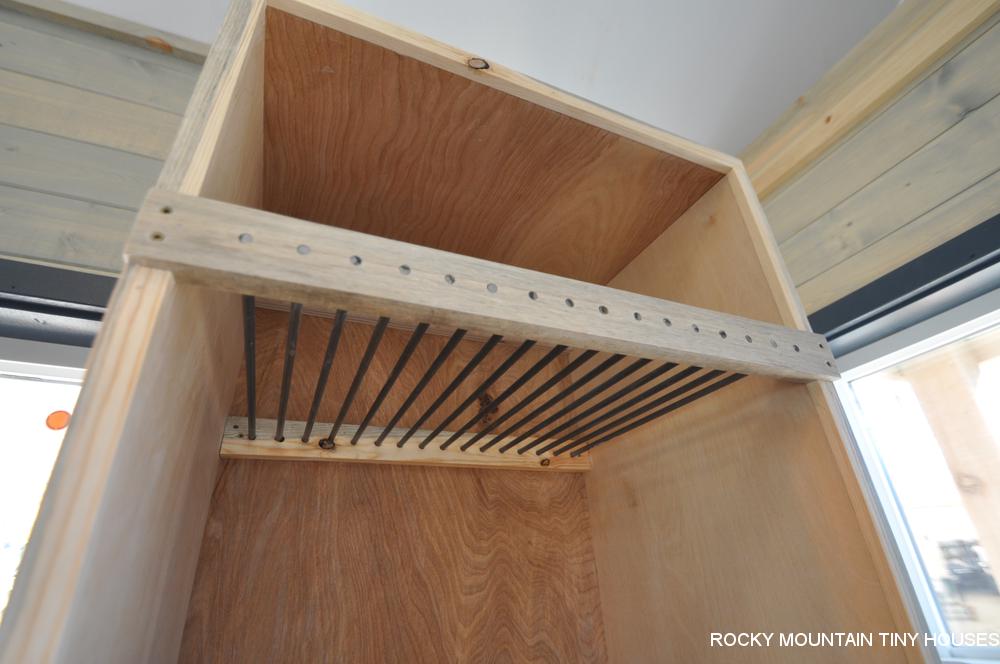 A shop built pull out pantry provided plenty of food storage. A 7.3 cu ft Fridge sits to the left.
Moving further back, one enters the largest bathroom we've ever built in a tiny house. To be fair, it doubles as closet and storage space. The standout feature in this bath is a Japanese wood Ofuro soaking tub, provided by Alden. We fabricated a curved metal shower curtain ring for those days when a 1 hour soak just isn't feasible. Opposite the bathing area are L-shaped wall shelves that can be adjusted as needed. In the far back corner is a separate water closet room containing a Nature's Head compost toilet. The small pedestals you see are our version of the famed Squatty Potty! The stock version didn't fit well in the space, so we designed our own!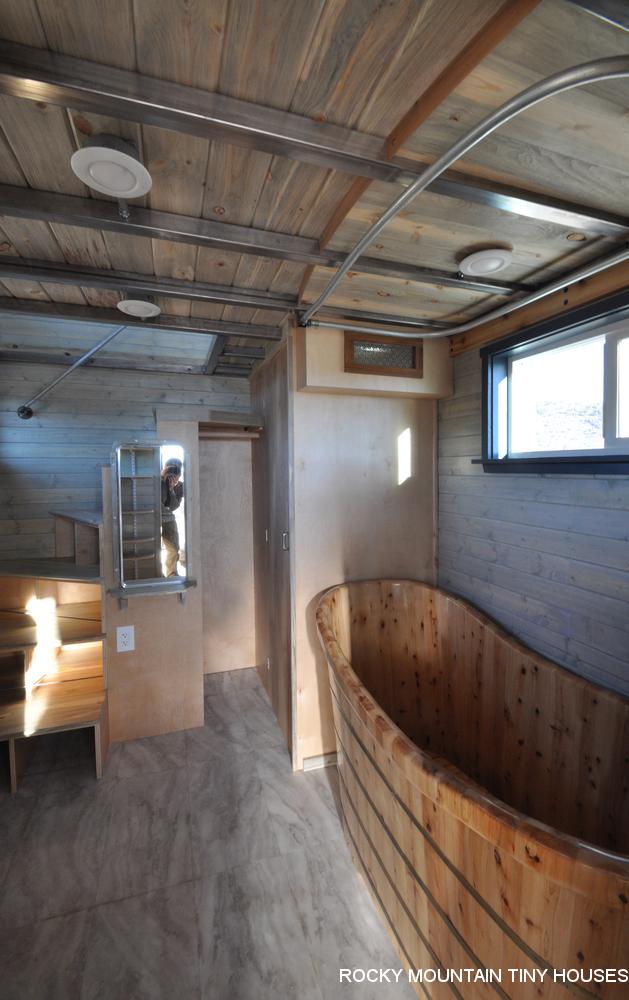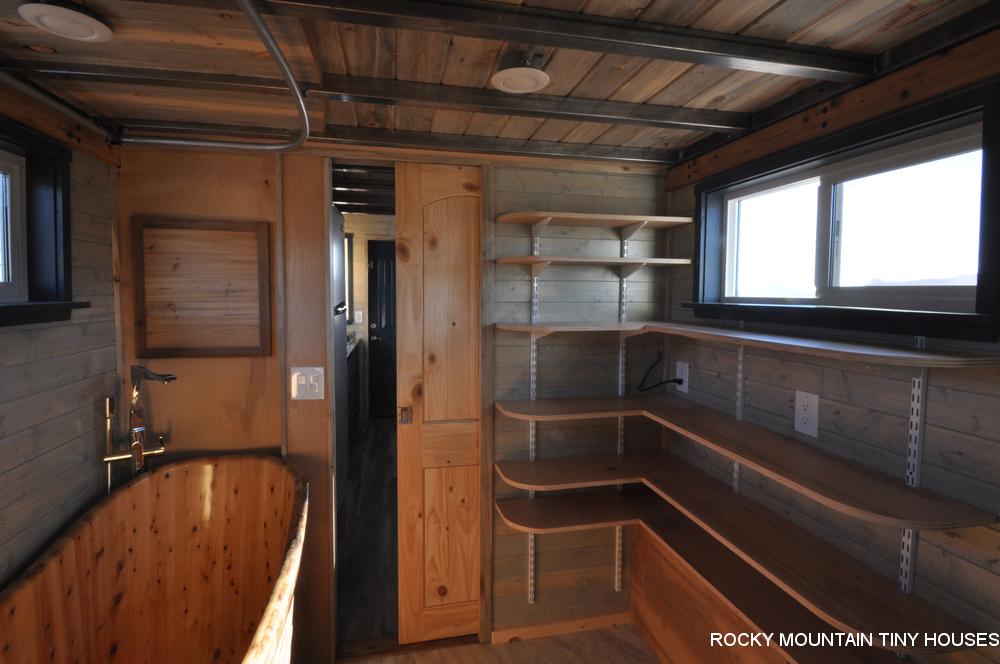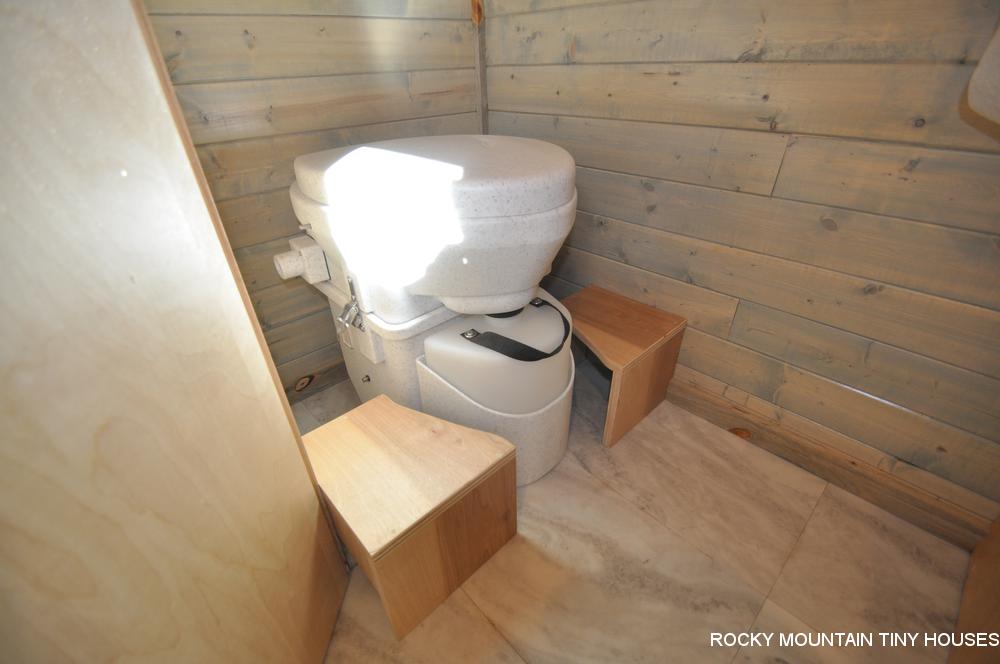 In the other back corner are winder stairs with built in storage that lead up to the very spacious and bright loft. Built in cubbies at the end of the loft provide a little privacy from the kitchen space below, built don't completely shut if off for light and air flow since the mini split fan is mounted on the other side of the cubbies. They also store the A/V equipment that bring to life a projector screen and full surround sound. This customer knows how to watch movies! Two skylights are installed for even more light and star gazing at night.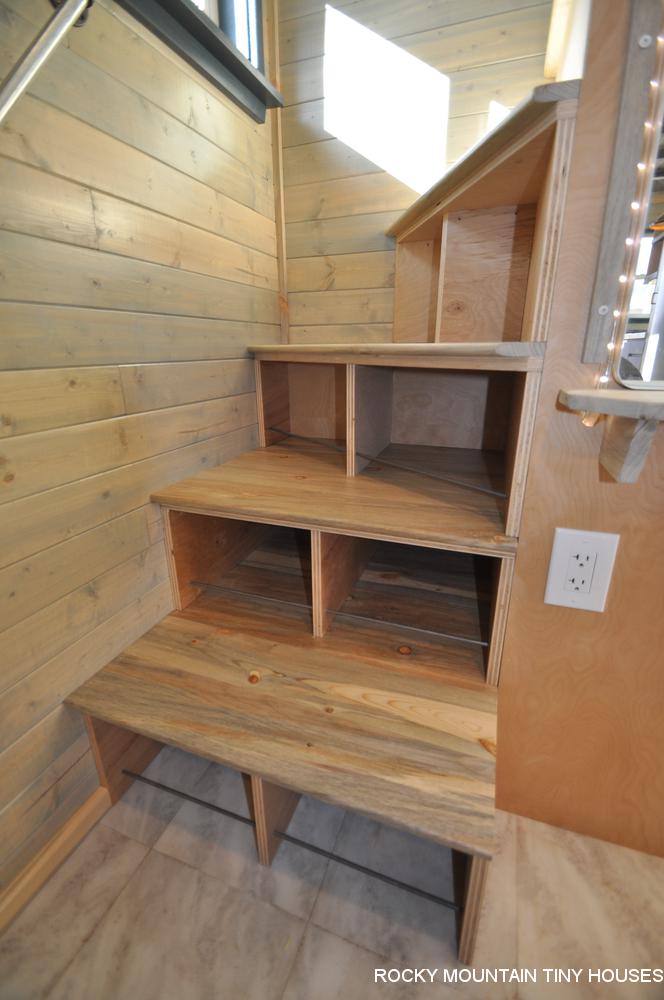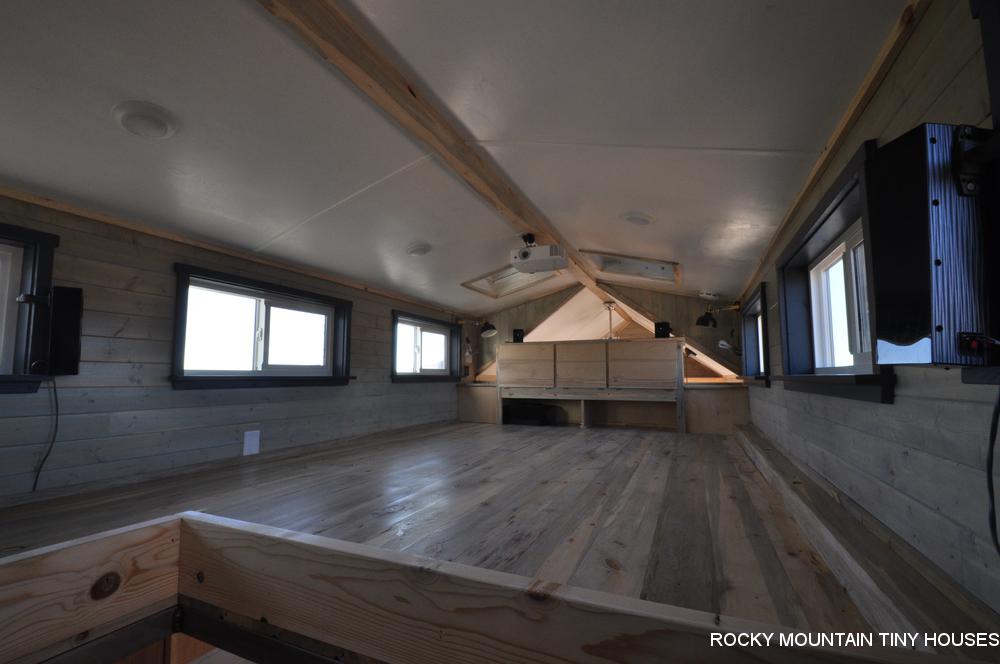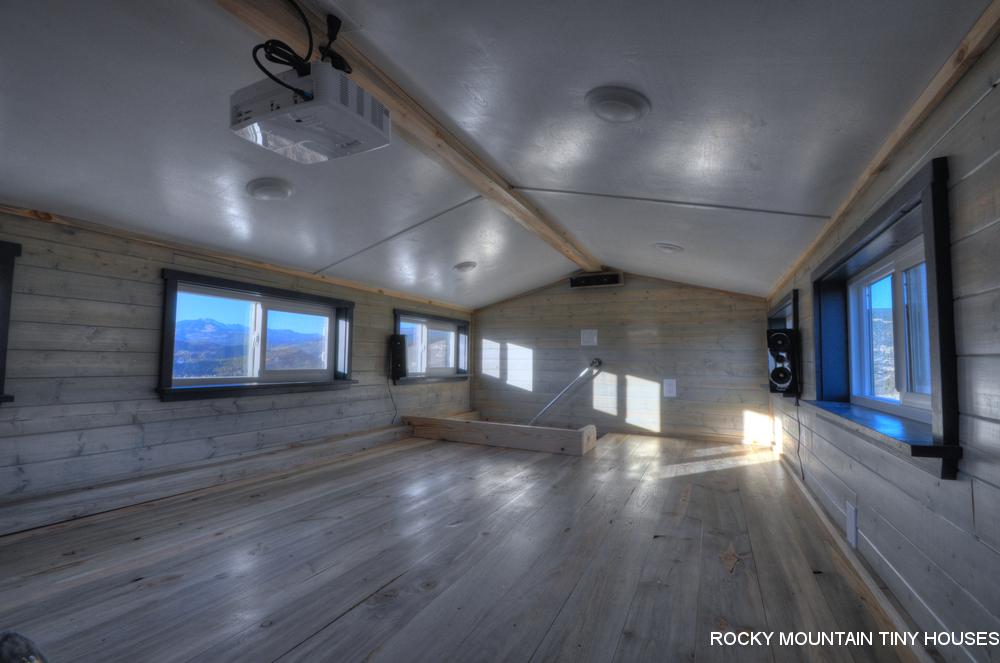 Since the customer provided much of the materials including the trailer, some lumber, windows, metal roofing, cabinets, tub, faucets, and other small bits and pieces, it is difficult to determine what the final price would be had we provided everything, but our best guess would put such a price around $87k. The Alfi cedar tub and faucet were were $2k+! This tiny house is definitely in the luxury category and was a very time consuming build. The customer was extremely pleased with the end product and cannot wait to begin her cross country travels.