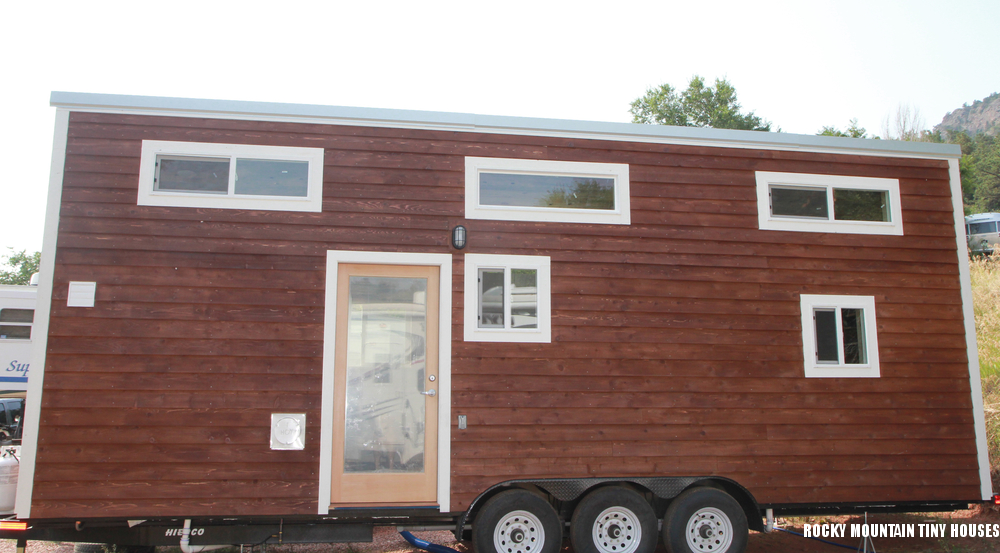 We are pleased to announce the recent completion of a custom hOMe build. For those of you not familiar, this is a very well known design by Andrew and Gabriella Morrison. You can view the original hOMe and learn more about the design on their website: http://tinyhousebuild.com/
A newlywed couple in Colorado Springs contacted me back in the Spring to inquire about this project and whether or not we could customize it and still stay within their budget. Absolutely! I have actually been wanting to build a tiny house from someone else's commercial set of plans, not only to see how they do things, but to spare me the process of having to generate plans from scratch. This was the perfect opportunity!
The most notable differences from the original are:
Built with Structural Insulated panels instead of stick framed! Very straight, strong, and better insulated.
Interior beetle kill pine instead of drywall
dark stained cedar lap siding instead of t&g
copper apron sink
curved glass shower enclosure
modified cabinet layout to accommodate customer's needs
cabinets built in-house instead of Ikea to save weight and be custom fit
small 18″ dishwasher installed in the kitchen
fold down dining table
dry weight of 11,900 lbs instead of the estimated 17,000. easier towing!
We were able to complete this custom 28′ build for $74,000. For those who like the original design and would like to save a little money we could complete this build in stock form for closer to $68,000 using either SIP's or stick frame with Spray foam insulation. Please note that you will still have to purchase the plans from the Morrison's at tinyhousebuild.com prior to contacting us. The prices above do reflect the cost of these plans, however. Enjoy the photos below!