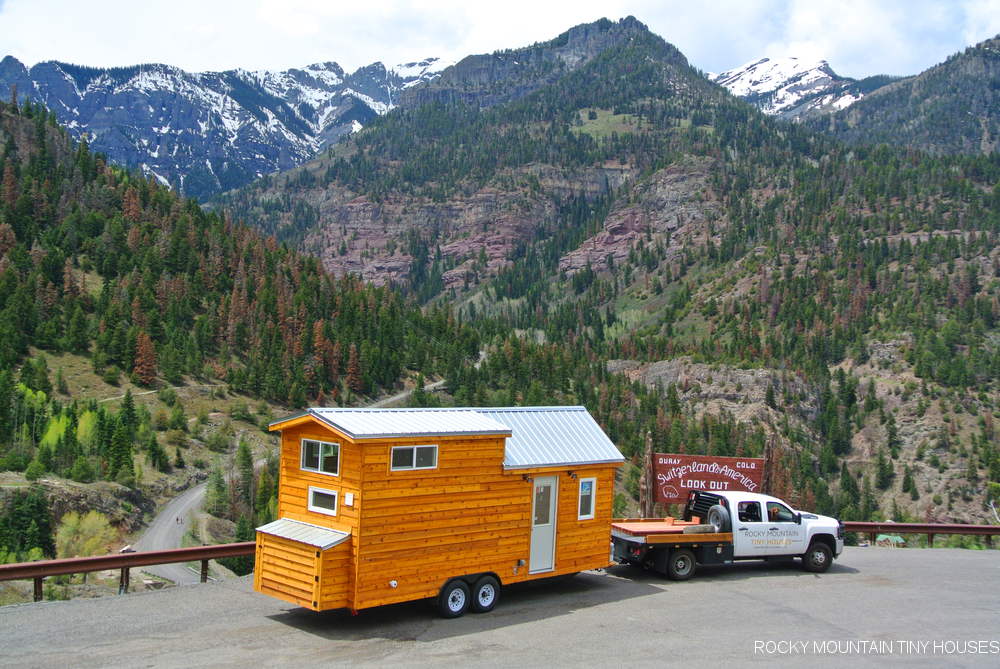 An awesome gentleman in Grand Junction approached us about building this dream tiny home. He was having trouble finding a builder that could customize the house to his needs and stay within budget, until he found us of course! It's a simple, yet effective layout with some very nice touches thrown in.  Turkey Flats is the name of Jon's favorite hiking trail!
We started with a 24′ trailer chassis and stick framed a main 10/12 gable roof with a 3/13 dormer pitch above the sleeping loft. A side entry door leads into the large living space where there is an L-shaped couch that convert into a queen size bed for guests or daytime lounging. There is fully accessible storage below the couch.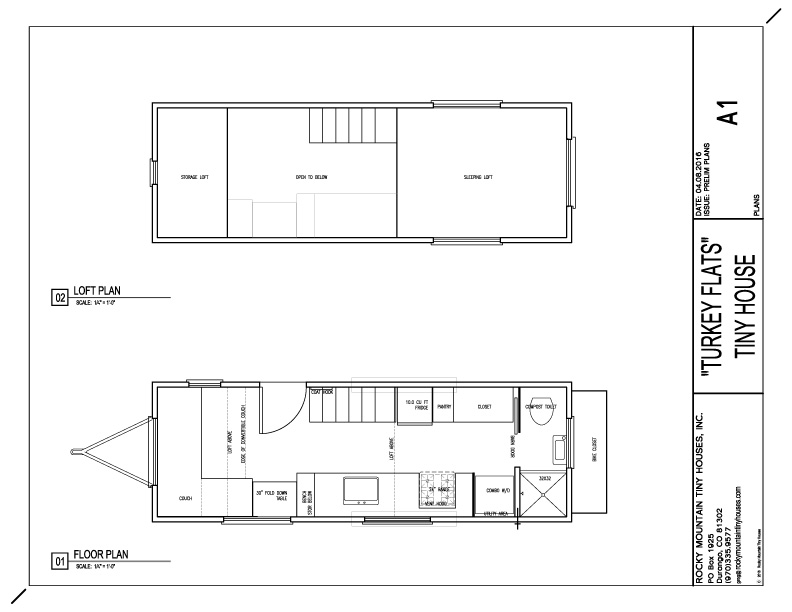 From the living space you can go up the storage stairs into a large and bright sleeping loft, or walk into the kitchen space which features a long granite countertop with undermount sink, a 24″ gas range, and ample wall space for shelf/upper cabinet customization. Opposite the counter is a 10 cubic foot fridge with a pantry space and a large closet. There is a combo washer/dryer on your right before heading into the bathroom.
In the washroom is a simple 32″ shower, a Nature's Head compost toilet, and a small wall mount sink trimmed out with barn wood. The bathroom is closed off with a sliding barn door. Jon opted for clean white walls, a beetle kill ceiling, and red oak flooring, stairs, and built ins. The cabinets are stock Hampton Bay Hickory with the sand colored granite being hand selected from a local stone yard.
This tiny house weighs approximately 10,000 lbs dry and pricing starts at $64k for those wanting something similar.
While we have some nice exterior photos, we are waiting for interior photos to come in. In the meantime, please enjoy some videos we put together, one of the delivery of the house over the world famous Red Mountain Pass, and the other a short tour.