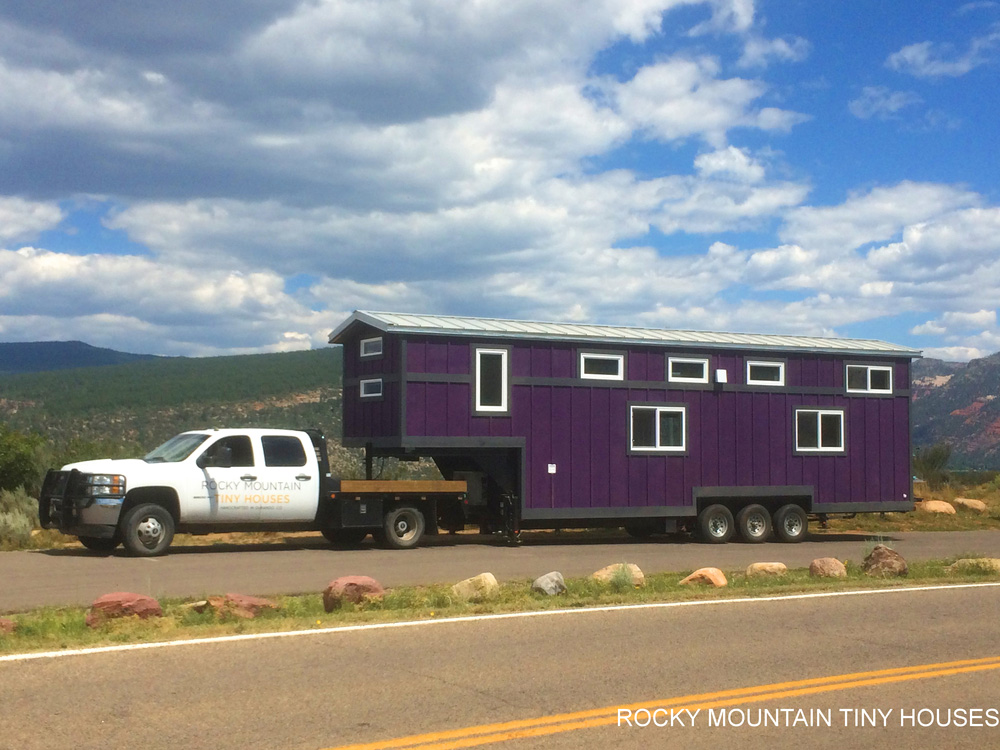 Meet the Pemberly. Just when we think we might have built the biggest, fanciest, most advanced tiny house in our repertoire, which has probably happened no less than 8 times now, we go and one up ourselves. Well, in truth, our customers keep one upping each other! We are just the facilitators. This is the nature of tiny houses these days. Always improving and evolving to meet the inhabitant's needs. Long gone are the days of Jay Schafer and 14′ salt boxes. These early houses will forever hold a place in the tiny house movement, but this is 2017 and just as Dylan taught us, the times are a changing. I will be the first to say that this build won't appeal to everyone, and there will most certainly be backlash in the form of "this isn't what tiny is supposed to be", but let me also be the first to point out that tiny is relative to one's needs, and this house is designed for a family of five, so if having this extra space and nicer components is the key to making this lifestyle sustainable for this family, then it very much fits the definition of a tiny house. Counting the loft and catwalk, this design tops out at 460 sq ft.
This house is packed with so many features I will probably leave a few out, but I will try my best. We start out with a very custom Trailer Made 30'+7′ gooseneck trailer. This is the only one like it they have ever made because it includes Dexter air ride suspension axles. It might also be the last one because of how complicated and expensive the installation was! Nonetheless, Damon and the crew got the job done and I have to say that this air ride works like a dream and is so smooth!! You can control the firmness of the ride and adjust for weight variations with the flip of a compressor switch which increases PSI in the holding tanks. Air ride is literally a night and day difference over traditional leaf springs and trust me-I have towed A LOT of tiny houses!!
From here, we installed a Bigfoot 6 point Automatic Leveling System. With this add on, the owner can easily unhook the trailer from the truck and automatically level the house with the push of a key fob button. Some might consider this an unnecessary expense, but when your house is 37′ long and 21,000 lbs, it is actually quite nice, especially if you plan on moving often, which this family intends on doing since they are military based. 21k lbs? Did you read that correctly? Yes! She is a big gal, and not light at all, as you will soon see. A house of this magnitude will require a very large tow vehicle. These customers picked it up themselves in a 2017 Ford F-450 rated to tow 32,500 lbs. My Chevy dually one ton rated to pull 23k was not very happy toting the house around Durango to the scales or photo shoot site. We were able to leave the stock hand crank jacks on the trailer chassis in case the hydraulic jacks malfunction for any reason.
Sitting on top of the trailer frame are custom fabricated structural insulated panels (SIP's) for ultimate strength, insulation, sound deadening, and ease of construction qualities. The simple floor plan consists of a bathroom on the rear of the trailer, followed by a large living room space, then the kitchen, storage/utility space, and a bedroom on the gooseneck. There is a master loft in the rear, and a third bedroom loft above the utility area. They are connected by a catwalk. The Devil, as they say, is in the details though.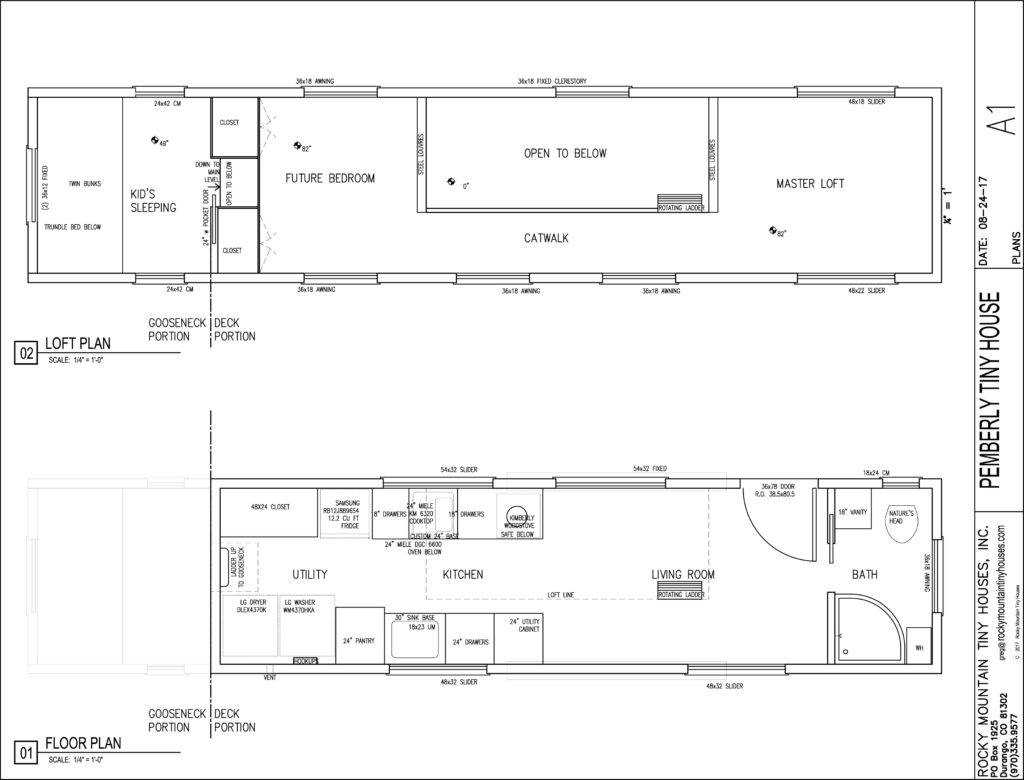 Starting in the bathroom, these customers were very much in love with a super high quality round shower enclosure with exotic silestone walls, a lighted medicine cabinet, and a go to Nature's Head toilet. An extremely powerful and efficient Rinnai tankless water heater is placed adjacent to the shower as well as a Frigidaire whole house dehumidifier to rid the house of excess moisture since this family has no idea where they might be stationed next, and, if living in a humid climate, keeping the air dry not only protects the house from mold issues but makes it more comfortable in the summer time. A Panasonic whisperwall vent also helps quietly push excess moisture out of the bathroom while taking a shower.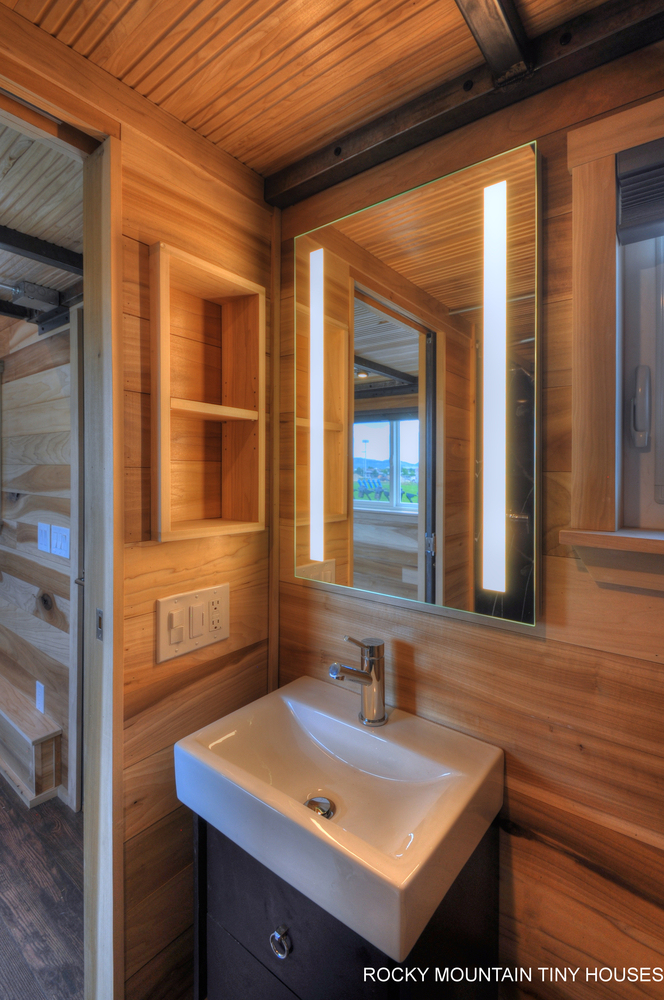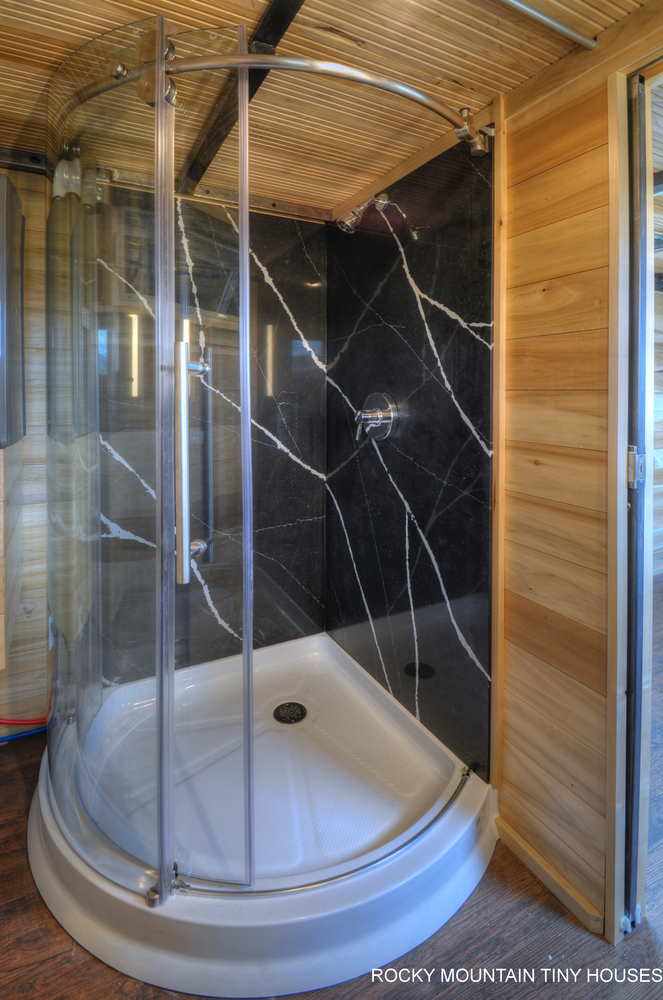 The living room is fairly uneventful as it will be filled and furnished by the owners. One special request we fulfilled was installing audio/video cables in the walls that are routed to one of the cabinets in the kitchen where all the A/V equipment will live out of sight. There are audio jacks for speakers and HDMI ports for video. There is a very unique ladder in this area that stores upright when not needed and swivels down when one needs to access the upper level, which I will discuss more a little later.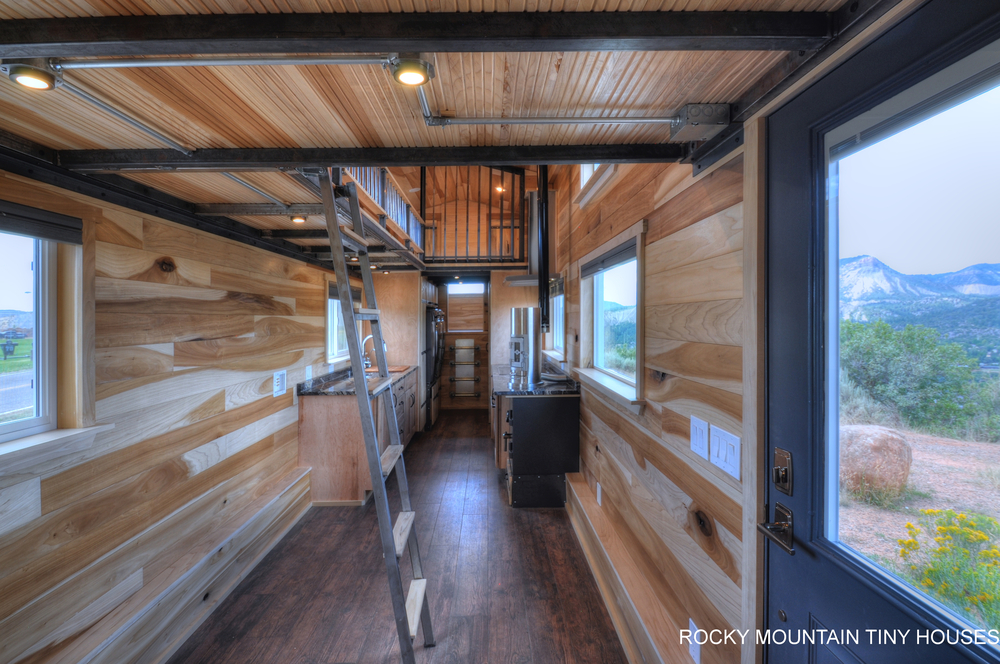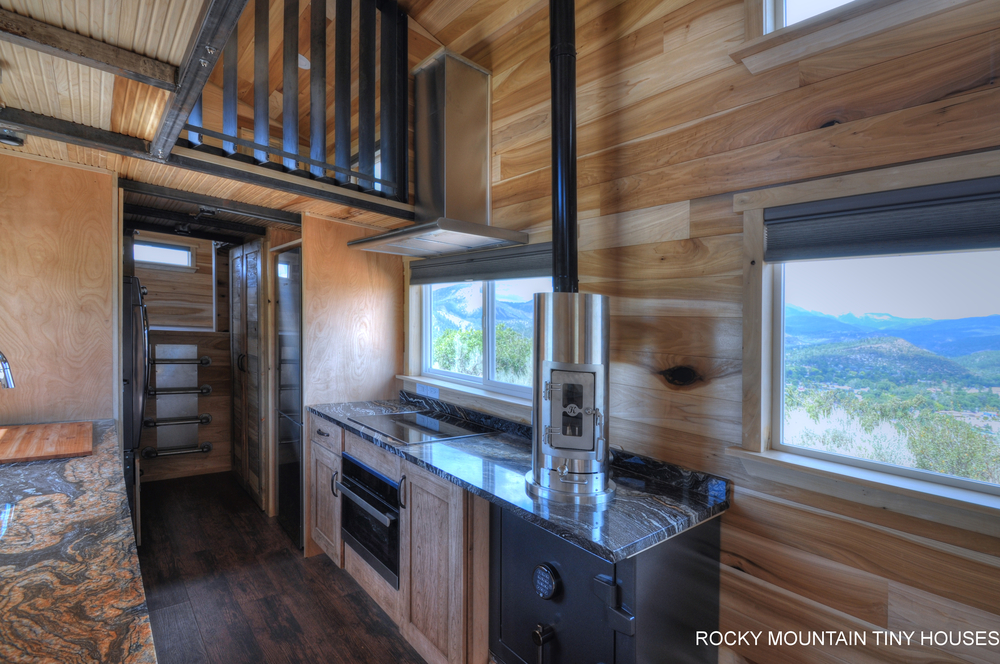 From the living room, you have a nice view of a Liberty Premium heavy duty safe for precious belongings that sits on a custom built storage drawer. Above this is the primary source of heat, a Kimberly woodstove! The absolute best woodstove you can buy for a tiny house!! You are then immediately drawn to the beautiful Orinoco granite countertops carefully installed over custom high end cherry Schuler cabinetry. A kitchen of this caliber would not be complete with top of the line appliances in the form of a Miele induction cooktop mated to a Miele Conactivity range hood that communicates with the cooktop and automatically adjusts fan output based on how much you are cooking, and to complete the ensemble a Miele combi steam oven . The customers did not stop here, however. They spec'd perhaps the best 10 cu ft fridge money can buy, a Bosch 800 series. We also installed a Kraus undermount sink accessorized with an InsinkErator hot water dispenser/filtration system for those chilly winter nights when you just don't want to wait for water to heat up over the stove to make some hot tea or cocoa, or for the water heater to fire up to do a few dishes since it is located so far away from the faucet! The sink is also equipped with a hefty garbage disposal to macerate any food scraps and keep the drain system nice and happy! To finish the kitchen area out, we built a sink cover out of Alder that can act as extra prep space/chop block, and hide the dishes when life just can't wait.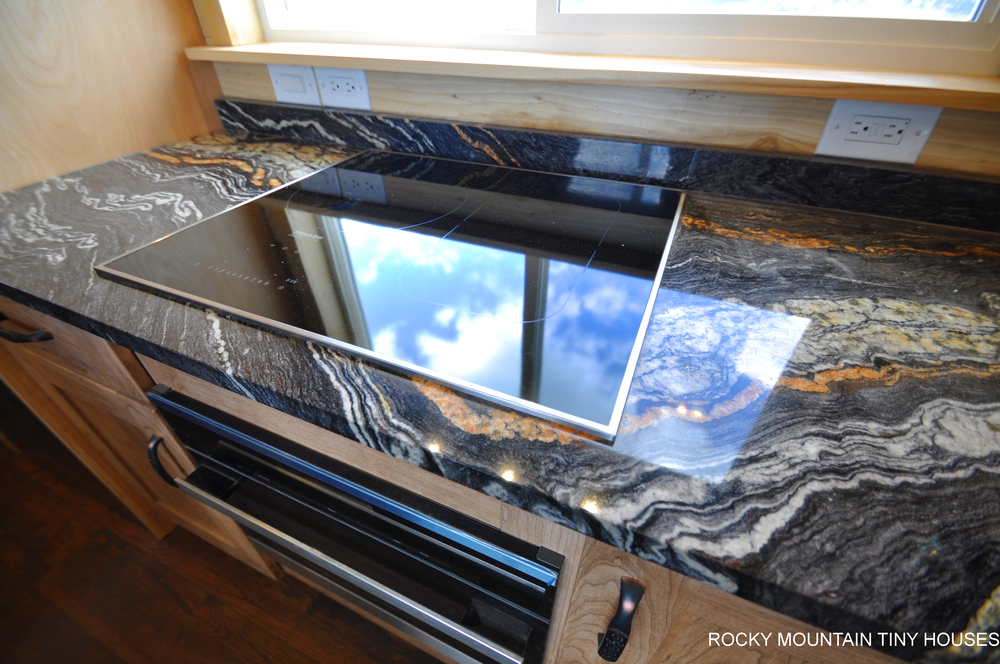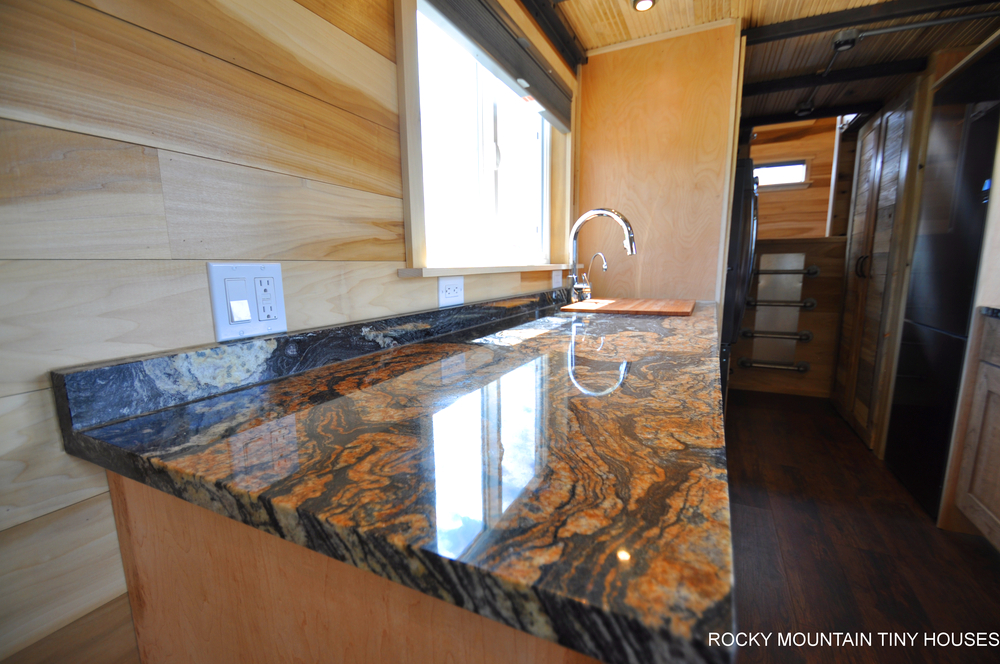 Moving into the utility area, we had to stray from Schuler cabinetry and move into shop-built mode to fit the space. There is a very generous pull out pantry for food and utensil storage which is neighbored by a LG 4.5 cu ft front loading washer and matching 7.5 cu ft dryer. Five family members means lots of laundry!! There are pull out drawers on bottom and doors on top for accessory storage. Across from this is a very large closet that will house the majority of this family's clothing, the doors of which are adorned with beetle kill pine and steel trim motifs.
From here, the kiddos get to climb a steel pipe ladder up into their bedroom on top of the gooseneck!! We mounted handles all the around to make it as safe and fun as possible. The gooseneck bedroom has enough room to install a trundle bunk bed (sleeps two full time, but has a pull out bed on bottom for a temporary third guest) as well as a little room for toys and play time. This space can be closed off with a pocket door. There is also an inline fan installed above the door to provide air circulation for temperature control since the heating/cooling are more centrally located in the house.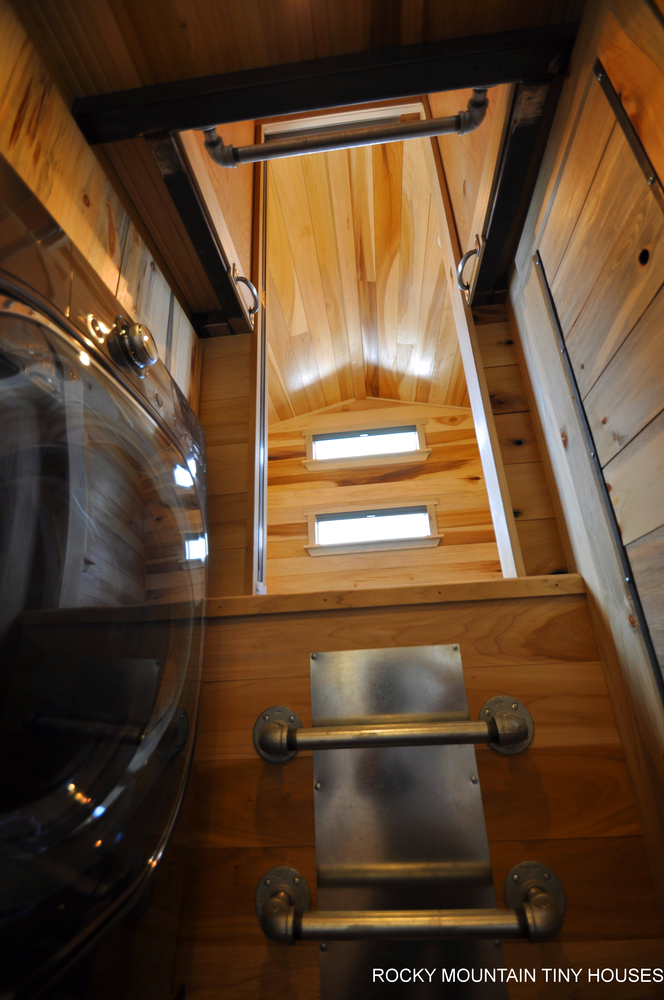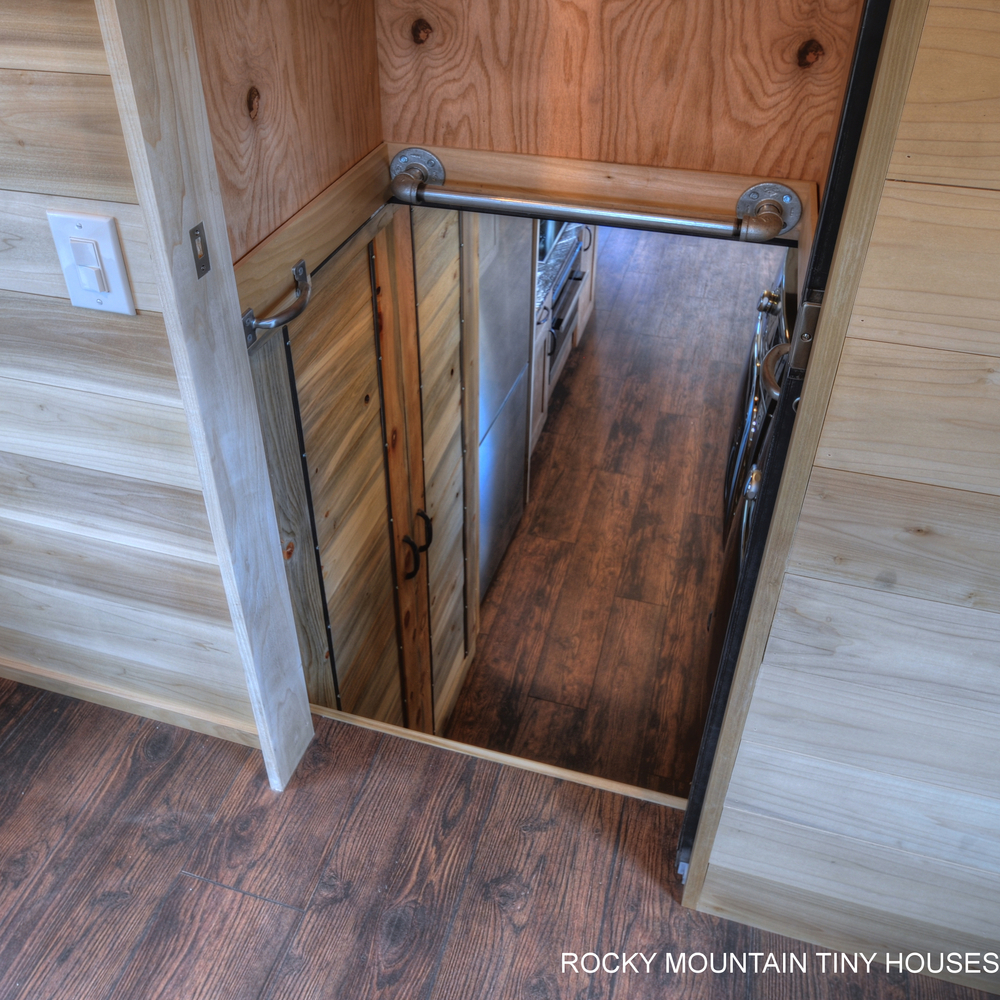 Now, going back through the utility area, kitchen, and into the living space, you will wonder how do I get up to the loft spaces?? The owner had this concept of a ladder that could swivel upwards and out of the living room space for more versatility, but come back down when it was bed time. The solution to making this work proved to be quite simple. We took a heavy duty wheel caster, removed the wheel, and bolted the ladder in. A welded hook at just the right spot keeps a little tension on the ladder so it stays in place in the tucked position. When needed, they can simply push up a little, and rotate the ladder down to the floor. It has a ten degree angle for comfort and safer operation vs a straight ladder. The video at the very bottom demonstrates this a bit better.
The ladder takes you up onto the catwalk. Go left for the master bedroom, large enough for a king size bed and ample headroom due to the low slope gable roof, or go right to access the third bedroom of the house, which for the time being will just be a bonus room since the fifth member of the family was born just two days after they took delivery of the house (congrats!) , and I doubt this wee one will be climbing a ladder anytime soon. This room also has two closets with beetle kill/steel doors for even more storage.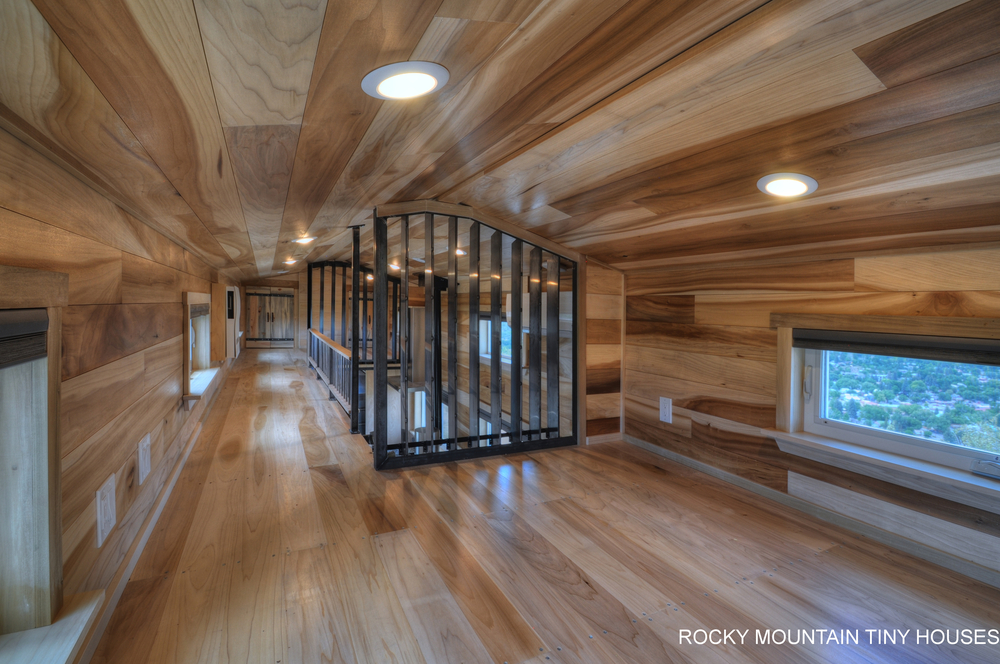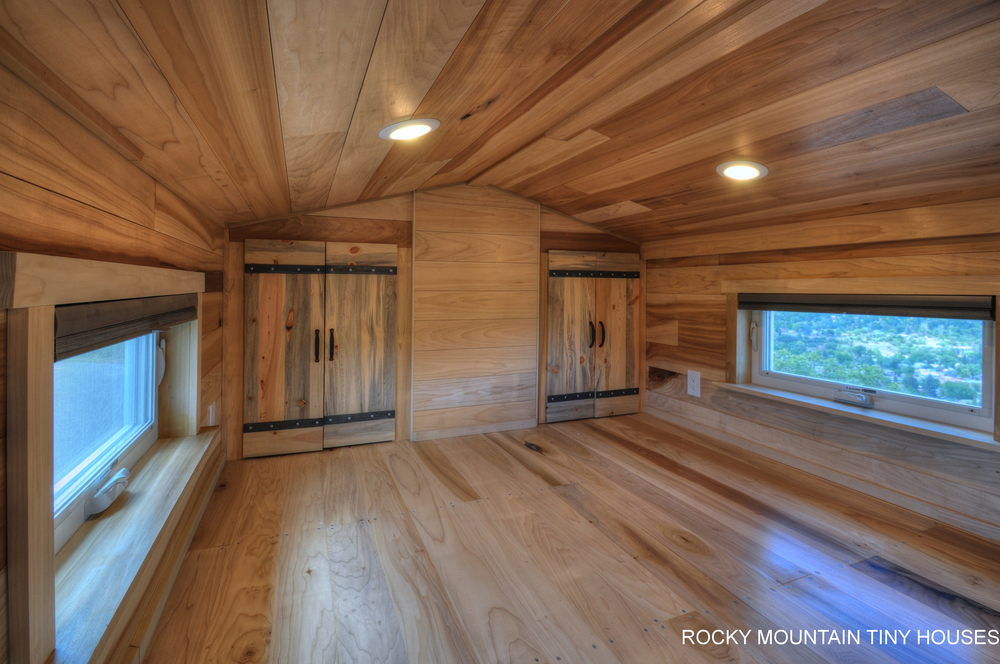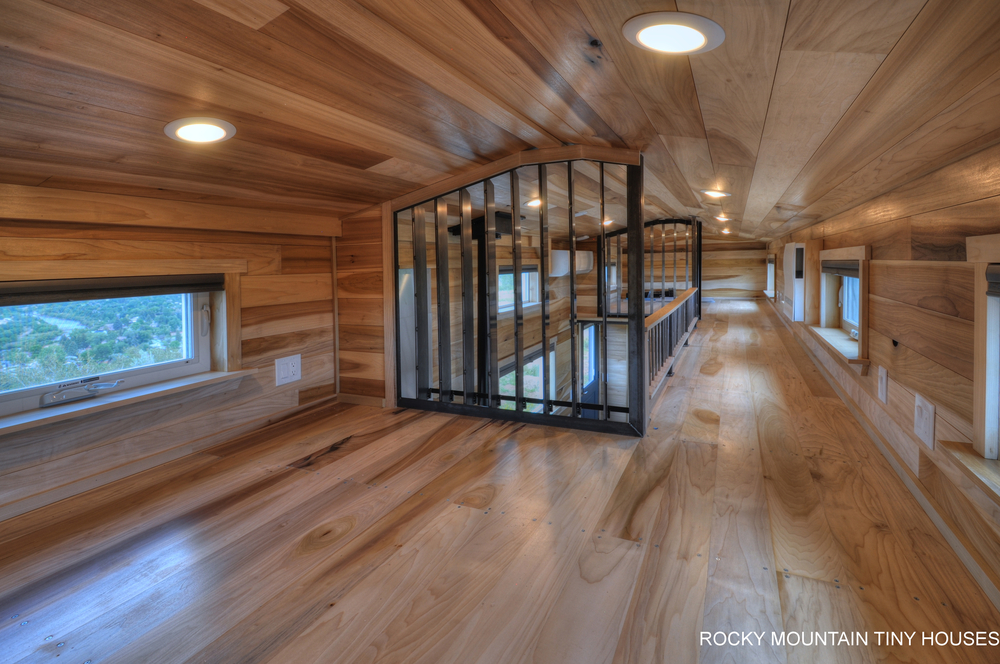 In order to maintain a little bit of privacy in both of these rooms, yet keep an open feeling in the house, the owners also came to us with this concept of vertical louvers that could open and close as needed. Being that the loft framing was steel, the catwalk railing had steel elements, and we had trimmed out the doors on the first floor with steel, this material seemed like the obvious choice to construct this final piece of the puzzle. With lots of brainpower, a little bit of trial and error, and some extremely careful attention to detail, the team was able to execute this detail flawlessly!!! The louver assemblies can easily be removed to place mattresses or other furniture into the bedrooms. Major shoutout to Cameron for pulling this off! One other thing that you will see in the pictures while in the catwalk is a wall mounted white box. This is a Lunos Next heat recovery ventilator that will keep a constant supply of fresh air in the house while recovering hot or cold energy depending on the season. You might also notice another white wall mounted appliance on the opposite side which is the fan unit of a high efficiency mini split system that provides air conditioning and thermostatically controlled backup heat when that Kimberly dies down after 6 hours or so overnight.
The features of this tiny house don't stop here! Moving back to the outside, you will notice a strange appendage on the back of the trailer. The owner approached us with a concept of a way to store his truck topper during transport since this is a gooseneck trailer and toppers must come off for towing. I spent countless hours brainstorming and fabricating this contraption, and am so ecstatic that it actually works!! A topper for a truck this size is quite large and bulky, so we had to think of a way to make the process as easy as possible. With another 400 hours of research and development, I'm sure we could have come up with something a little better, but for the beta version, I have to say works pretty darn well! It's a little tricky to explain, but the frame folds out using telescoping braces on the bottom. A second person inserts pins in the steel tubes while the other person swings it out. The whole frame then lowers via a hand winch and a barn door track. Due to space constraints on the rear of the trailer we couldn't make the frame get perfectly horizontal, but the angle is manageable for 3 people to both slide the topper off the truck and onto the frame, and vice versa. The topper is then strapped to the frame, winched back up, folded back in, and secured in place with some additional clevis pins and turnbuckles. The owner reports zero issues the first 400 miles of travel!
One other very special feature on the exterior are high output LED light strips at both the roof eave line and the house perimeter along the bottom. These lights are so bright they lit up our entire shop at night when we tested them out initially. While it would be a sight to see with these lights on rolling down the highway, they would probably be too bright for safety and the house has a 50A RV receptacle that the truck cannot accommodate. They will still get to enjoy these lights while parked!
Some other general notes about finishes in this house. The exterior is cedar board and batt painted purple with grey trim. The interior walls and ceiling are clear coated poplar t&g. Flooring is Kilmartin Pine engineered cork. They owners had us install a very nice Hunter Douglas window blind package.
Finally, this house is NOAH certified. With this certification, the owners were able to get it insured within a matter of hours before hitting the road down to El Paso. In addition to opening up insurance options, NOAH provides an a extra peace of mind that the build has been documented and certain safety standards have been met. This service adds about $1k to each build, but for many is a no brainer! We hope you enjoyed learning more about this wonderful build! Click below for a video tour!