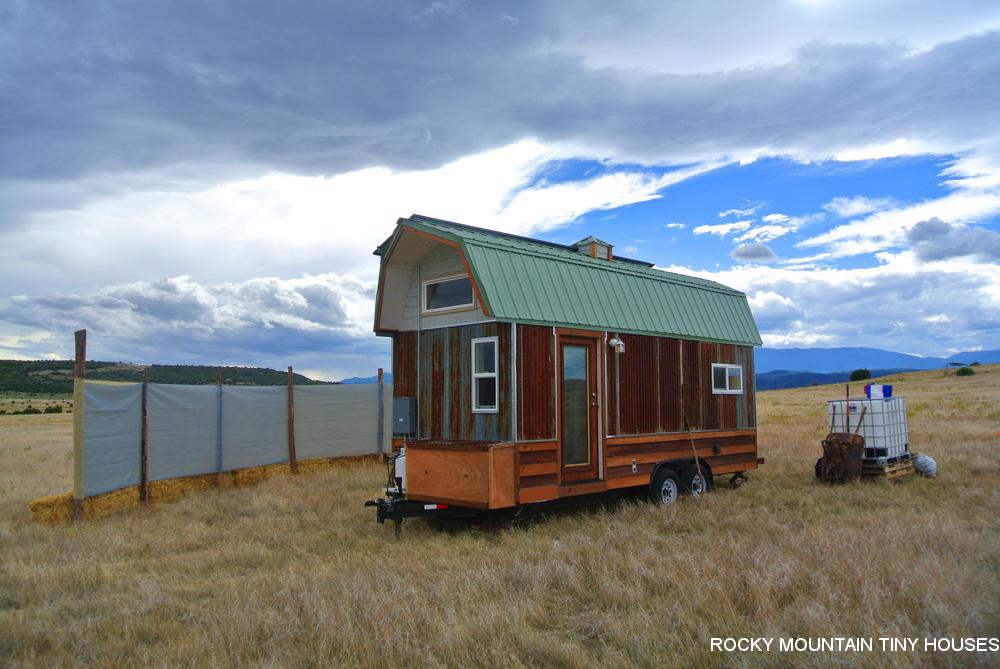 A retired woman with land in the gorgeous Beulah Valley outside of Pueblo, CO contacted us in the spring of 2016 about constructing a modest tiny house on a budget. She was really into reclaimed materials , simplicity, off grid living, and thermal efficiency. We just so happened to have an 18′ Bitterroot Valley SIP package that had been sitting at the shop for quite some time just waiting for the right customer to come along. 18′ was slightly on the small side for her, so using some cutouts from previous SIP projects, we were able to lengthen the design to 20′.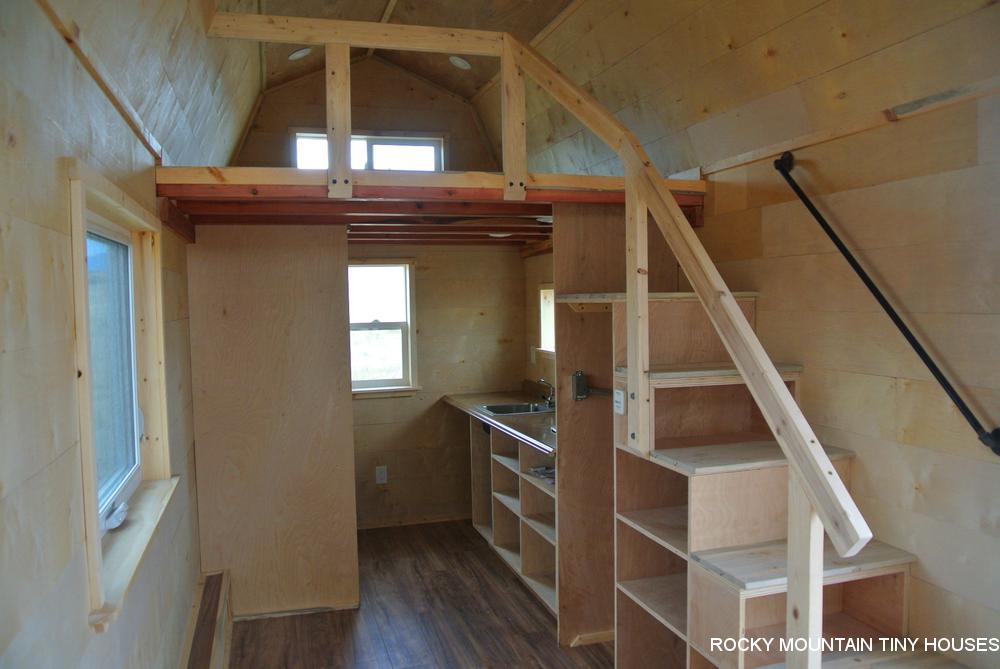 The original Bitterroot Valley design pays homage to the many tried and true barns still in existence and dotted throughout the gorgeous Bitterroot Valley in southwestern Montana. These vernacular structures have weathered time and dutifully served the inhabitants of this serene valley for decades. The form of a barn, or gambrel style roof, originated from the necessity of housing livestock on the bottom floor of the barn, while being able to store as much hay as possible in the loft, all while maintaining pleasant proportions of wall to roof and simplifying construction, minimizing materials, and increasing functional performance ( metal roofs are easier to waterproof than wood walls). These principals can just as easily be applied to tiny houses!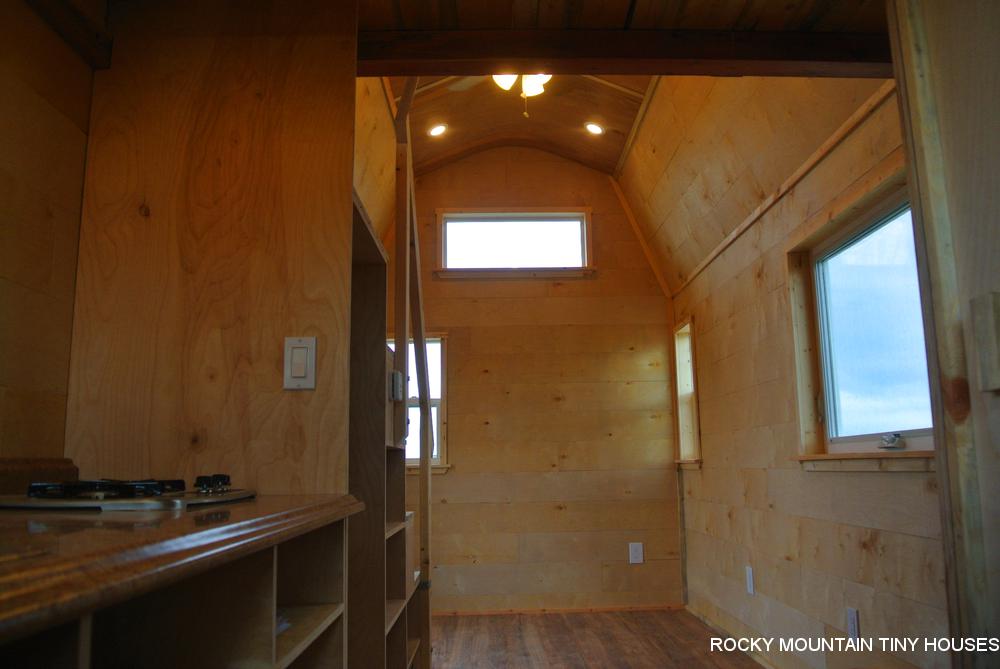 Compared to a gable roof, the sleeping loft does indeed have more volume. Compared to a low slope shed roof, it has less volume, however, the average height of the house is less, there is less wall framing, and the trailer is not asymmetrically loaded-in other words, it tows a little better. In our opinion, the gambrel roof also adds some nice architectural interest that boxier shapes just can't do-"Homey" as some might call it.
Since budget was a higher priority than material choices, we were also able to empty the shop out of lots of leftover materials from previous projects. We had some rough cut lap cedar no one wanted, so we used that for the wainscot. We had quite a bit of reclaimed corrugated metal with a little bit more rust than most folks desired, so this made up the rest of the siding, except for the gambrel gables, where we used some pre-painted cedar shakes we acquired from a garage sale for pennies on the dollar.
On the interior, we utilized some 1/8″ luan with a very birch-like appearance that had been ripped into 8″ widths for use on a previous SIP build but the customer later changed their mind. We had some other odds and ends laying around the shop that we were happy to part with and gave her a great deal on! All she wanted in the kitchen was simple cubbies under the counter and enough space for an under the counter fridge. The loft is accessed via stairs with simple cubbies and a closet for clothes storage. The living room was left open. She intends to do all of the painting/staining and accessorizing on her own, but as delivered it was move in ready.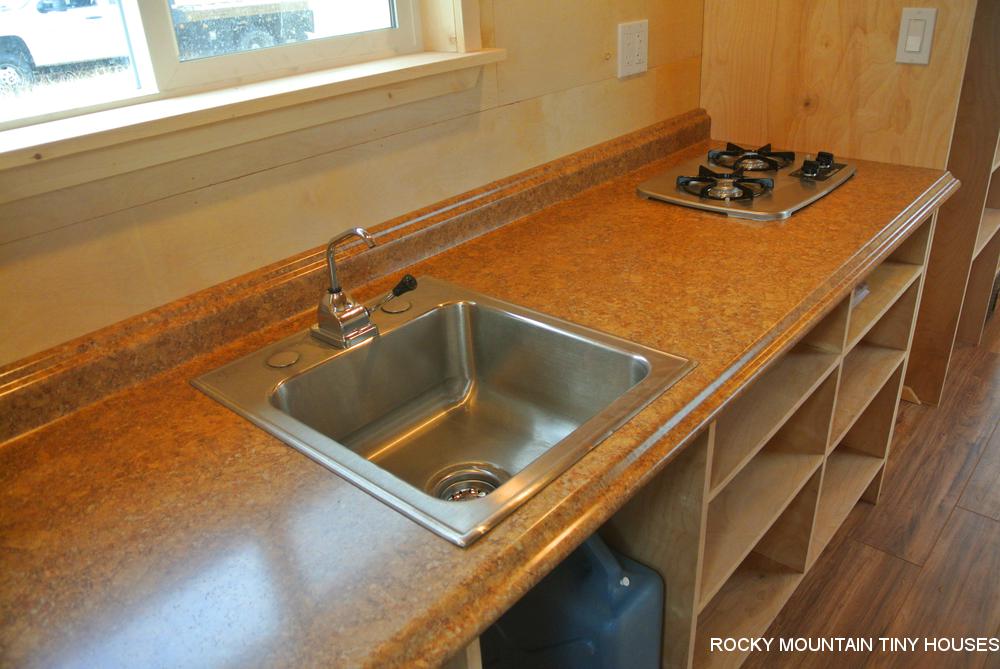 The utilities in this house are the simplest we've ever installed. She did not require a shower, only a lovable loo compost toilet. We did leave for a shower to be installed in the future, if needed. The kitchen features a single bowl sink with a pump faucet that pulls water from a 6 gallon container below. It drains to daylight under the house. There is no other plumbing in the house! A pair of 30 lb propane tanks power a two burner cooktop and an RV furnace for heat in the winter. The house was wired for 110v AC with LED lights and a few receptacles. This is tied into a 1000 watt solar system with battery bank and an Outback Flex power station.
We were able to complete this house for $39k, and the solar added another $6,400. For those interested, a similar build that included a shower, hot water heater, full plumbing, and larger appliances would run more in the $46k range, pre-off grid options.