Of all the ways to heat your tiny house, a woodstove is perhaps the most nostalgic and off grid way to do so. I've already discussed the pros and cons of using a woodstove as a heat source, the purpose of this page is to educate those interested in utilizing one of the various current options on the market that are suitable for use in tiny house based on size and heat output. In this fast paced developing trend, units are likely to enter the market that I might not know about. If you are aware of any woodstoves that I do not have listed below, please contact me to share. Please note I am not making any warranty as to the performance or safety of any of these units: this will completely depend on proper installation, use, and maintenance. Woodstoves can be dangerous in any type of structure if not used properly, so please do your due diligence and be safe! This is not a post about how to install woodstoves in your tiny house. There are simply too many options and too many different types of tiny houses, so please consult with the manufacturers and/or local professionals
Dickinson Marine Newport Solid Fuel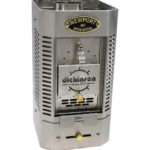 This unit represents the smallest of the small solid fuel heaters that are commercially available. As such, it will probably only heat the smallest of spaces, say 80 sq ft and less, depending on climate and how well insulate your tiny is. I do mention it because it might be the best option for some. If you live in an area that doesn't have harsh winters and only need heat a few nights out of the year, this might be a good way to go. It is designed for 20-25′ long boats and requires 3″ chimney parts.
Colorado Cylinder Stoves: Mesa Package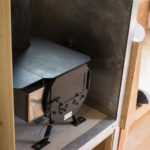 After several hours of research looking for a woodstove that I could source quickly, affordably, and was small enough for my 16′ tiny house, I chose this model. I am by no means saying it is the best out there, but it gets the job done. If you order one from this Colorado company, make sure to tell them you want the custom tiny house version. They will use a 5″ flue size and heavier gauge steel that will last longer and hold heat longer. Cylinder stoves are traditionally used in cowboy tents. They are meant to pack away small and be light enough to be carried by horses, so lighter gauge metal is normally used with the understanding that use is not full time, only intermittent.
Four Dog Stoves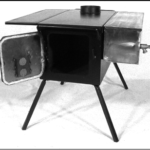 These stoves are very similar to the cylinder stoves, with the main exception being they are rectangular instead of cylindrical. For those on a weight budget, they offer titanium models that weigh in at only 11 lbs for the package! However, it would take some tinkering or customization to safely pass the pipe through a wall or ceiling since these are exclusively designed for tents/tipis. This company is based in Minnesota and have been making tent stoves for 25 years now, so they know a thing or two about heating small spaces in cold places!
Fatsco PET and Tiny Tot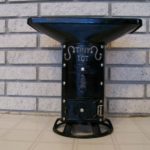 This rather obscure company out of Michigan produces very small (as little as a 8 1/2″ diameter footprint) units that can burn wood or coal and fit in very tight spaces! Prices range from $230-$400 and weights range from a paltry 13 lbs to a still respectable 55 lbs.
Antique Pot Belly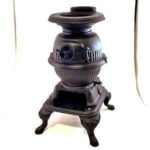 You can find these little treasures floating around in antique shops and sometimes on ebay. They were typically used to heat train cars and other old timey structures. Due to their antique status, expect quite of bit restoration work to getting them in safe working order. Also, they are designed to burn coal, so if you plan on burning wood, expect to be processing small pieces and filling it often.
Cubic Mini "Cub"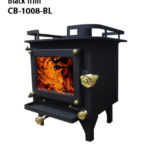 This Canadian manufactured unit has a footprint of only 11″x12″ with a claimed weight of 27 lbs. It utilizes secondary burn, but is not yet certified. At $315 US, it would seem to be a really good purchase if it does what it claims.  They manufacture a slightly larger unit called the Grizzly for those with larger houses.
Gray Stove Mini 12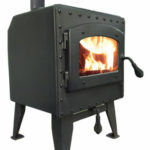 This Veteran owned US company is beginning to make a a name for itself as one of the premier builders for tiny house woodstoves. I have yet to install one, but I've seen them used with great success in other tiny builds. At 110 lbs and $1200 it is a middleweight contender, but has a small 14″x14″ footprint.  As of this writing, it does not carry any certifications but that is something they are working on.
Marine Stove Sardine, Little Cod, and Halibut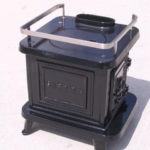 Perhaps the most charming of all models available fit for use in tiny house, theses stoves also have the longest lead time, sometimes up to a year from date of order. Keep this in mind if you plan to purchase one. The Sardine is the smallest unit with a footprint of 12″x12″. The Little Cod is slightly larger at 18″x14″ and features enough cooktop surface for two pots, white the Halibut is their largest unit at 21″x16″
Salamander Hobbit and Pipsqueak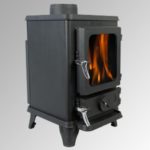 These small and DEFRA approved woodstoves make excellent choices for tiny houses based on their dimensions and heat output. They are based in the UK with only one US distributor, so sourcing one might take a while.
Vogelzang Lit'l Sweetie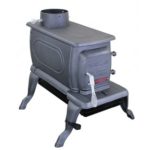 This cast iron model is the smallest and most affordable unit made by this company, but it's slightly on the larger side for tiny house scale at 11″ wide by 25″ deep. Normally around $275, you are likely to find it stock in local stores like Ace, True Value, Tractor Supply, etc., but they can be easily purchased on as well.
Jotul 602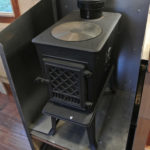 Deemed the most popular woodstove ever made with over 1,000,000 units sold and counting, this high quality cast iron unit from Norway is a good option for larger tiny houses. We installed one in a 30′ build with good results. It is very heavy and pricy, but is EPA certified and has a lifetime warranty.
Jotul F-370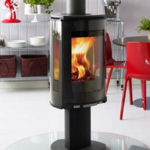 This elegant woodstove carries the same quality as the 602, but with a modern flair and greater visual appeal. It requires a footprint of 18″x19″ and is 46″ tall so keep this in mind when space planning. It also weighs 340 lbs!
Morso 1410 and 1440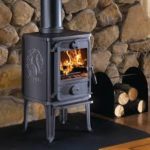 Sometimes called the "squirrel stove" because of the squirrel relief on the sides, this classic beauty will have no problem heating a tiny house.  It has a 16″x18″ footprint and weighs in at 215 lbs. This unit is EPA approved, but like the Jotul is heavy and expensive. The 1440 model is similar in size but works off of convection rather than radiant heat, meaning clearance to combustibles is reduced, a feature that is beneficial to those with very tight space constraints.
Unforgettable Fire Kimberly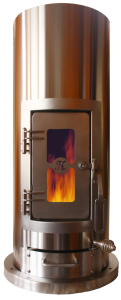 This exquisite wood fired heater is an investment at $4k, but it is very suitable for use in a tiny house and many would argue you get what you pay for! Finely crafted from stainless steel, this model exceeds the most stringent emission standards. It only requires 6″ of clearance to combustibles. It only weighs 56 lbs, which isn't the lightest possible option, but it is far from the heaviest! It will burn up to 8 hours on a load of wood, which in itself means you might not need to install a backup heat system.