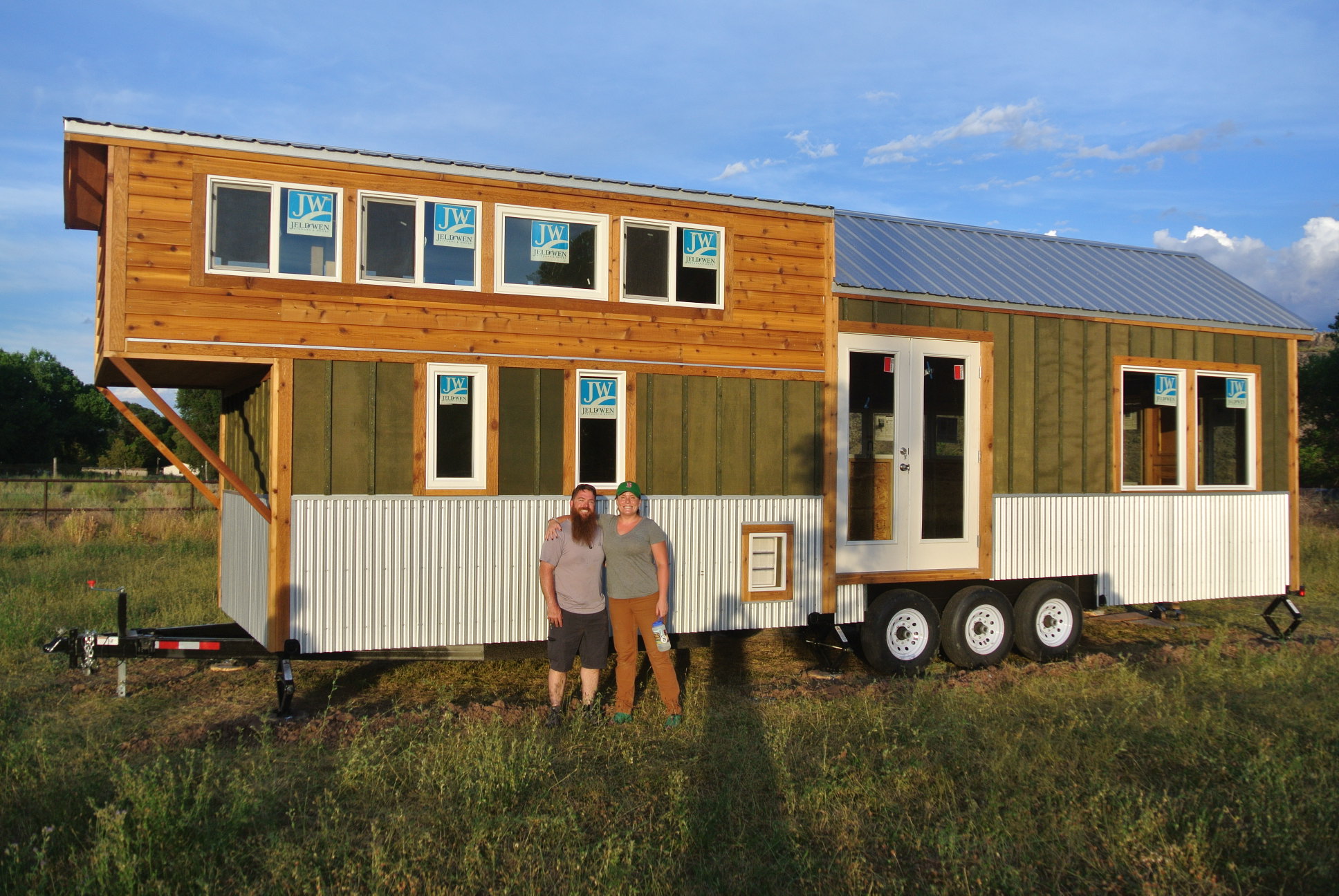 We are excited to announce the completion of our first 10′ wide tiny house build! Since permits to move a structure between 8′-6″ and 11′ to 14′ (depending on route) normally only cost $25 per state, we have seen a growing interest to have that extra 2′ width incorporated into designs, especially if the owner doesn't plan on moving the tiny house very often.
The Melvilles approached us about this shell build back in the winter. They needed someone willing to build a 10×34 shell with a dried in exterior prior to turning it over to them for completion. We were happy to assist and take part in their dream tiny home build. You'll note in the title that we call it a 36′ house. Technically the trailer base is 34′ long, but they wanted a four foot cantilever over the tongue that would serve as a "walk in closet", so in the end the house averages out to 36′ long. Not only is the house long and wide, but it is oversize in height, topping out at 14′-6″ instead of the normal 13′-6″. Since it was going to require a permit for the width, the same permit covers the extra height, and our travel route did not have any restrictions for this height, so we figured why not get an extra foot of head height in the loft?
Being as their last name is Melville, akin to Herman Melville who wrote the American Classic Moby Dick, and this is the largest tiny house we have ever constructed, the giant whale's name was befitting! In addition to the finished exterior with corrugated wainscot, board and batt, and cedar lap siding, doors, windows, and roofing, the scope of work included welded steel loft structures with beetle kill pine decking, a few interior walls framed, a roughed in 6″ chimney for a woodstove, and custom fabricated steel stair stringers allowing for maximum clear space underneath the stairs, in which there is a doggie door that we installed and appliances that the owners will install later.
This spacious tiny house shell priced out at $39k before delivery. At this size and level of completion, materials were most of the cost. The trailer alone was 25% of the budget! A note about towing this house. While my four door long bed one ton dually truck was able to transport the shell, probably only weighing around 11,000 lbs, I doubt that it could have towed the finished house. The finished house is likely going to be in the 17-19k range, and while the Duramax Diesel and Allison tranny could probably handle the weight, the truck itself couldn't safely handle the inertia of this behomith. I never felt the powerplant bogging down, but I sure did feel that trailer pushing my truck around, especially with light wind gusts. A trailer hauler or mobile home semi truck is likely the key to safely moving a house this size.