It all starts with the most important part of your new tiny house, a quality trailer. We offer an assortment of choices to meet your needs and budget.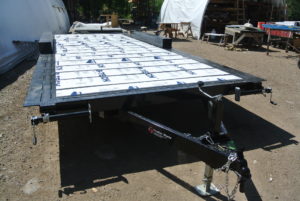 Manufacturer-Pick from any of the following:
Trailer Made Trailers, Denver, CO This is our go-to manufacturer and the only company out there that offers a lifetime warranty on the trailer frame. Their trailers are engineered to be a foundation first, and a trailer second. They also use higher quality components such as axles, tires, and jacks than most other trailer companies do. Of all the trailers I've seen specifically built for tiny houses, these are hands down the burliest trailer you can get. Using a Trailer Made Trailer is definitely for those who understand "you get what you pay for" and who value the peace of mind of a lifetime chassis warranty. For those wanting to do lightweight builds, they may not be the best option as these trailers are also some of the heaviest I have seen on the market. They also will not build trailers with drop axles if that is a feature you are wanting. Because of this distance from Durango to Denver these trailers will also incur a little freight vs our local builder, but this can sometimes be mitigated by getting multiple trailers on a single trip. Denver is still a lot closer than other companies nearest distributor too.
Hiebco Trailers, Bayfield, CO This company is our local go to manufacturer and to date has produced over 40 trailers for us. For those on tighter budgets or wanting to do lighter builds, this is the best option. If weight is not an issue, but price is, then we can have them build a trailer as beefed up as your prefer! Do you want drop axles and good old fashioned radius fenders? They can do it! Although Hiebco does not offer a lifetime chassis warranty, we have yet to have a single failure in all the thousands of miles our houses have traveled.
Iron Eagle Trailers, Oregon This company was one of the first (if not THE first) to develop and sell a tiny house specific trailer. They have worked closely with Dee Williams of PAD to refine the design over the years, and offer a unique trailer designed to be very lightweight, yet plenty strong to place a tiny house on. Expect a fair amount for shipping to Durango
Tiny House Basics, California Josh and Shelly are sales reps for a variety of manufacturers across the country. Based on my research and interactions with them, they can get you a road worthy trailer with the features you are looking for at a good price. Expect a fair amount for shipping to Durango.
Tiny House Builders, Georgia. Dan Louche was one of the first people to write books and come up with workshops detailing the art of tiny house construction. He has a good trailer design for a decent price, and distributors across the US, but again, expect a fair amount for shipping to Durango
Tiny House Trailer Options
Some of the manufacturers above won't offer all of these options, but some offer all, so it's just a matter of prioritizing wishlist with costs and lead times.
Lengths-10′ to 40′ long in bumper pull and gooseneck configurations
Width-anywhere from 72″ to 1″ wide. 140″ is the most common for highway legal builds, but we can do 98″ or 100″ and still keep the house within 102″. If the trailer is wider than 10′ (120″) then we cannot transport it, either from dealer to shop, or shop to final destination and you will have to hire a transport company for this.
Deckover platform, for those who don't need the extra height and don't want to deal with wheel wells
Recessed lighting in the trailer frame. For some this is standard, others it is an upgrade
Drop Axles-for those wanting an additional 4″ of head clearance in their highway legal build
Metal Belly-for some this is standard, others as an upgrade. It can be omitted too to save cost/weight
Adjustable Coupler-helps get the house level for towing when using different tow vehicles
Extra long tongue length-for those with a prowled nose, or wanting utilities on the trailer tongue such as propane tanks, mini split condenser, or maybe a storage closet
Heavy duty front jacks-for most houses, the 5k or 10k bulldog tongue jacks work great. Gooseneck builds can either have a single center jack or dual corner jacks that move independently. We can place these on bumper pulls too.
Scissor Jacks- they are actually only intended to stabilize the trailer when parked, not for jacking up or down
Corner Jacks- These can be used to both stabilize and jack the house up/down to get it level. These come standard on Trailer Made models, however if your design requires front or rear storage closets, these need to be omitted in favor of scissor jacks
Air Ride Suspension- We've done this on one build for a high end customer on a very large gooseneck build. It provides for a smoother ride with more control on how much suspension is needed by controlling the air pressure in the bags. $This is a very expensive option$
Upgraded wheels/tires- for some of the heavier builds, the stock tires are pushing the boundaries of their capacity. Take for instance a 7k axle with 16″ tires rated at 3500 lbs each. If we build a triple axle gooseneck weighing in at 24,000 lbs including belongings, with a tongue weight of 3,500 lbs, that means each tire is going to be carrying 3415 lbs each, very close to the limit. If you travel a lot, these tires will wear down quicker and give you problems. We could upgrade the wheel to a 17.5″ and get load H 14 ply tires rated a 4400 lbs each thus increasing the safety factor.
Self Leveling hydraulic jacks-if the trailer maker can't install it, we can! There are a variety of 2, 4, and 6 point auto leveling systems on the market for those who travel a lot and want to take the hassle out of leveling the house every single stop. $This is also an expensive upgrade$
Slipper style shackles-slightly heavier duty than traditional shackles, but the real benefit comes on triple axle trailers, whereas with traditional shackles it is possible on an unloaded trailer for the axles to flip over on themselves if you hit a big bump, it is impossible for this to occur with the slipper style
Anchor Bolts-for some standard, others a custom request. We can weld anchor bolts at our shop too.