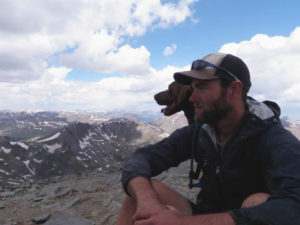 I grew up in the small town of Terrell, TX, a bit east of Dallas. With one brother, one sister, and usually a dog or two, my upbringing was of typical modest American means. In high school I excelled in academics, music, and sports.
During my teenage years, I began to develop an interest in construction, mainly carpentry, but also all of the other trades that went along with it, be it plumbing, electrical, drywall, HVAC, trim, and finish out. At the age of 15, I converted the attic of my mom's house into my very own bedroom.
Following this project, I began taking on miscellaneous construction jobs that I usually acquired through church members. I helped a man finish out a house he had started by himself, built a barn for that same gentleman, remodeled a bathroom, re-glazed windows, and eventually remodeled a bedroom and added on a bathroom for another one of my mom's houses.
When it came time for higher education, I was leaning towards being a contractor, but wasn't quite sure what major to pick for that, so when applying for the University of Texas at Austin I put a check mark next to Architecture. I didn't know it at the time but the School of Architecture is one of the most competitive schools to get into there, not to mention the 5 year degree is one of the toughest to complete.
Luckily, my high school credentials were good enough to get me in, and my drive to succeed was great enough to keep me there. I soon found out that architecture was much more than just how a building is constructed. A good architect must also be skilled in the arts, must have knowledge of how light and sound function, must be aware of human perception of space, must be able to effectively convey their 3d ideas in 2d drawings,  and most importantly, be an exceptional problem solver and critical thinker (just to name a few!)
With my technical knowledge of building science already strongly in place, I began to hone my weaknesses. I actually lost sight of becoming a contractor and was only interested in becoming an architect. I graduated in May 2005.
It didn't take long for me to find a job with a small start up firm in Austin called Sentient Architecture. Our team consisted of a talented home designer, a licensed architect who handled the commercial work and was my main supervisor, and me, the workhorse. It is somewhat true that new hirees out of school do a lot of the grunt work-CAD drafting, 3d modeling, menial office tasks, and the like. I did my fair share of all this, but due to the firm's small size I also got to participate in client meetings, site analysis, contract drafting, bid proposals, construction administration, and of course, design. It was a pretty well rounded internship. The firm eventually succumbed to the weakening economy and I was let go in fall of 2010.
I took some time off to think about where I wanted to go next and became interested in real estate investing. I got sucked into one of those free semimars and walked out so pumped up I just knew it was going to work, and work big! In February 2011, I founded Parham Solutions, LLC and began my career as a greenhorn investor. I found a foreclosure, paid just a little too much for it, did all the renovation myself, and then wasn't able to sell it. Luckily, I was able to rent it until the market improved a bit. I didn't lose money on that deal, but I didn't make any either. For as much work as it turned out to be and as much risk as I took, I got a little turned off by real estate investing, at least in doing flips.
Following this near business failure and also pursuant to a divorce, I decided to leave Austin and follow my calling to the mountains. I had visited Durango before, and like many other folks, just knew that someday I would make it my home.  I saw it not only as a chance to escape the rat race and bustle of the city, but a chance to push the reset button, to start over, to set my priorities straight this go round. At first, things were both glorious and tough. I came here strapped with debt and with very little to no work. The flip side of having little work was that  I had a lot of time to play and explore, one of the reasons I chose Durango.
I eventually settled in and began the rebuilding process, finding better and better work as I met more and more people. I found employment for a guy here in town designing and drawing PV (photovoltaic) systems. I enjoyed what I did, and it paid ok, but my hours were a bit sporadic, so I was on the look out for something better, and then found it.
In May 2012 I joined Sun Peak Builders as the assistant project manager, lead residential designer, and jack of all trades when needed. Sun Peak is a custom home builder known for alternative building methods such as strawbale, adobe, envelope wall, papercrete, and locally milled lumber to name a few. Some days I was out in the hot summer sun helping pour foundation walls or helping frame a remodel. Others I was drawing up creative new home designs based on ideas and sketches provided by the client, or managing sub-contractors on very complex remodel projects. In addition to all the experience gained as a contractor and the knowledge I picked up in alternative building methods and green materials, I learned the art of estimating which is a must have skill when dealing with tight budgets and the client's hard earned money.
All the time I was holding onto a rental property in Austin. It was actually the first house I ever bought and I had remodeled it from head to toe while I lived in it for four years. The market had improved substantially in Austin since I had left. As I was driving back to Durango from Terrell after Christmas, it dawned on me that I could probably sell the house rather quickly and turn a nice profit in doing so. I could then take that profit, eliminate my debt, build my Tiny House, and if things looked good, go ahead and start the new Tiny House business.
That winter of 2013, the house sold quicker and for more than I thought it would, enabling me to accomplish all of those goals and then some. I waited until our work load at Sun Peak had died way down to announce my departure and plans of starting a Tiny House company. Adam was happy for me and only wished me the best. We still keep in touch, and am still on call as a designer or drafter should he need those services. And that brings me to today…
I currently live in my Tiny House in Durango, CO near the shores of the Animas River with my dog Rocco. When I'm not designing, crafting, marketing, or selling Tiny Houses, I'm probably fiddling with one of my other small businesses, mainly the Paleo site that I run, or I'm out enjoying the great outdoors, be it mountain biking, hiking, camping, floating the river, climbing, hunting, fly fishing, telemark skiing, XC skiing, or snowshoeing, just to name a few. Mountain biking is my true love, and in fact I have a bronze medal from the 2012 USA Cycling 24 Hour nationals, and a handful of wins from other big 24 hour races across the country. If you prefer, I can arrange to have meetings regarding Tiny Houses on the trails of Durango since some of the best are a stone's throw from my front porch.