Fold down porches for Tiny Houses are awesome. They allow you to have a larger porch without taking up any of your trailer floor space. When its time to pack up and move, they fold up into the house and won't add any length or wind drag to the house while in transit. Those little 3×3 porches you see on a lot of Tiny Houses are cute, and they are somewhat functional, but with a full width porch that is 42-48″ deep, you will actually be able to place some chairs out there and enjoy a nice rainstorm. Plus, you get to reclaim that extra 9 square feet into your house.
I have been getting a lot of questions and seeing a lot of comments online about how I built the fold down porch on my Durango, so I wanted to share with you how I do it. Your Tiny House design will invariably differ, so don't copy my details verbatim, but instead, try to understand the concepts and materials you will need to complete this project. I offer this article as advice, NOT engineering consulting.
The folding porch consists of four basic elements: 1. The porch 2. The porch hardware 3.The roof 4. The roof hardware. I'm going to break each component down so you can understand it better.
Porch I used 2×2 square steel tubing (anything from 11-16ga)  to make the rectangular frame of my porch. I mitered the corners and a friend helped me weld it all together. There are three joists dividing up the span that the decking will attach to. This can be 2×2 as well, but something like 1 1/2″ angle iron or square tube will work as well since the span is only 36-48″ between the main frame. You could build your frame out of wood, but it will be heavier and I'd suggest you use metal connectors and bolts with locknuts. If you use steel, you will need to use self tapping screws to attach your deck boards to the frame, or drill pilot holes and find a screw that will have good grab. My porch uses a composite decking material that is super light and utilizes a concealed clip fastener system. This is nice if you don't want to see any screws on your boards. You can use any decking material you want; it needs to be strong, light, weather resistant, and easy to install. I recommend 2x cedar, redwood, or cypress. If you have a planer, you can shave that 1 1/2″ down to 1 1/4″ to knock off a little weight. Newer composite systems are ok too in the 4/4 or 5/4 thickness.
Porch Size This is ultimately up to you, but here is how your house design will likely determine this for you. If you have a gabled house with the door at the rear of the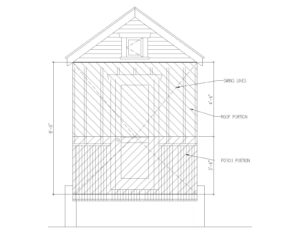 trailer (like mine) then the width can be the width of your house (about 7′-6″). I recommend making your frame 3″ shorter than this so your deck boards overhang 1 1/2″ either side. The depth will be determined by vertical distance from your eave to the bottom of your door. When your porch folds up and your roof folds down, you don't want them to overlap in the middle so they sit nice and flush against the wall. As a general rule, its nice to have the roof overhang the porch 6-12″. So, lets say you have 96″ from where your eave meets the wall and the bottom of your door. Half and half would be 48″/48″. I want my roof to over hang 12″, so I'm going to make the porch 42″ deep and the roof 54″ deep. Make sense? Another thing to take into account is your deck board width. You don't want to have to rip a piece, so size your frame such that the first and last boards overhang the frame 1″ or so. If your board is 5 1/2″ wide and you leave a 1/4″ gap, that means the overall depth will be 40″, so your frame should be about 38″ wide.
Porch Hardware There are several ways to go about the hardware. At the very least, you need some heavy duty hinges to
attach the porch to your house framing or trailer steel. It is critical that you place the hinges in such a way so that the porch doesn't bind when your fold it up. The easiest way to do this is to have one leg bolt to the deck (and through the frame) of the porch and the other leg bolt to the trailer at a 90 degree angle. My design is a bit different and require lots of extra parts but I don't have an exposed hinge on my deck.
Next, you will need some way of supporting the porch once it folds down. At first, I toyed with some adjustable legs that would use a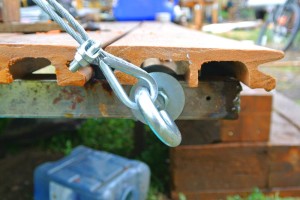 threaded bolt to account for ground height differences, and I still think this would be a good way to do, I just ran out of time and had to figure something out in a pinch so I came up with the cable idea. I drilled two holes in my steel porch frame, attached two heavy duty threaded eyebolts, screwed in some heavy duty lag eye bolts into my corner studs at a height that would match the porch eye bolts when folded up, and ran some 3/16″ aircraft cable between the two.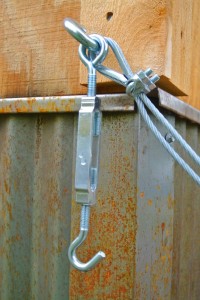 Lastly, you will something to secure the porch to the house while in transit. Having had two eye bolts already in place, I bought some large turnbuckles to connect the two. One end stays semi permanently attached to the house while the other end can hook on to the porch bolt and I can twist the buckle firmly to snug the porch up against the house.
Roof and Hardware I wanted a real slim floating kind of feel for my roof, so, I found some recycled
corrugated metal, cut pieces to length, and bolted them together with self tapping screws and some 1×1 angle I had laying around. One member at the beginning end, and another about`18″ from the other end.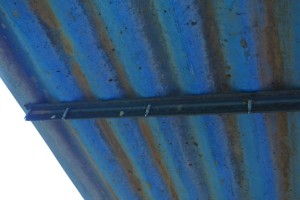 The first member is hinged to the house with 3 or 4 hinges placed at stud locations (or into the top plate if you didn't use balloon framing). The other member has some eyebolts attached to it that I run detachable struts back to the house to support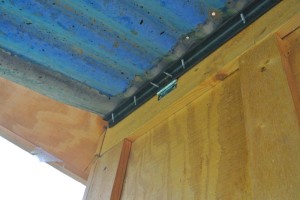 the roof. Unlike the porch, the roof does not have enough weight to withstand wind uplift forces so you cannot use a cable to hold the roof. You have
to use a member that can also withstand some compression. I used some 1/2″ all thread rod, this way I can use turnbuckles with matching thread to connect, disconnect, and fine tune my height. There are two lag eyebolts that go into some wall framing next to my tiny gable window that the struts attach to the house with.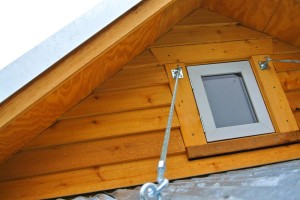 I hope you have find this guide helpful if you are considering adding a folding porch onto your tiny house. Once again, you are responsible for you own design and safety. If in doubt, consult a local professional.