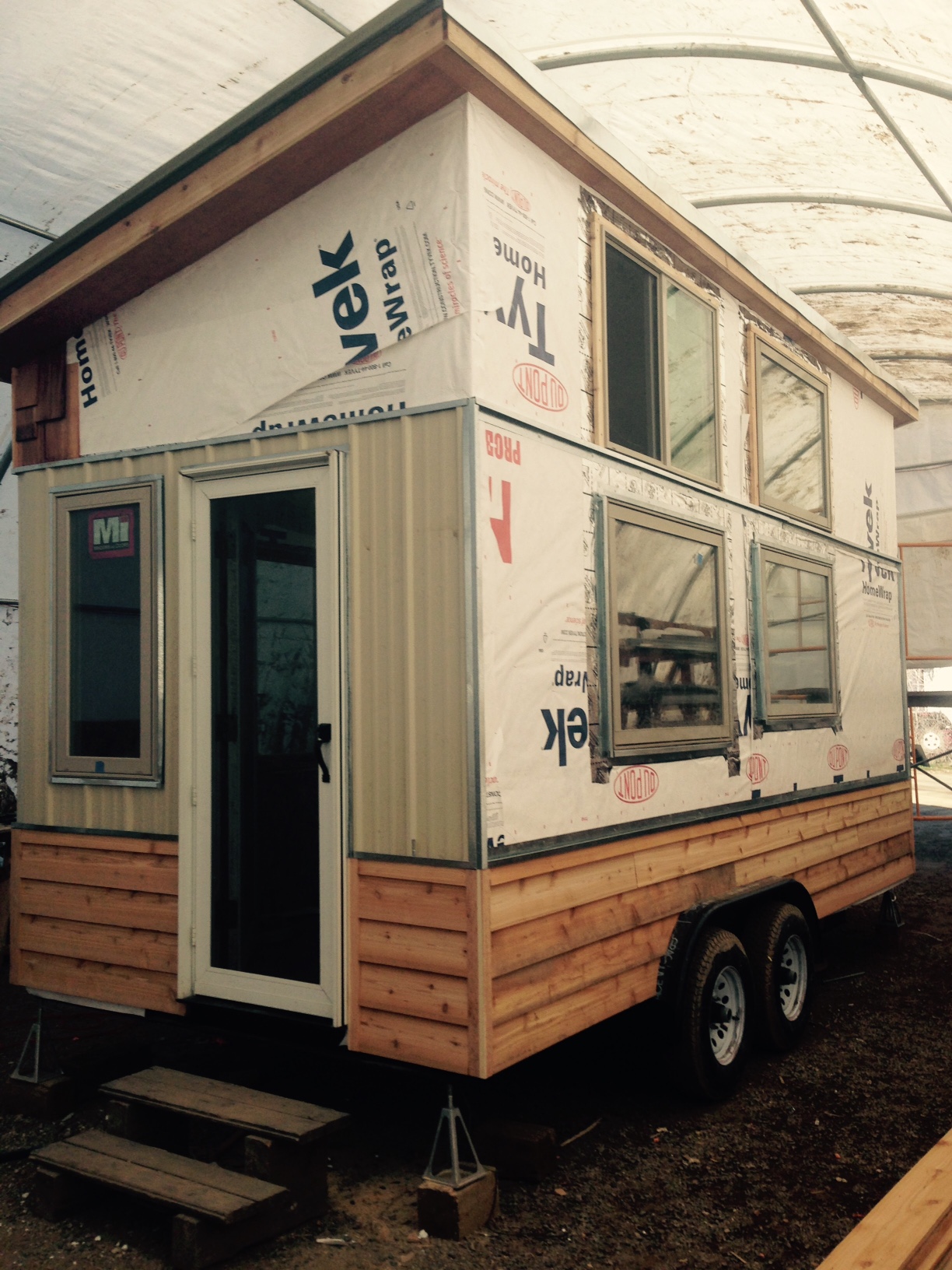 We are pleased to announce the upcoming completion of our latest model in the RMTH lineup, The Front Range. The simple shed roof design takes a nod from the Front Range mountains  that rise abruptly from the great plains, stretching from Casper, WY down to Pueblo,CO. The designated "south" side has four large windows that are intended to soak up the views and sunshine. The floor plan is basic in nature to place less emphasis on the house, and more on the outside surroundings.
This particular house is constructed using SIP's (structural insulated panels). This will be the 5th SIP structure we have completed. If you've missed the previous conversation regarding this building system, in a nutshell it provides much greater thermal efficiency, is stronger, and easier to construct compared to stick framing, saving on costs.
All of the windows and the front door were acquired from the local salvage yard. They don't all quite match, and there are some architectural lines that don't quite line up as a result, but hey, there are in very good shape and were inexpensive. The cream colored metal roof also came from the salvage yard. It had some dents we had to smooth out, but no holes! We took the drops from the roof and applied them to the siding in a way that looked nice and maximized what we had left. We had some leftover cedar lap siding pieces from previous projects we were able to use as a wainscot. On the endwalls, we had some leftover cedar shakes to finish the tops off. We'll be using vertical cedar planks on the sidewalls above the metal band.
The 18′ long by 7′-6″ footprint features a dry bath at one end, closet space and kitchen in the middle with a loft above, and an open living space on the other end. A 28″ full lite door with a screen  on the rear of the trailer provides access and lots of light/fresh air.
The interior will be a combination of whitewash walls, pallet wood, beetle kill planks, and overall lighter toned woods for trim, counters, etc. It is not too late to contact us if you would like to add your own personal touches.
As the house is still in construction and I do not know what the final costs will be, I do not yet have a sales price. Our target price is somewhere around $35k, however. If you are interested in purchasing this professionally built tiny house, please get in touch with us here.